"This was a war. This was two sledgehammers going at each other." - Urban F. Meyer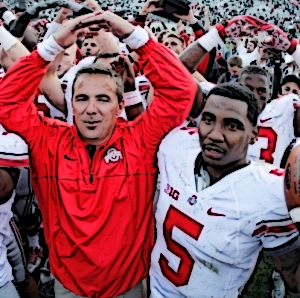 In what will likely turn out to be the 2nd most physical game the Buckeyes play all year, Meyer's troops overcame a slew of in-game injuries and three Braxton Miller turnovers, escaping East Lansing with a 17-16 victory over a chippy Michigan State squad.
The gutsy effort improved Meyer to 11-0 in conference openers and to 95-5 when leading at the half. 
As a program, the Buckeyes have now won four straight in East Lansing, improving to 14-5 up there overall. Hey Michigan, that's how you're supposed to treat your little brother. 
Bottom line, Ohio State won the trenches so they won the game but this would be the shortest version of Five Things ever if we left it at that, so humor me and click for more after the jump. 
Answering the Bell
The biggest concern heading into the game was whether or not the Buckeye front seven would be able to slow the B1G's leading rusher, Le'Veon Bell. After all, the Buckeyes had given up a combined 471 rushing yards over the last three games on 4.8 yards per carry. Cal scorched the Bullets with long runs on the way to 224 on the ground while even UCF and UAB were able to eclipse the century mark at 103 and 144 rush yards respectively, both doing it with over four yards per carry. 
To their credit, yesterday the defensive line and linebackers answered the Bell in spades. Consider:
Ohio State held Sparty without a first down rushing the football. Individually, that hasn't happened to Bell since his freshman year.
For the game, MSU totaled just 34 yards on the ground, averaging 1.5 yards per carry.
Bell rushed 17 times for 45 yards (2.6 per carry). The 45 yards represent his lowest output since he had just 20 last year against Michigan (7 carries). 
It all starts up front and yesterday it was Johnathan Hankins and Garrett Goebel leading the charge.
After back-to-back weeks producing 10 tackles, Big Hank was credited with just three stops yesterday but the numbers don't tell the story.
First, he was being held on virtually every snap but more importantly, he appeared to occupy at least two blockers on a ton of snaps, providing the much-maligned linebackers a chance to roam and make tackles. Goebel picked up four stops and similar to Hank, often took on more than one blocker. The fruit of their labor saw Sabino and Shazier combine for 16 tackles.
As Finkes noted afterward, even when the duo wasn't making stops, they often pushed the Sparty interior back a couple yards, closing holes and forcing Bell to try and bounce outside with little success. 
Obviously, John Simon and Nate Williams were also effective but when it came specifically to stopping the run, much of the heavy lifting fell to Hank and Goebel and both ensured Sparty was forced to try and win it through the air. 
Imposing Their Will
Just like their trench counterparts, the Buckeye offensive line came into the game with a chip on their shoulder. Clearly, those guys remembered how Sparty's defensive front bullied them a season ago, racking up nine sacks and holding the Buckeyes to 0.9 yards per rush thanks to -64 sack yards.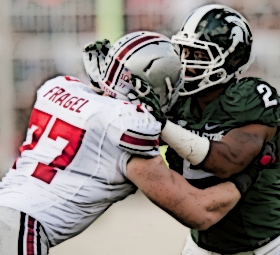 In hostile territory, the entire group responded, helping the Buckeyes rack up 217 rushing yards on 5.3 yards per carry after you subtract Braxton's three kneel-downs for -13 yards. Additionally, they gave up just one sack and one hurry, allowing Braxton to complete 16 of 23 passes. 
Reid Fragel was impressive once more, chiefly holding William Gholston to just four stops. To be fair, some of that could be due to Gholston getting the wind knocked out of his head but there's no question Fragel deserves a ton of credit for effectively transitioning from tight end to right tackle. 
It wasn't just Fragel, however, as the entire line made key blocks and communicated nicely, helping absorb the bevy of blitzes that Sparty came with in hopes of forcing Braxton to beat them with his arm. 
Impressively, Ohio State rushed for negative yards just twice if your throw out the one sack and three kneel-downs. 
Even more impressive was how the line came together to close out the win. Following a huge three and out forced by the Bullets, the Buckeyes got the ball back at their own 18 with 4:10 on the clock and a one-point lead on the scoreboard. On the road, with the entire stadium aware nothing but runs were coming, Ed Warinner's offensive line allowed Braxton and Hyde to run out the clock, opening holes for seven yards, six yards, 14 yards, six yards, zero yards and five yards. 
The last five, on a 3rd and 4 from the Sparty 49, came via Hyde as Fragel sealed off James Ketteridge, sealing a win in the process. 
After years of Bollman overseeing the offensive line and subsequent Five Things ripping the unit to shreds, it feels wonderful to see a functioning offensive line come up big and play a key role in a tough conference win on the road. 
Fanning the Flames
After an offseason of Urban drawing the ire of both Dantonio and his DC Pat Narduzzi, things kicked up another notch yesterday after Narduzzi commented post game that the tapes Ohio State sent Sparty didn't have the entire pre-snap footage, thus omitting visuals of motions and personnel shifts.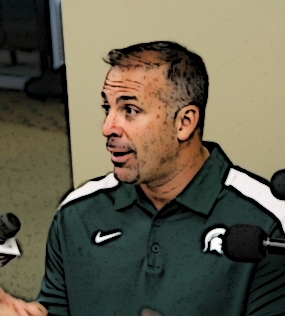 Of course, it's not at all surprising that Narduzzi held off with taking this revelation public until after the loss - that way it could be used as an excuse for his vaunted defense giving up 383 total yards, 204 on the ground alone and 6/13 on 3rd down to what is mostly a preditable, one-man offense.  
Beyond the whining from Narduzzi, the Spartans were clearly coached to push the limits of late hits on Braxton as evidenced by the continual borderline shots at him along the sideline, along with the one the zebras did call on OSU's opening touchdown drive. 
Oh, and there's that one play where OL Jack Allen unveiled a Himalayan Eye Rake on Hankins at the bottom of a pile. 
All of this was at least partially influenced by the chirping between the staffs this offseason and I, for one, couldn't be happier. 
For Ohio State's part, Hankins openly discussed wanting to rip Bell's head off. Again, I say keep it coming. 
I'd like to see a cleaner game on the field but all the chatter before and during what was one hell of a physical football game is great for the conference and great for the Buckeyes.
Urban is trying to instill a mentality and a more aggressive, confident culture at Ohio State and if that means hurting a few feelings along the way, that's fine especially if wins pile up in the process. 
A Tip of the Cap
Not that I've been a lone voice on this but as someone who has been pretty blunt in assessing Etienne Sabino's often underwhelming play over the years, I want to give credit where credit is due. 
There've been other times when I gave him some love for strong efforts and I've always known him to be a class act as a person but after just one watch of the game, I'm inclined to say he probably played his finest game in Scarlet and Gray yesterday. 
He didn't set a career high but he did record eight tackles along with a TFL, a sack, a pass breakup and two hurries in a spirited effort. 
Complete Game Coverage
More importantly, many of his plays were timely and he came up huge in the 2nd half of a dogfight on the road. Two plays in particular helped ensure the Buckeyes would return from East Lansing with a win in hand. 
On Sparty's possession just after Ohio State regained the lead on Braxton's 63-yard strike to Devin Smith late in the 3rd quarter, Sabino came up big. Andrew Maxwell had just used a couple completions to move MSU into Buckeye territory at the 47 but Sabino blew up the drive with a sack, pushing Dantonio's crew back to their own 46. Now facing 4th and 14, Sparty had no choice but to punt, stifling the drive and giving OSU the ball to start the 4th quarter. 
Two possessions later, with Ohio State nursing a one-point lead and under five minutes remaining, Sabino dialed up one more gigantic play. 
Looking at another 3rd down, this time with nine yards to go, Maxwell dropped back but Sabino came through after patiently waiting for a seam to develop on a delayed blitz and hit the Sparty QB just as he released a throw, causing the ball to fall harmlessly incomplete. Again, excellent vision and patience by Sabino and his play forced Dantonio to once again kick it away, only this time Michigan State wouldn't get the ball back for one last gasp. 
Props to Sabino. That's the type of game the Buckeyes need from him every week. 
Risk vs. Reward
What a conundrum for Urban Meyer and anyone who pulls for the Buckeyes.
Yesterday gave us a glimpse of what we can likely expect to see many more times during the conference slate - Braxton Miller missing plays due to injury.
The fact of the matter is that while the B1G is comprised of some pretty mediocre to awful teams, it's also a physical league full of teams smart enough to realize the best way to beat Ohio State is to not only try to force Miller to throw but to get as many shots on him as possible - clean or otherwise.
The problem for Meyer is that while he's keenly aware his peers will adopt the same "cut the head off the snake" approach to stopping his offense, he also knows this team is likely short on playmakers that can consistently help shoulder the offensive burden.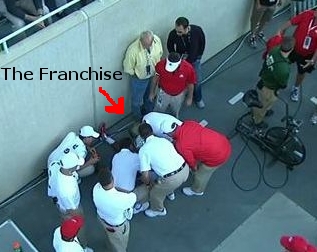 Sure, Devin Smith made a huge play locked up against Adams, Hall can do some things on the off chance he's healthy, and Hyde did provide some much-needed tough inside running, but the bottom line is that Braxton has to get his touches in the run game for the Buckeyes to beat mediocre to good teams. 
Yesterday, Braxton threw it 23 times and rushed it for 23. I'm not sure Urban is thrilled Brax had to carry it 23 times in victory especially considering Miller had to leave the game twice due to injury. 
The first one occurred after Miller took a late hit from Dirty Isaiah Lewis along the sideline and went flying toward a metal storage box and the concrete grandstand. Fortunately, the incident wasn't as bad as it first appeared with Miller avoiding much of the, you know, metal and concrete following the cheap move from Lewis. Still, Miller missed the next three snaps as OSU went on to punch it in for six via Jordan Hall's first TD of the season. 
The second one was even scarier. Trying to build on a four-point lead early in the 3rd quarter, Miller had already moved the Buckeyes 25 yards to midfield when, on a crucial 3rd and 6, he took off up the left sideline for what looked to be a big gainer. Having split a pair of would-be tacklers to gain the corner, Miller tried to turn up field as Max Bullough slowed him at the hips. The minor hit knocked Miller off balance - more importantly off his normal stride - and as he went to plant his left foot, his knee appeared to hyperextend and he crumpled in a heap as we all gasped for air and prayed to the Patron Saint of ACLs.
Fortunately, Miller was far more scared by the awkwardness of the landing than actually hurt but it doesn't minimize the fact it's open season on this kid in the B1G and puts Meyer in the precarious position of trying to win games while keeping his QB in the lineup. 
Miller accounted for 82% of Ohio State's 383 yards of offense and they won by exactly one point. Therein lies the conundrum. 
The Buckeyes have to ride Braxton to win yet doing so puts them at great risk of losing him and the wins he brings. 
This might be a good time to start clipping Pepto coupons because by my count, Braxton's got another 35 games in a Buckeye uniform, including the two B1G Championship games and BCS bowls if he's healthy.