Good morning one and all and welcome to your first B1G football season Skully of the year.
Hopefully, pondering the awesomeness of the conference didn't make you click to your Better Homes and Gardens bookmark. 
If you're still with me, you know there's a game tomorrow afternoon in East Lansing. If that was enough to hold your interest, then clearly you remember last year's 10-7 defeat to the Fightin' Dantonios in which your Ohio State Buckeyes played in what was without question the most lopsided three-point game in the history of organized sport.
Having successfully erased that visual skid mark from my memory bank, I had to go back and read last year's Five Things to refresh myself on just how awful a game we were forced to watch. Nine sacks against Bollman's line. A yards per rush of 0.9. Cunningham torching Howard Island. It wasn't pretty. 
This year, much of the talk centers around whether or not OSU can slow Le'Veon Bell but just as important will be the battle of Ohio State's offensive line versus Will Gholston and company. 
The 2012 offensive line has performed in a serviceable capacity, especially in comparison to their defensive counterparts, but with Braxton feeling a bit more comfortable in the passing game thanks to actual coaching, seasoning and an improved group of receivers, it will be up to the line to not only give Miller time to scan the field but also open holes for their QB, Jordan Hall and a healthy Carlos Hyde. 
If the Buckeyes can control the line of scrimmage and keep Bell off the field, I like their chances, even if I do think Blake Ezor had a fresh name (and perm). 
REID AND RIGHT. Coming into the season, I was very skeptical as to whether or not converted TE Reid Fragel could be a quality right tackle. In his defense, think about how difficult it would be to switch from TE to tackle at a big time program. While the jury is still out considering the Buckeyes have played decidedly mediocre competition, Fragel has performed well enough in his new position to limit true frosh Taylor Decker to spot duty through the non-conference slate. 
Fragel has also garnered the attention of his coach and teammates enamored with his effectiveness. Fellow lineman Corey Linsley jumped on board following the UAB tilt offering:
He was driving guys out of there. The (UAB) guy is 10 yards down the field and Reid is pancaking him. It was basically the Reid Fragel highlight show."
Linsley wasn't the only one to single our Fragel's performance. Urban called the senior's performance the "best effort of his career". 
Factoring in the competition, I'm admittedly still very much on the fence with Fragel. That said, it's a matter of hours before all the questions are answered as Fragel will find himself responsible for keeping Gholston out the Buckeye backfield early and often. 
That one-on-one battle will go a long way in determining whether or not the Buckeyes run their record to 5-0. How comfortable are you with the matchup? 
MATH WRATH. I'll spare you the links but pretty much every pundit not conceived within the 270 outerbelt is taking Sparty by a field goal to touchdown margin. Two guys I respect when it comes to B1G football, Brent Yarina and Tom Dienhart, both envision Sparty pulling out (!) a four-point victory on the strength of home field and a more sound defense. Frankly, it's tough to argue that rationale, though I think just as big a factor will be who wins the individual matchup between Bell and Braxton Maximus Miller. 
BTN's Dave Revsine chimes in on the matchup, looking at key numbers for both squads. 
Revsine notes Sparty has held 10 foes under 100 yards rushing since the start of the 2011 season while holding seven of those opponents under 10 points. In that same time period, only five teams have held more opponents to fewer than 100 yards rushing while only Alabama has yielded 10 points or fewer at a more prolific clip. 
Meanwhile, the Silver Bullets have surrendered six plays of 40+ yards so far this season. No other B1G team has given up more than four such plays.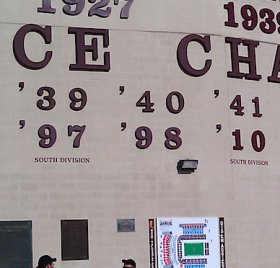 TEXAS AGRICULTURAL & MAKE-BELIEVE. Texas A&M drew some flak recently for suddenly claiming two national titles dating back to 1919 and 1927 despite the fact the first "national championship" wasn't awarded by the AP until 1936. 
In addition to their imaginary national titles, the Aggie administration also deemed it logical to claim two conference championships in 1997 and 2010. Those assertions raised some eyebrows because the Aggies didn't, ya know, actually win the conference in either of those years.
In '97, the Aggies were smoked like a sausage by Nebraska's last great team and in '10, Texas A&M didn't even attend the conference championship after finishing in a three-way tie for the South division crown. 
After being called out by the rational world in recent months, the Aggie brass has now updated the Wall of Champions to correctly denote the '97 and '10 championship years as nothing more than South division championships, albeit in Arial Narrow, 9 pt. 
Seriously, if your titles require clarification in a font the size of a typical credit card agreement, you have issues. 
BILL KNOWS TRENCHES. WARNING: Just because I'm about to reference Bill Clinton doesn't mean you can talk politics in the comments. With that out of the way, former Commander in Chief Clinton took a few minutes to talk Alabama Arkansas football and instead of dogging out John L. Smith for being a straight lunatic, he had a different take on what ails the Razorbacks:
"They've got a great quarterback and three receivers and nobody else is playing really well. They have two great, really good, running backs and they are not doing so great this year. So, it looks like -- to me -- like a line problem."
To his credit, while many are quick to pile on the certifiable coach and a banged-up QB, Clinton's take on the offensive and defensive lines is not without merit. The offense is currently 108th in yards per carry and tied for 64th in sacks allowed. 
Meanwhile, the defense is ranked 114th in yards allowed and 11th in opposing passer rating. 
No question, something smells fishy when it comes to Arkansas' trenches. No wonder Bill sniffed it out. 
EVERYTHING BUT THE KITCHEN LINK. DJ bids you farewell... Sneak peek at Eat Too logistics... 30 Delightful Britney Spears GIFs... Man stuck in elevator for 41 hours with diarrhea (NSFW)... Hankins on Bell... "I hope they're last in everything".