The Ohio State coaching staff welcomed nearly 30 visitors for the California game this past Saturday in front of a crowd of over 105,000 to see the Buckeyes prevail, 35-28.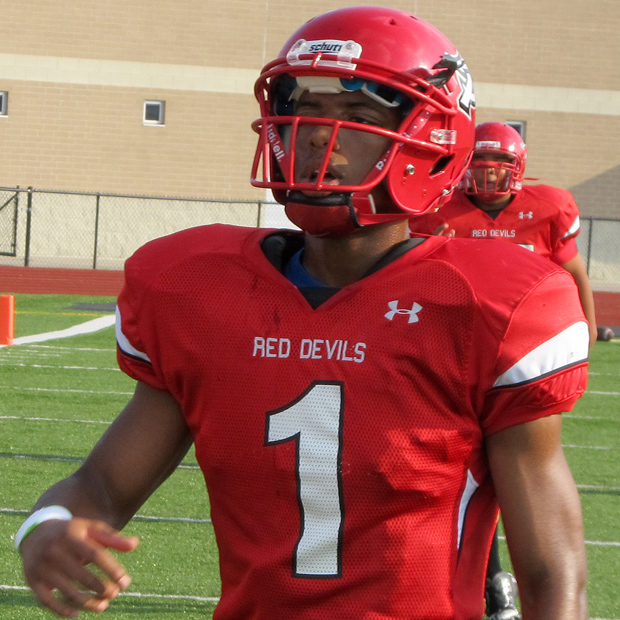 Among those visitors were Kyle Meadows, Devon Rogers, Shelton Gibson, Thaddeus Snodgrass, Mikel Horton, Eli Woodard, Cam Burrows, and Dominique Booth.
2014 WR Dominique Booth has led Pike (IN) High School to a 3-2 start to the season. Booth has also played some safety late in close games. Through the first five games, the talented wide receiver has compiled 28 receptions for 350 yards and 5 touchdowns.
Booth accumulated 13 offers over the summer after participating in camps and having coaching staffs coming in to see him work out at Pike High School. His list of offers includes the likes of Illinois, Mississippi State, Wisconsin, Iowa, Missouri, Michigan State, and Cal. 
Ohio State was one of those schools to check in on Booth over the summer and liked what they saw. An offer did not come through but the Buckeyes definitely have the four-star prospect high on their radar. 
Booth is two seasons away from stepping on a college campus as a student-athlete and looking ahead, the only two Buckeye receivers that are set to depart once current high school juniors enroll (barring no transfers) are Chris Fields and Corey Brown.
At this time, the expected additions at the position are 2013 commits Jalin Marshall and Taivon Jacobs. One or two more wide receiver commits could still be tacked on for the 2013 class, meaning the staff will like be in position once again to take two to three receivers when it comes to 2014.
The trip to Columbus Saturday was Booth's second time being on OSU's campus but his first to see the Scarlet and Gray play a regular season game. Booth received the red carpet treatment from the Buckeyes' staff on Saturday and the visit helped cement their positioning when it comes to the star forming his list.
We caught up with Booth following his visit to hear the latest on his junior season and what is going on with his recruitment. Keep reading to find out what schools are sticking out on that list thus far, when he plans to make a decision, how OSU plans to approach the wide receiver position for the class of 2014, and more. 
How did you like your visit to Ohio State for the game against California?
I enjoyed it quite a bit. It was an interesting game for me to attend because I have interest in both programs. It was my first time seeing a game at Ohio State so I was intrigued to see what it would have to offer.  
What coaches were you able to speak to on your visit?
I got to talk to Coach Coombs, Coach Smith, and Coach Meyer. Coach Meyer was just continuing our relationship and asking me how my season had went. They told me they wanted to see an entire season's worth of film before offering me so they could be sure of it. The coaches said they are only looking at taking one or two wide receivers in my class so they have to make a well-informed choice.
What did you get to see on the visit?
I didn't really get to check anything out or anything like that, but I got to go in the locker room which was pretty cool. Out of the 30 of us or so that visited, they only took five into the locker room and I was one of them, along with four commits for the class above me.
What games have you visited so far other than the OSU game? 
I went to Illinois to see them play Western Michigan and I saw Missouri play Georgia.  
What other games do you plan on getting to?
This weekend I'm going to Notre Dame for the Michigan game. I also plan on seeing Missouri play Alabama, and seeing Michigan State play a couple games against Nebraska and Michigan. I was considering the Ohio State-Michigan game but I have plans that day, as it's the Indiana State Football Championships.
Are there any schools standing out to you so far or that have separated from the pack?
Five schools are really beginning to stick out for me and they are (in no order) Iowa, Ohio State, Missouri, Cal, and Michigan State.  
Have you thought about a timetable in which you would like to make a decision on where to attend college?
I want to make a decision after this season. I want to be a guy that determines the recruiting class around me and help create it.  
SOPHOMORE HIGHLIGHTS: