The defensive backfield has been a suspect area for the Ohio State defense through the first two games of the season.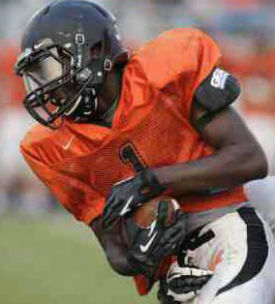 Bradley Roby and Travis Howard have held their own at cornerback, but CJ Barnett and Christian Bryant have struggled a bit against the passing attacks of both Miami and Central Florida, despite the team holding a 2-0 record on the 2012 campaign thus far.
Urban Meyer and the staff have Jayme Thompson, Darron Lee, Eli Woodard, and Cam Burrows coming in next year to help add some depth to the unit, and are still hot on the trail for 2013 five-star safety Vonn Bell, as well as in pursuit of many talented prospects in the 2014 class.
One of the top rising defensive back prospects amongst that group is Massillon Washington's Marcus Whitfield.
2013 Michigan commit Gareon Conley was the name most knew when talking about the Tigers this year, but the 6-1/170 Whitfield has been a shining star at both defensive back and wide receiver for his team in the early going this season.
Ohio State has shown the most interest in the stand out so far in his recruitment and hosted him this past weekend as they downed Central Florida, 31-16, in the Horseshoe. We caught up with Whitfield to hear how that experience went, what the coaches told him, what else is going on with his recruitment, and to see how his season is going thus far.
Join us after the jump to hear about one of Ohio's best in the class of 2014, Massillon Washington's Marcus Whitfield.
You made the trip down to Columbus this weekend for the Ohio State vs UCF game. How was that experience?
Ohio State is a really neat place. The team is looking really good and I liked all of the coaches there—they all seem pretty cool. It was a really great visit and that place is amazing.
Who else did you go to OSU with?
I just went down to watch the game with my mom and dad. I met my teammate, Nathaniel Devers, down there too.
What coaches did you get to speak to while in Columbus?
I got to speak to most of the coaches while I was there other than Coach Meyer.
How is your recruitment going in general? Who has shown interest thus far and do you think anyone is close to offering?
Toledo offered me on Labor Day and that was my first offer. A lot of schools are showing interest, but I'm not really sure who is close to offering just yet.
Are you planning any return visits to Ohio State? Do you have plans to visit other schools?
I am going to Toledo this weekend, Penn State next weekend, and Michigan State the week after that when they play Ohio State. I will be back in Columbus to visit Ohio State the week after that when they play Nebraska.
What are you looking for in the school of your choice?
As of now I don't really have a choice. I am just going to let schools evaluate me, see who offers, and then take a closer look at what they have to offer. Once I know who is looking at me, I will know what to look at from them.
How is your high school season going so far? How has your team done and how have you performed individually?
We're doing great and are currently 2-1 on the season. We just beat Maumee and we have Perry coming up this week. I have performed well the past three games. I'm still looking for my first touchdown of the year, but I have a good amount of yards receiving and tackles on defense. 
What do you feel are your strengths on the field? What do you feel you need to work on?
My strengths have been catching the ball and being able to pick up yards after the catch. I need to improve on breaking on the ball sooner, as that aspect of my game needs to be quicker.
When would you ideally like to make a college decision?
Right now it's pretty early for me, so I'm not sure when I'd like to make my college choice.