Throughout the state, Ohioans are eager for the coming football season. They sit behind their desks, steering wheel and at the kitchen table thinking about Saturday's season-opener versus Miami (Ohio).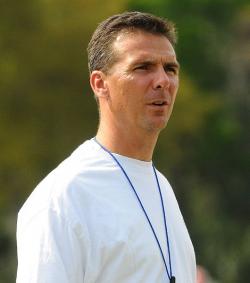 Many youngsters in the Buckeye State dream of donning the Scarlet and Gray and running out of a tunnel in front of 105,000 delirious fans in Ohio Stadium. It comes true for a fraction of a percent of Ohio high school football players each February.
But as your mind wanders today thinking about that possibility, be happy for a moment that your dream didn't come true, because Tuesdays for an Ohio State football player – or Urban Meyer-led team – are nothing but torture.
"We call it bloody Tuesday," Meyer said. "It's awful. Inside drills, run emphasis – just bad stuff. It's all the hard blitzes, all the hard looks."
Ever since Meyer entered the coaching profession, he has harped on mental toughness. Pushing players to their furthest limit and beyond exhaustion has been a hallmark. But it isn't a sadistic practice; rather Meyer wants his team to be prepared.
That philosophy was on display at the Buckeyes' first practice this fall, as the head coach willed his players to go that extra step.
"The objective today is plus two," he yelled. "I'm not concerned about the rah rahs. Plus two means we're going two steps beyond. Whatever is asked of you, two steps beyond.
"I'm here to tell you it's going to help you win. You're either going to buy in or you're not. Plus two is our deal. Plus two, plus two. When the whistle blows, what do you do, two more steps. Coach asks you to go 10 yards, you go 12.
"I don't need any rah rah. You're not impressing anybody. You want to impress somebody, go plus two. Let's have some fun."
It's a different kind of fun than most of us are used to, but nonetheless the players have bought in to Meyer's tough-love system.
The popular phrase from Meyer is "dog ate my homework" when mentioning a player he feels is making excuses about a missed assignment, bad practice or underwhelming game performance.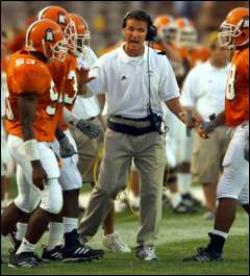 "The only thing I worry about is health and the heat," Meyer said. "We try to push them as hard as we can."
For 12 Tuesdays this fall, 100-plus football players in Columbus, Ohio, will be introduced to a completely new kind of 'hard.'
The Bloody Tuesday practices were started during Meyer's first season at Bowling Green in 2001. Not only are the series of drills physically demanding, they also test even the most capable of the mentally elite.
While grueling, the players at BGSU can attest to the positive effects Tuesdays had on the product exhibited on Saturdays. After six consecutive years of sub-.500 seasons prior to Meyer's arrival, the Falcons rattled off eight- and nine-win seasons in succession during his two-year stint in Northwest Ohio.
The tradition went west with Meyer, as did the instant success, when he took over Utah's program. An undefeated season followed a 10-win first year, and then it was off to the mighty Southeastern Conference.
Once again, Bloody Tuesday continued to be a staple of Meyer's way of life. And to the surprise of few, the victories piled up again, this time at an alarmingly high rate. Two national championships later, Meyer was considered one of the best coaches in college football.
"That day, you just put on your pads and go to work for two-and-a-half hours," Florida wide receiver Jemalle Cornelius said in 2005. "There's no way you can get around it. You've got to go through it.
"You're not nervous, but there's a little bit of anticipation. You definitely think about it the night before. You wake up in the morning and it's like, 'I've got to go to work today.'"
Reclamation projects are one of Meyer's specialties. Each team he has taken over struggled the season prior to his arrival, but it didn't deter the ever-eager new head coach.
Bowling Green went from two wins to eight, Utah five to 10 and Florida seven to nine. All told, it's an average up-swing of more than four wins. If Meyer's past holds true, that means the Buckeyes are in store for a 10- or 11-win season.
The turnarounds can be traced to several factors, but Meyer's distinct style is a big part. At each job, he's whipped players into shape with strenuous winter workouts and followed it up with those fall Tuesdays filled with horror: hours on conditioning and full-contact drills.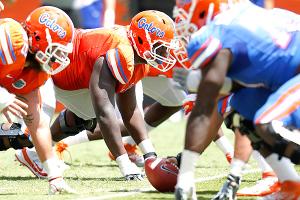 "If they act like humans and practice really hard, we'll go just shoulder pads on Wednesday," said Meyer, showing a brief respite could be in order. "And then Thursday, once again, if they act like they're a professional outfit, we might take their shoulder pads off. If they don't, we'll be full pads all the way through Friday. I anticipate that that won't happen because they're really good practice guys right now."
In 2005, Meyer inherited a program much like what he's found in Columbus. Even he has highlighted many of the similarities. Both Florida and Ohio State are huge state universities with monstrous football programs in need of resuscitation.
After thee mediocre seasons under Ron Zook, Meyer infused some much-needed juice into the Gators. They stormed out to a 4-0 record and finished 9-3, including a blowout win over archrival Florida State.
It wasn't a national title – that would come the following season against Ohio State – but the Florida faithful were all-in. So, too, were the players, as Meyer used a lesson from Michael Jordan that he's preached since that November day he was hired by Ohio State.
"Tuesday's practice is very physical and hard," Florida tight end Tate Casey said. "It's tougher than a game. The games are so much easier than practice."
During his tenure at Florida, Meyer had a Jordan quote hanging in the locker room to remind the players the importance of practice and to make sure they stayed dedicated.
"Michael Jordan was the best practice player of all time," Meyer said. "That's why he was so good."
Ohio State Center Corey Linsley spoke about Meyer's conditioning regimen Monday, saying it put him into the best shape of his life. The offensive linemen have been going non-stop in the Buckeyes' new no-huddle offense for more than three weeks now. When combined with the offseason workouts, the line could run miles and still have more left in the tank.
"Tuesdays are real tough, the hardest day of the week," Florida defensive end Jeremy Mincey said. "That's when you get the real preparation in. When you practice hard, the game is easy. This whole season I haven't been winded in a game.
Every day of the season is about preparation for a Meyer-coached team. His Plan to Win has been in circulation for a decade and its track record is among the best game plans in the country. He's brought that game-week prep to Columbus with him, including the dreaded Bloody Tuesday practices.
Today will be the first unveiling of Tuesdays with Urban for the Buckeyes. Chances are it won't be an enjoyable experience. But in East Lansing and Madison, when the fourth quarter arrives, an entire roster of players will look back at Tuesday and see an improved level of play on Saturday.
"You don't really know how hard (Tuesdays are) until you get in the game and it's slower than practice," Mincey said. "It all comes down to preparation. The man who prepares the best is going to win."