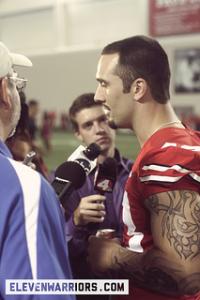 Tommy John surgery has revolutionized the game of baseball. Now a similarly transforming procedure has hit the sports scene: microfracture surgery. Ohio State defensive end Nathan Williams underwent the procedure a year ago and is nearing a return to the field. At what level is yet to be seen.
Prior to 1974, the year of the first Tommy John procedure, major league pitchers and position players' careers were unsalvageable after a serious elbow injury.
Then the "Fountain of Youth" sprang from an operation table oasis. 
Over the past 38 years, countless Tommy John surgeries have been performed with a full recovery rate of over 90 percent. At the time of the first surgery, John's doctor said he had a 1 in 100 chance of playing baseball again. Eighteen months later, he was pitching in the major leagues.
As was the case with John, pitchers not only return, they're often better than before the operation. The namesake won 124 games before the initial procedure and returned to win 164 games, retiring in 1989 at the age of 46.
The rehab time has also been slashed. It takes pitchers a year, but position players can make a full recovery in as little as six months.
The elbow and shoulder are the most important body parts in baseball. If either is tampered with, the functionality of the entire product – a pitcher's motion, a batter's swing – becomes inadequate. The same can be said for football players and their knees. Famous knee injuries litter the game's landscape, from Willis McGahee in the Fiesta Bowl to Wendell Davis, who blew out both knees on the same play at Veterans Stadium in Philadelphia.
Knee injuries used to be career ending. But microfracture surgery, a new, radical procedure, has given players hopes and taken the sports world by storm. The outpatient procedure can take as little as 30 minutes. Tiny fractures in the underlying bone in the knee are made, causing new cartilage to develop. The microfractures are treated as an injury by the body, which attempts to fight it off. The success rate ranges between 75 and 80 percent, but the chances of symptoms returning a year or two after the surgery is high.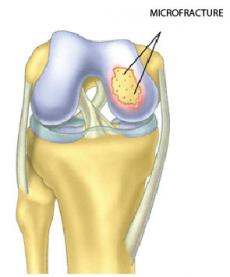 Despite the unknowns still surrounding the procedure, several high-profile athletes have gone under the knife. There have been varying degrees of success, from Greg Oden's continued problems to Amar'e Stoudemire's numerous All-Star seasons post-surgery.
Oden underwent his first microfracture procedure, on his right knee, before he even played a game in the NBA. He played in the 2008-09 and 2009-10 seasons, but suffered another knee injury in November 2010 and underwent a second microfracture procedure, this time on his left knee. In five years, Oden has played just 82 games, the equivalent to one full season.
Stoudemire had the operation in October 2005 and returned for the 2006-07 season. He's been an All-Star in every season since the surgery.
The hardest part about the procedure isn't even the surgery, it's the restrictions put on the patient during the rehab process. That is the lesson Williams has learned the past year.
"He's worked his tail off," head coach Urban Meyer said. "I'm proud of him. Your heart bleeds for a guy like Nathan Williams. I'm starting to really know that guy. Taking football away from him, he lives for it. It's been hard."
With less than three weeks remaining until the season opener, Williams deemed himself 90 percent and said he will be ready to go on Sept. 1. It's been a long road back for Williams, who missed all but one game last season. He suffered his initial knee injury in fall camp but tried to give it a go against Akron in the opener. Eventually, the pain became too much for Williams to bear.
"I hurt it the first or second week of camp," he said. "Something wasn't right. I took a couple of days off and continued on. I practiced a couple of days before the Akron game. I tested it out and it felt OK. By the time Akron hit, I played for probably a quarter and a half and I just couldn't take it anymore. I was having a hard time even walking."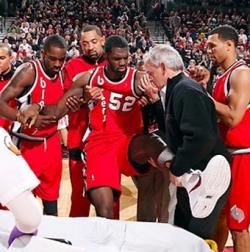 Entering the 2011 season, Williams was coming off the most productive year of his career. In 2010, he had 46 tackles, five sacks and 12 tackles for loss. He also had an interception, forced fumble and two fumble recoveries. Williams had established himself as one of the Buckeyes' dominant defensive players and elite pass rushers.
It's that 2010 level that Williams hopes he can return to. There was a time, though, when he hit rock bottom and believed his final season at Ohio State would be an abbreviated one.
"I've made a lot of progress in the last month that I'm really excited about," Williams said. "I was kind of down in the dumps this offseason, questioning whether or not I'd be able to make it back by the first game at 100 percent. Right now, everything's looking on par for me."
Williams recently began taking part in limited contact drills. Watching from the sidelines caused Williams to be anxious and gave him an even bigger desire to make it back. Meyer has cautioned that the coaches, training staff and Williams have to be smart about his return. The last thing anyone wants is for Williams to rush back and get injured.
Not only would it be a gut-wrenching way for his sterling Ohio State career to end, but it could affect his future football career.
"It's been a long, long process with this and I want them to know how hard I've been working, and I want to prove to everyone that I'm still the player that I was before," Williams said.
His coaches and teammates are well aware of the work ethic he exhibited during rehab. They talk about it when they're asked about Williams and they showed a sense of respect when he took part in his first drills of the season by standing and applauding.
Ohio State's defensive line is already going to be among the nation's best. But simply the addition of a healthy Williams takes it up another notch. He would provide an additional pass rusher and top-flight player for opposing offenses to pay attention to. With so many elite linemen, double-teaming someone won't be an option.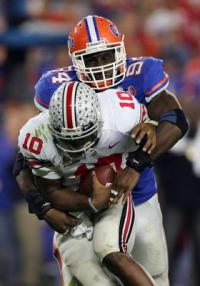 John Simon, Johnathan Hankins, Michael Bennett, Garrett Goebel, as well as newcomers Noah Spence and Adolphus Washington are expected to be in the rotation.
Meyer has coached defensive lines of that caliber before, in 2006 and 2008, when Florida won national championships. He said the potential is there for the 2012 Ohio State defensive line to be at that level – but with one caveat. 
"If we get Nathan Williams back, I would say this is in that category," Meyer said. "If he doesn't, I think we'll still be good, but I just think (Williams) brings that much sting to you and also experience."
Ohio State fans still have recurring nightmares from Derrick Harvey and Jarvis Moss in the 2007 BCS National Championship Game. The duo combined for five sacks and helped limit Heisman Trophy-winning quarterback Troy Smith to 4 of 14 passing for 35 yards.
"The defensive line is where it all starts," Meyer said. "If you want to have a bad football team, have a bad defensive line. You can be average in some other spots and hide them, but it's over if you have a bad defensive line. You have no chance."
Year One of the Meyer era will be defined by defensive line play. If Williams returns to form, Ohio State can't win 164 games.
But 12 would reestablish the Buckeyes as the gold standard in the Big Ten and a national power.