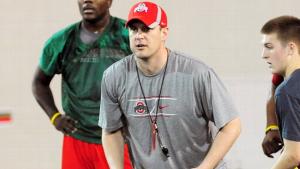 Perhaps no coordinator in the country has more on his plate than Ohio State offensive coordinator Tom Herman. The Cincinnati native arrived at Ohio State with a destination job in hand working for one of the game's best head coaches, Urban Meyer. But it wasn't all gravy once the plane touched down. Herman immediately went to work on a complete overhaul of the Buckeyes' stagnant offense. Luckily, he's a member of the high-IQ organization MENSA.
For the past decade, the Ohio State offense has been adequate but not exemplary. Conservative play-calls that put a premium on the Silver Bullet defense and special teams were the rule of order. All of that hit rock bottom in 2011.
The pass offense ranked 115 out of 120 teams, with total offense placing a few spots up the rung at No. 107. Since full Division I statistics have been available, it's the worst Ohio State has ever faired offensively. Several things factored into the Buckeyes' struggles: Jim Tressel's ouster, suspensions and poor quarterback play. And those are just a few. But, ultimately, it comes down to the on-field performance.
Ohio State's newly formed offense lacked firepower entering the spring and was discombobulated leaving it. Herman, who will leave play-calling duties to Meyer, deemed them a "2" on a scale of 1-10 following spring practice. But they've already improved by 100 percent in a handful of fall get-togethers.
"Light years," said Herman, describing the improvement. "We can actually throw and catch a football. We are still not real good, but we are still a lot better than we were at the end of the spring, which is a testament to our guys and how much they worked in the offseason."
Herman's offensive philosophies are closely aligned with those of Meyer, and while Herman doesn't have national championships to his name, the offenses he's oversaw have produced extraordinary results.
For two seasons as offensive coordinator at Texas State, Herman orchestrated the Southland Conference's leading unit. He moved down the road to Rice for a two-year stint, where the Owls broke 40 offensive school records and won 10 games in 2008. Their Texas Bowl victory was the program's first since 1954.
During the 2008 season, Rice ranked in the Top 10 nationally in passing offense, scoring offense and total offense. Rice scored more than 41 points per game compared to 18 the following season without Herman. Also in the '08 season, the Owls had two receivers compile more than 1,300 yards catching, while tight end James Casey had 111 receptions and quarterback Chase Clement was the Conference USA MVP.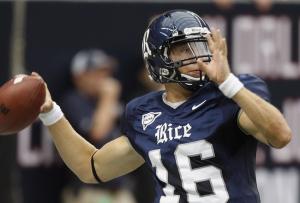 For the past three seasons, Herman directed Iowa State's high-powered offense. The Cyclones' quarterback, Austin Arnaud, ended his career as the program's second all-time leading passer with 6,777 yards and 42 touchdown passes. His 8,044 yards of total offense is also the second-best total in school history.
Those are eye-popping stats, and keep in mind, they've been accumulated at schools that attract less talented players than he'll have at Ohio State.
Herman's shining coaching moment came last year when Iowa State shocked undefeated and second-ranked Oklahoma State in November, scoring 37 points.
His offenses have a history of being very kind to quarterbacks and receivers. For Braxton Miller, Devin Smith and Co., it's a welcome change to the previous system.
"I'm just trying to learn everything," wide receiver Philly Brown said. "Coach Meyer wants me to learn all the wideout spots. There's no set position right now. Everybody is just working to become a starter, and it's pretty much even for everybody."
So far in practices open to the media, Miller has shown improved footwork and alertness in the pocket. He's also delivered accurate passes to his targets. Facing Ohio State's first-string defense that includes a dominant defensive line, many of Miller's passes have come on the run, but the sophomore has not appeared unsettled.
"I think he's a lot more mentally confident and you can see a little bounce in his step," Herman said. "He certainly still has a long way to go, but you can tell he studied in the offseason and he's worked with his wideouts in the offseason, and that's paid dividends here as we've started camp."
For Miller and the wide receivers, the pace of learning and executing the offense must be quick. The entire playbook will be installed in the first six practices before they go back and modify the product until it's finished. After Friday's practice there will be two weeks until game week arrives.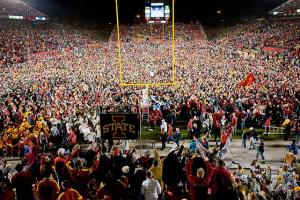 For a unit still grasping a new playbook and a two-deep that features five underclassmen at quarterback and receiver, a fine-tuned machine on Sept. 1 may be asking too much. That's not to say the Buckeyes won't score six or seven touchdowns; it just won't be the masterpiece Meyer and Herman long for when Big Ten play opens.
"Once the offense becomes second nature the whole game slows down and the tempo doesn't seem nearly as fast," Herman said. "But right now it seems like we are going 100 miles an hour because their brains are trying to turn and it is not second nature for them. Once it becomes second nature, then the tempo will internally slow down but externally will stay the same.
"The retention has been better than expected but still it is hard to watch at times. A lot of things get accelerated, which heightens your anxiety a little bit."
Another issue that raises Meyer and Herman's blood pressure is the loss of Jordan Hall and who will replace him. Philly Brown is a logical candidate, but the coaching staff seems to have cooled to Brown filling the hybrid offensive playmaker role.
"I would love to do that," Brown said. "Obviously having Jordan out is bad, but hopefully I can step in and fill in for him. I did play running back in high school, but if the coaches want me to do it, I'll do it. It doesn't really matter to me."
Brown contains all the qualities for the position: speed, body type, and pass catching. He also has the ability to knife though defenses and move swiftly in and out of traffic. But Herman pointed out Brown lacks the requisite size to travel consistently inside the tackles.
"Everywhere you go, I think the mark of quality offenses is don't try to fit square pegs into round holes," Herman said. "You deal with what you have. So the biggest challenge we have as an offensive staff is evaluating what we have honestly, and sometimes brutally honest, saying, 'This is what we have. This is who we are. This is what we can be,' without straying from our core tenets of being a spread, no-huddle, up-tempo offense."
Meyer and Herman's track record for mixing and mashing players' talents is notable. Browns and his fellow receivers will learn that they're placed at a particular spot on the field for a reason. Opposing defenses will long for the Halcyon Days of the "Dave" play.