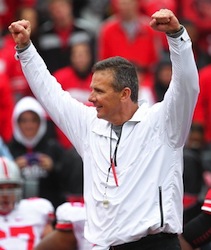 Our own Kyle Rowland had the opportunity to participate in a roundtable discussion with Urban Meyer regarding the history of his offense and general philosophy. Meyer provided some wonderfully in-depth answers regarding how he came to run his own brand of spread football. Though this story has been told elsewhere, it is particularly insightful to hear the answers from Meyer himself.
What follows is largely Meyer's own words. I add some annotations to provide context and background to his answers. Thanks to Kyle for providing these responses.

The history of Meyer's Offense
Question:  When did your offensive philosophies change?

Urban Meyer:  About 1998 or 99 when I was at Notre Dame, we were looking at adapting some of our offensive plans. I was in the I formation for a long time. At Colorado State, I was all one back with Sonny Lubick. I was with Coach Bruce for a long time; it was really tradition I and pro set. The complexity and talent of defenses made it harder and harder to move the ball at Notre Dame.

In 1999, Dan Mullen was my GA at Notre Dame. John L. Smith was the coach at Louisville and Scott Linehan was the offensive coordinator. I started watching them on film and said I want to go study them. He said sure go ahead. We ended up staying four days and had to go buy a toothbrush. I was so enamored with the style of play. That was spread the field and be extremely aggressive. The biggest issue was how to handle pressures. The tighter the formation, the more pressures. It's really a numbers game. It was a different philosophy I had never really…after that, both Dan and I really attacked it. I started getting phone calls about being a head coach and thought about what I would do offensively.
Linehan, Gregg Brandon, Dan Mullen, Greg Studrawa at LSU. We all sat in that old nasty meeting room in Bowling Green, Ohio. Every time it rained, water would drip down on the table. Doyt Perry Stadium. We sat there for the month of February to the month of March and sat there for 10 hours. From huddle to snap count, there was no other model. Northwestern was doing some of it and Rich Rodriguez was doing some it, but we developed our own. That was one of the greatest experiences I had, because there's no model. Imagine trying to build something and there's no book to go build it. We really enjoyed that. I had some great coaches.
Annotation: 
This is a remarkably in-depth and informative answer and captures Meyer's embrace of the spread.  Chris Brown tells a similar story:   

Meyer bounced around as an assistant coach, finally as receivers coach at Notre Dame under the schematically brilliant but instinctively cro-magnon Bob Davie. Meyer has recalled losing to Nebraska in 2001, and being struck when, after they lost, he found one of his best players, David Givens, crying at his locker because he was unable to help his team win: he hadn't touched the ball the entire game. He swore to run an offense that got his playmakers the ball. While at Notre Dame, he began meeting with his intellectual mentor (his actual mentors were guys like Lou Holtz), Scott Linehan. (Yes, that Scott Linehan.) He was hired as Head Coach of Bowling Green, and decided that -- in years that just happened to be the rather formative ones for the spread -- he would have his staff learn at the masters' feet.

 

So, eschewing typical coaching visit hotspots like Ohio State, Michigan, Florida, and the like, Meyer directed his staff to make a Midwest pilgrimage to learn from the likes of: John L. Smith and Scott Linehan at Louisville; Joe Tiller and Jim Chaney (now St. Louis Rams) at Purdue; Randy Walker and Kevin Wilson (now at Oklahoma) at Northwestern; and, of course, with Rich Rod at West Virginia. What all these guys had in common was they were one-back or spread coaches, they had the ability to run the ball (though Meyer focused more on passing with a team like Purdue), and they had an organized, conceptual way of thinking about football.
Yet as Meyer also discusses, his formative years under Sonny Lubick were spent in a pro-style one-back offense, featuring zone, counter trey, and play action.   Indeed, that was Linehan's system as well.  Meyer's approach was to combine the one-back offense within the shotgun-to-run spread.  Meyer and Mullen did not 'invent' anything new.  Instead, their insight was in hybridization.  They took the pro-style downhill run offense and fit it within the shotgun, using the quarterback as a run threat and adding reads and options off the base and inside run plays to create an arithmetic advantage.  The goal was to overcome the increasing limitations Meyer and others faced in a pro-style offense as defenses increasingly gained a numbers advantage.  Meyer's offense was therefore not a pro-style one back system, nor was it Rodriguez's offense that was based entirely around the zone read.  Instead, Meyer continued to use plays like counter-trey, but simply changed the launching points and added a QB run threat.
  See :20 second mark below (note the guard pull and H-Back lead to the halfback side).
The Misnomer that the College 'Spread' is a Pass-First Offense
Question:  Purdue basketball on grass?

UM:  It was completely different. Purdue kind of changed the Big Ten a little bit, but that was much different. That was a throw it, throw it, throw it; we want to be more balanced and real physical. They were called basketball on grass. I told my coaches you won't coach here very long if I hear that come out of your mouth, basketball on grass. It's power football with a spread set.
At Utah, people didn't know how to defend us. We were a novelty. We beat Missouri my first year at Bowling Green with 52 or 55 scholarship players. We traveled to Missouri and won that game. It was because they had a hard time getting lined up.
ANNOTATION:
As discussed, Meyer's statement that it's "power football with a spread set" is the most succinct statement yet of his own offensive philosophy.  The core of Meyer's offense is the same plays that you see every NFL team run Sunday:  inside zone, outside zone, power, counter trey.  The spread's primary purpose for Meyer is not to open up the pass game.  Instead, it is to provide greater opportunities for the power run game to succeed.  
It does so by A) making the quarterback a threat in the run game, requiring the defense to account for an additional threat, and B) by putting athletes in positions from where big plays are available on the outside through reads, options, screens, and motions off the inside run threat (see above).  Spreading out obviously does provide the offense with more immediate vertical threats, but Meyer is not spreading to throw like an airraid coach.  Meyer's definition should always be kept in mind when watching his offense perform.
The Ubiquitous Spread      
Question:  How much more difficult is it now to beat teams with spread?
                                                                                                                                                          
UM:  It's much more difficult now, because it's not a novelty. There are eight teams in this conference that run spread offense. When we did it in 2001, there were zero. We went out to Utah, same thing. We put almost 700 yards on Carolina. The next week they beat Miami. It wasn't because we had much better players; it was the offense. They were saying, 'what is this?'
ANNOTATION:
As Meyer acknowledges, when the spread was first unveiled, the arithmetic change of the quarterback as run threat alone made it difficult for defenses to stop.  But that point is long gone, as Rich Rodriguez's Michigan tenure attests.  Defenses are far better at defending the spread-to-run, as that is the offense they face more than any other.  Indeed, Meyer's own career has had periods of rocky offensive performances.  That is because, with the novelty worn off, the spread-to-run, like any other offense, requires a certain type of player to succeed.  The x's and o's are generally never enough.
The biggest adaptation since the spread-to-run's formative years is the increasing growth of the use of no-huddle.  This is not an x's and o's innovation, but rather adopting a philosophy that takes advantage of the rules of football that provides the offense the advantage of controlling pace of play.  Meyer reflects this trend, as his Ohio State offense will be the first time his offense is almost entirely no-huddle.         
What is Required in a Quarterback
Question:  Quarterback in spread offense?

UM:  The one thing about our offense, you can't have a bad quarterback. And the quarterback can't have a bad day or you'll lose. Some offenses turn around and hand the ball off, that doesn't happen. We'll do that a little bit this year, we've got some plays in. There's a lot of games where the quarterback has to make a read every play, 80 snaps. I don't think there is any other offense that does that. Usually there's no read.

Question:  Concern you that you rely too much on one player?

UM:  Oregon lost that great player…it's the same concern for a tailback in I formation if you expect to hand the ball off 30 times a game.
ANNOTATION:
Meyer's comments speak to two issues.  The first is the mental aspect.  A quarterback executing reads and options must make correct decisions or any arithmetic advantage gained over the defense is lost.  
But quarterbacks must be solid decision-makers in any offense.  As Meyer alludes to, the quarterback in a spread-to-run offense must also be a weapon, capable of threatening the defense as a runner.  The unblocked backside defender will only respect the quarterback run threat (and thereby remove himself from the inside run) if the quarterback is in fact a threat.  
The quarterback need not be your best runner, but he must at least be a sufficient threat to gain yards.  
Meyer's least productive offenses suffered from this flaw.  As I wrote earlier this year:
In 2004, Meyer's Utah Utes ran for 2,833 yards.  Alex Smith--a good athlete but not Tim Tebow--ran for 631 yards and averaged 4.7 ypc, including sacks.  In 2005, Meyer's first year at Florida, his team's rush yards fell by nearly 38%.  The main culprit?  Chris Leak only rushed for 81 yards. Teams would clog the inside zone and slow play the read, negating the read's purpose.
Fortunately for Meyer, Braxton Miller is likely Ohio State's most dynamic run threat, largely diminishing any such growing pains.  As Meyer's answer states above, so long as Miller can make solid decisions, Meyer has an ideal quarterback to make his system thrive.