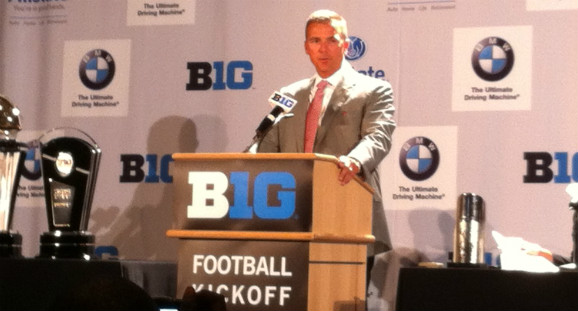 Urban Meyer's on-field experiences so far at Ohio State – spring practice, spring game – have given way to great expectations. They are visions that give coaches, players and fans reason to be excited and demonstrate that Ohio State is much improved after a 6-7 sleepwalk in 2011.
Off the field, though, and to no fault of Meyer's, he seems to be missing a four-leaf clover.
From the outset of his tenure as Ohio State head coach, Meyer's relationship with Wisconsin's Bret Bielema has made headlines.
In November, Meyer had to go on the defensive after charges of recruiting impropriety were levied in his direction. But eight months later, the two would lead you to believe they are golfing buddies, or at least that the hatchet has been buried.
"We have a very, very good relationship," Meyer said of Bielema Thursday at Big Ten Media Days in Chicago.
When the subject was broached with Bielema, he denied ever accusing Meyer or Ohio State of poaching players. He went as far to say that there are several players on the Badgers' roster that at one time were committed to another school.
"I didn't say anything about a gentleman's agreement," Bielema said. "I didn't say anything about coaches recruiting other players.  That was just kind of spun into that world.  So I've never made a comment about that.  I've never referred to it in any way, shape, or form." 
The controversy first took hold when Kyle Dodson, a prized offensive lineman from Cleveland, switched his commitment from Wisconsin to Ohio State. Meyer was accused of "bumping" into the blue-chipper, an illegal practice used by coaches when recruits are off limits from contacting.
Meyer was stern Thursday when asked to relive the accusations.
"There's absolutely no problem whatsoever with the way Ohio State does business," he said.
The recruiting flap then gave way to a gut punch from the NCAA. In December, the Buckeyes' football program learned they'd be docked several scholarships and face a postseason ban for the 2012 season. It came as a shock to Meyer and the athletics department. Gene Smith had spoken with confidence for a year that a bowl ban would not be part of the NCAA's punishments. 
"We got hit by a two-by-four and a two and a half week barrage of negativism," Meyer said.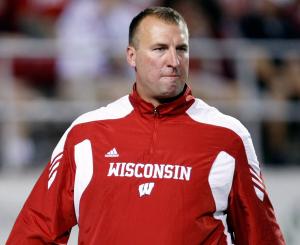 But as the sanctions dealt a blow to the team's psyche, it eventually served as a rallying point. The team came together, like it did under adversity a year earlier, and the people who wanted to be Ohio State Buckeyes were identified, according to Meyer.
"After our last game against our rival, you simply shake their hands, give them a hug, and say see you in January," Meyer said. "That's going to be hard to do, so we have to put a plan together in place, and that's going to be for the 2013 season. That's the only issue. The issue is not the 2012 season at all.  We're going to line up and try to win every game we play.  It's just going to be how do you handle the 2013 season." 
Meyer is also fully aware that there will be no grace period from the fans. Every Saturday when the Scarlet and Gray take the field, thousands upon thousands of fans will stand, cheer and expect a victory. 
"There's no such thing as a buffer year in college football, certainly not at Ohio State and certainly not with myself and our staff and our players," Meyer said. 
After a winter that included the spat with Bielema followed with the bowl ban, Meyer assumed his program was in the clear. Then more events unfolded, this time in the form of three arrests. He has navigated through the messy situations with uncanny maneuverability. And this came after he already kicked three players off the team.
At the heart of the offseason troubles was the arrest of Jake Stoneburner and Jack Mewhort, two offensive starters and leaders. Their scholarships were yanked for the summer, but Meyer sounded confident in their return at the start of fall camp on Aug. 3.
"They're not reinstated yet," Meyer said. "They're actively working out. They have to fulfill their penance or obligation that we've asked them to do. We did take their scholarships. They've had to pay for their summer school. Very expensive mistake. They're doing what they are supposed to do.  I'm monitoring it closely, and that decision won't be made until we get to training camp. But as of now they'll be reporting to training camp a week from Friday."  
Then everyone can concentrate on the playing field, an area of preference for Meyer.