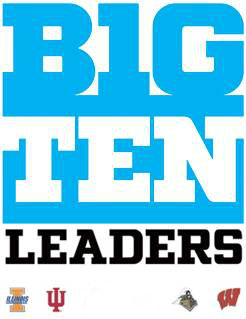 From death comes life. At least that's what one teaching tells us to believe, I think.
For Indiana, Purdue and Illinois, the self-inflicted destruction of one football program, as well as a one-year postseason ban for another, has created temporary life for fans of these schools, who rarely experience a successful1 season.
With the Leaders Divisions' two most historic and successful football programs at bay for this season, the chance to pull off the unexpected and head to Indianapolis for the 2012 Big Ten Championship has just gotten substantially more bizzare and definitely easier.
Illinois and Purdue have both had their share of successes filled with upsets and almosts, but the frequency of those results come scarcely. Sure, each program has had a share of Big Ten titles, Purdue's last in 2000 and Illinois in 2001, but the likelihood moving forward becomes less as Ohio State, Michigan, Nebraska, Wisconsin and even Michigan State have bulked up for the long run.
For Indiana, the times have been tough and when I say tough, I mean very tough. IU has not touched title contention since 1967. IU has either come in last or tied for last in the past four seasons including a 1-11 (0-8) campaign last year. This year has a different feeling and a different motivation for Hoosier fans, and we're not talking about their basketball hopes. There is life at the end of the tunnel and it could be obtainable.
Of course, Wisconsin is the clear favorite to escape the rocky depths of the division and head to yet another Big Ten Championship game, but this year is different. One slip up by Wisconsin and we could have an unexpected representative from the Leaders Division.
Let's look at Indiana.
Like stated earlier, this program has had little success1.
However, unlike in the past, a 3rd place and potentially a .500 finish in the Big Ten could land them in Indianapolis. A ray of sunshine, a glimmer of hope, an opportunity presents its self.
This, undoubtedly, is Indiana's best chance to shock the world.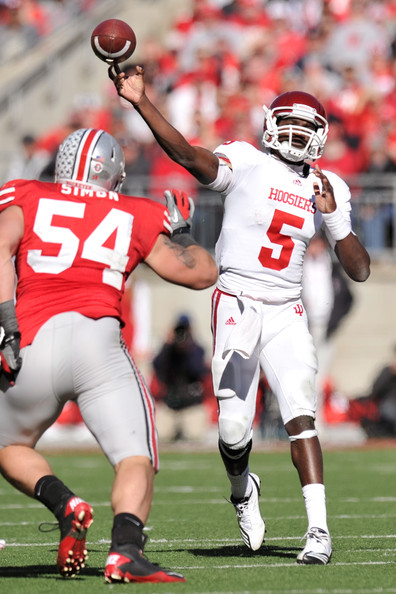 Although Penn State--a program that has never lost to Indiana--is out of the picture, once the Buckeyes are eligible for the post season next year, there goes any convincible opportunity to do any noticeable damage.
Even an underachieving Urban Meyer lead squad will out-match the Hoosiers with athleticism alone, then you throw in the rest of the B1G competition.
But why not this year? IU has Michigan State coming to Bloomington for Homecoming, Ohio State under the lights for a BTN Saturday night showdown, Wisconsin and Iowa also at home. Each very difficult, but more winnable at home and they play a usually unpredictable and inconsistent Illinois team on the road.
Add in a tough Northwestern game on the road (IU always plays this game close), a visit to not-so-Happy Valley, and rival Purdue on the road, and anything is possible.
This is a program that could make a lot of noise by winning a few conference games and threaten to take the division. Remember, a 3rd place divisional finish could win it.
Jordan Cohen, a former Indiana journalist who helped contribute to the Indiana section of this article, had this to say about his team's quirky 2012 chances:
We're long removed from IU playing O.J. and USC in the '68 Rose Bowl. IU is not a football power and they may never be. They are often headed in the right direction, but the Big Ten is very tough. Even with a clearer path to Indy, it will still be very difficult this year. I'd like to think it is possible, but still unlikely. Get your popcorn ready.
This is their only year to do it.
Illinois on the other hand, has been ranked for a few weeks in three of the last four seasons.
If you think about the details closely, Wisconsin is replacing Russell Wilson, who definitely brought them from a decent team to a very good one, the Buckeye ineligibility, and Purdue is still struggling against programs like Indiana, Illinois has the ability to make things happen (I don't need to mention PSU again).
The Illini do have quite the road slate, playing at Wisconsin, Ohio State, and Michigan in-conference, but this would be the squad to emerge, if Wisconsin doesn't.
Tim Beckman will have a chance to bring some of the same success we witnessed at Toledo (see: last year, week 2) with his new coordinators who have proven track records (Chris Beatty and Billy Gonzales).
When asked about this upcoming season post the Penn State penalties, an Illinois alumnus and die-hard Illini sports guru was quoted saying:
Obviously, we [Illinois] have a very run-of-the-mill team most years, but I do think we could win the division this year's with the ineligible programs. Oh, how crazy would it be if the Illini came in 3rd place and played in the championship game. Chief Illiniwek would have to show up for that one.
Illinois also returns a solid defense making them a team to keep your eye on. Unfortunately, defense end Whitney Mercilus was taken in the first round, but the Illini have a ton of hidden gems waiting to emerge. The Illini have the potential to make things happen.
Purdue and Illinois are currently in the same boat.
Purdue is coming off a better-than-expected 7-6 campaign in '11.
In a normal year, if this had been a "normal" season, Purdue would probably be favored to come in 5th place in the division. Things are different this season.
A former Purdue computer science student and current software developer/Boilermaker supporter had this to say about this year based on all the ineligibility:
I'd take the title game either way, finish in 3rd place or not. Actually, I hope OSU or PSU finishes first and we can watch the 2nd or 3rd place team go to the title game. Well, I do not want PSU winning. 
Purdue gets to play Wisconsin and Michigan in West Lafayette and skips playing Nebraska. An upset or two and Purdue could be competing for the division title, playing in nearby Indianapolis.
In a year that's far from normal, anything can happen. Buckeye fans will have to sit back and watch what happens at their expense.
1 Success(ful) by Ohio State fans' measures, which usually include super high expectations, every year, regardless of what's going on.