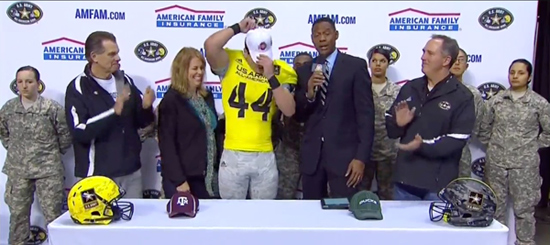 Mike Mitchell has been a name on Ohio State's recruiting board for some time now, but his interest in OSU has been questioned by Buckeye Nation over the last few months, as he has mentioned the school at the top of his list constantly, but failed to ever make a visit to Columbus.
That was until early December, when Mitchell finally made the journey to Buckeyeland from Plano, Texas, for his official visit. On the trip, Mitchell solidified his feelings about Ohio State and after returning home to talk things over with his family, gave Urban Meyer his commitment today at the US Army All-American Bowl, becoming the 21st member in the recruiting class of 2013.
Mitchell, a 6-4/215 linebacker from Prestonwood Christian High School, becomes the second true linebacker to join Ohio State's class (Tyquan Lewis is a hybrid player). He was already ranked as a four-star prospect across the board before The Opening in July, but made his case as one of the best athletes in the country after registering an all-time record SPARQ score of 157.47, which was highlighted by a 4.39 40-yard dash time.
The four-star prospect is most likely headed to Columbus to play the MIKE position, although either outside spot is not out of the question. He chose the Buckeyes over other finalists Oklahoma, Texas A&M, Florida State, and Oregon, despite making just his first visit to campus less than a month ago.
Growing up in Orlando before moving to Texas, Mitchell was a fan of the Florida Gators, where he first grew an admiration for his future head coach, who played a huge role in his decision to play his college football at Ohio State.
Mitchell is a huge get for OSU, as the Bucks have had a bit of trouble recruiting the linebacker position this year. Alex Anzalone (Notre Dame) and Lewis Neal (LSU) opened up their recruitment after verbally pledging to Meyer, while an offer to Michigan commit Mike McCray came too late in the process, but Ohio State gets an outstanding player ranked higher than all three "misses" in Mitchell, just a day after landing another terrific linebacker in Trey Johnson.
The icing on the cake may go to Thad Matta, since Mike's brother Mickey is one of the top basketball players in the 2015 recruiting class and it has been said the brothers may want to attend the same school to make things easier on their family.
Kyle is in San Antonio and will do his best to catch up with Mike to get his feelings on his commitment, as well as what went into his decision to become a Buckeye. As always, come back to Eleven Warriors to get the latest on what is going on in the world of recruiting.
HIGHLIGHTS: