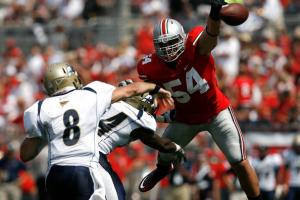 The mantra "defense wins championships" is as old as the game itself. Whether it's on the gridiron, the baseball diamond or basketball court; defense rules the day.
There's also an old adage about the summer before a season and its role in providing a launching point for a campaign to remember. Ohio State hopes the 2012 season proves that cohesiveness and putting in overtime is the recipe for success.
From the moment Urban Meyer was handed the keys to the football program – at the time a busted up Maserati – hard work has been the dominant equation. From taxing 5 a.m. workouts in January under the guidance of strength and conditioning guru Mickey Marotti to team-led summer drills, more than 100 Scarlet and Gray-clad football players understand the task at hand – returning to not only the top of the Big Ten, but compete for national titles – and the level of dedication it takes to finish the job.
NCAA rules prohibit coaches from organizing or watching on-field play until fall camp commences in August, thus the players have taken matters into their own hands. May, June and July have been transformed into hours of weight training and 7-on-7 drills, not lounging by the pool.
The ringleader for the Buckeyes' Summer of Redemption is surprise, surprise, defensive lineman John Simon, someone Meyer referred to as "Tebowish" during the spring. Meyer has already named Simon a captain for the regular season after the senior from Youngstown displayed impeccable leadership qualities throughout the spring.
"We've had guys get in here a lot more than in the past," Simon said as the spring quarter came to an end. "They're coming in twice a day to get some position work in with the seniors or extra film study. Guys are coming in on weekends trying to get better. It's really an exciting time. We're going to have to continue that process if we're going to have a successful season."
Simon, the consummate team player, earned favorable reviews from Meyer. The praise can easily be turned the other way, though. Meyer's is equally as blunt with criticism as he is with admiration. That quality became evident in the locker room almost immediately after Meyer's hiring. Before the players were left on their own for the summer, Meyer met with each one individually and gave him a binder. Inside was both good news and bad news – the bad being what each player is working on over the summer.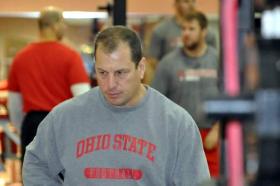 "He's not going to sit there and say, 'Oh, you know, you did a pretty good job on this, you could get better at this,'" center Corey Linsley said. "He's going to say, 'You suck at this, you're doing well at this.'"
Linsley is a living example of both faces of Urban Meyer. When Meyer was hired, Linsley, a redshirt-junior from Youngstown was in the conversation to be a starter this season, but center wasn't the likely landing spot. The job was assumed to be Brian Bobek's, but he was not only beat out by Linsley he was relegated to third-string, losing the backup role to incoming freshman Jacoby Boren. After spring practice, Bobek transferred to Minnesota.
Linsley's rise in confidence came at a time when his career was at a crossroads. He was at his lowest point, unmotivated at improving his craft and with a souring attitude toward Ohio State. All that quickly changed. 
"I really think I made a 180 in my life, on and off the field," Linsley said. "I feel rejuvenated.
"I had to make a decision to make myself a better player and better person, or continue down the path I was going down."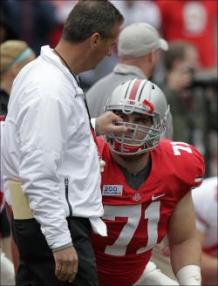 Marotti's 5 a.m. workouts started the process. By the end of winter, Linsley was arriving early to work on techniques with line coach Ed Warinner and snapping the ball with Braxton Miller.
"At first, those were the hardest things I've ever done," Linsley said of Marotti's demanding routine. "I was like, 'Am I really going to quit through this?' And the answer was,'absolutely not.' I'd be constantly telling myself I wasn't going to quit. It was layer upon layer of building confidence."
There are multiple stories on the team similar to Linsley's – Meyer and his staff building players back up. The additional motivation has come from coaches and also a 6-7 season that was the worst in over two decades.
"It's been crazy," safety C.J. Barnett said. "I've never seen it before. Guys are in here working on their craft non-stop. In past years, guys would take a lot of time off and be college students. I think they've figured out that being a college student is great, but being a football player is better. Guys are taking it a lot more seriously."
When you have past lessons to draw from – lack of leadership and team chemistry – and a head coach whose credibility is akin to Johnnie Cochran sauntering into a court room, people respond. The clichés that are recycles year after year – "the team has never been so close," "we're working so hard" – have an added sense of realism in 2012.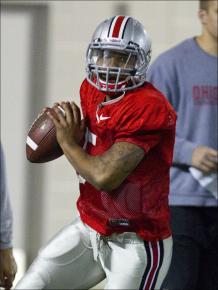 But the sweating together in the summer months will only take you so far. You still have to produce in the fall. The area under so much scrutiny that the Hubble telescope would provide adequate viewing is the passing game. Last season's historically poor pass offense must increase ten-fold.
Miller has heard the chatter since the Gator Bowl ended and took it upon himself to get better. Coaches and fans saw progress in the spring, and now Miller is taking the summer to mesh with a young group of receivers. No longer a part of that group is tight end Jake Stoneburner, whose been absent since early June, serving a suspension, along with offensive lineman Jack Mewhort. With last week's news of Jordan Hall's freak foot injury, Miller's top two playmaking threats are MIA.
"Braxton Miller and Kenny Guiton have to get our passing game in order for August," Meyer said following the spring game. "That's a tall task because it's not very good right now. If they do that, and I understand they are doing it, we have a chance. If not, no chance."
The trio of Miller, Stoneburner and Hall have gone to studying old film of Meyer's Florida teams and offensive coordinator Tom Herman's style at Iowa State to pick up the nuances (Stoneburner prior to his suspension). That initiative and leadership is exactly what Meyer seeks in his quarterbacks.
"I'd say there's enough talent here to win some games," Meyer said after spring practice. 
"Discipline, we're still evaluating that. The leadership is not where it needs to be. You saw that last year with some issues that took place."
At each of Meyer's head coaching stops en route to Columbus, he has instilled discipline into his teams. It was lacking at all three institutions and again at Ohio State.
"I tell them exactly where they're at," Meyer said. "Sometimes it's very uncomfortable. I've always believed one of the worst things that can happen between a coach and a player is some misunderstanding or cloudiness about what's going on. We try to eliminate that with all the different evaluations."
With fall camp just one month from beginning, Ohio State is in the thick of setting out to accomplish a goal that is nearly unattainable – even in July. National championships in Columbus may be coveted more than water in the desert, but the fans will give a Meyer the Golden Ticket – a free pass – this year because of the present situation which includes no postseason play.
''There's a lot of seniors in this class that had nothing to do with nothing other than to go to class, play really hard, get good grades and represent Ohio State the right way,'' Meyer said. ''That same group is not going to get to play in a bowl game, so that kind of rips your heart apart for those kids.''
A "W" next to Nov. 24 would go a long way in warming Meyer's heart and acting as a starting point for 2013.
Until the summer begins.