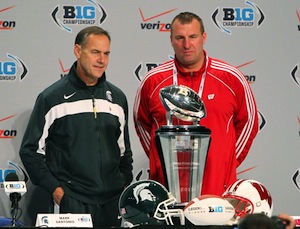 On July 10th, some of baseball's best and most popular players will take part in the 83rd All-Star Game. The winning league is granted home-field advantage for the World Series along with bragging rights, at least for those who also happen to be SEC fans.
The break itself is one of the quietest times on the sports calendar, and unless you really enjoy the Home Run Derby and All-Star Legends & Celebrity Softball Game, it's also one of the most boring. Blasphemous as it may be, imagine that the entire Big Ten decided to take a week off in the middle of football season.
While the duo of Eddie George and John Legend would own Brian Griese and RHCP's Chad Smith in flag football, and Montee Ball would dominate the Touchdown Run Derby, what would each division's All-Star team look like? 
If the selections were based solely on how the fans voted, it's not hard to envision that Ohio State and Michigan would rally their respective fan bases so that the match-up would essentially become a midseason version of The Game.
On the other hand, if the rosters were completely chosen by each squad's coach—Bret Bielema and Mark Dantonio in this case1—I wouldn't put it past either of them to snub both those schools. 
Therefore, through a combination of talent, name recognition, favoritism, and with the MLB-like condition that every team must be represented, I will take a look at which players would start in a hypothetical B1G All-Star Game. This week, I will tackle the offensive side of the ball. 
QUARTERBACK
Leaders: Braxton Miller, Ohio State
The 2011 Big Ten Freshman of the Year steadily improved as the season moved along and is poised for a breakout sophomore year. A dual-threat QB with sky high potential, he is expected to be an ideal fit for new coach Urban Meyer's offense. Buckeye fans are pumped to see him progress and even if fans of other schools in the conference are less than enthused about that, the low-key Miller isn't the controversial and sometimes off-putting figure that his predecessor was.  
Danny O'Brien, another graduate transfer for Wisconsin, will attempt to take over where Russell Wilson left off. Although he's more experienced than Miller, he's no Wilson and it's not guaranteed that the transition will be a smooth one2.
As for the other signal callers in the division, Nathan Scheelhaase is efficient but not necessarily electric. Matt McGloin? LOL. Is Antwaan Randle El still at Indiana? No? Then moving on to Purdue, which has three QBs who are basically the same person and could fall victim to an ACL tear at any moment.
Legends: Denard Robinson, Michigan
With 15 interceptions last season, Robinson's accuracy is a glaring weakness, but he's a dangerous runner who can make plays when the game is on the line...even though that might entail throwing up a jump ball that one of his wide receivers miraculously catches. Shoelace is well-known throughout the college football world and somehow for a Michigan quarterback, is more or less liked3. 
Iowa's James Vandenberg is the better passer and should rack up yards in the air this season, yet he lacks mobility. Also, his bear-killing ways would lose the PETA vote.
Nebraska's Taylor Martinez is inconsistent unless he's playing in the second half against Ohio State (sorry), and Michigan State's new quarterback is Andrew Maxwell, which is as much as anyone knows about him. Kain Colter basically plays every offensive position, so I'm not even sure if he'll be Northwestern's QB. MarQueis Gray certainly tries, but Minnesota, you know? 
RUNNING BACK
Leaders: Montee Ball, Wisconsin
This is the biggest no-brainer selection. Last year, Ball was the Big Ten Offensive Player of the Year, an All-American, and a Heisman finalist. He accounted for 39 total touchdowns (33 rushing, 6 receiving), which tied Barry Sanders' record for the most in a single season (FBS). Penn State's Silas Redd is a solid back-up, however.
Legends: Rex Burkhead, Nebraska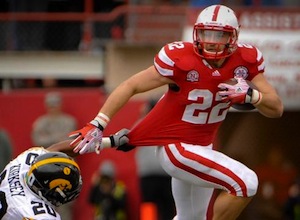 Along with Ball, Burkhead earned first team All-Big Ten honors in 2011. Dantonio would be tempted to go with Spartan RB Le'Veon Bell, who had a higher yards per carry average, but Burkhead's production on the ground last season (1357 yards) plus his nice guy attitude would win the fans over. The apostrophe in Le'Veon also seems polarizing in that some would think it has panache while others might find it haphazard.
FULLBACK
While it's been said that the fullback is a dying breed, the "ram it down their throats!" style of Bielema and Dantonio lends itself to actually utilizing the position.  
Leaders: Zach Boren, Ohio State
The fullback is pretty much a foreign concept to Urban and offensive coordinator Tom Herman. Still, when they witnessed Boren in action, they knew immediately that he needed to play and not just for blocking purposes. His head coach has nothing but praise for the senior, whose stats belie his skills. Last year, he hauled in six passes for 60 yards, which was probably third best on the team or something. He should have more touches, both running and catching the ball, in 2012. 
Legends: Brad Rogers, Iowa
First, let's pretend that anyone can name another FB in the conference other than Boren. And because everyone likes a good comeback story, Rogers, who battled back from a heart ailment, was given the Comeback Player of the Year award by his team. Although he's mainly been used as a blocker, he is also capable of carrying the ball, as he did in high school. With the Angry Iowa Running Back Hating God constantly lurking, it's always possible he'll be called on for the job.
TIGHT END
Leaders: Jake Stoneburner, Ohio State
This position comes down to the Two Jakes: Stoneburner and Wisconsin's (Jacob) Pedersen. Even though it was the latter who was a semifinalist for the Mackey Award in 2011, the former is now under the direction of the man who coached Aaron Hernandez in college. Basically, big things are expected of Stoneburner, who already has touchdown chemistry with Miller. That is, at least once he's officially back on the team. Besides, it's obvious Stoney would have the sympathy of Bielema, who has probably urinated outside more than your dog.
Legends: Dion Sims, Michigan State
An All-American in high school, the redshirt sophomore earned the starting spot for the Spartans and was one of first players picked in Michigan State's  spring game draft. His involvement in a laptop-stealing crime ring4 caused him to sit out the 2010 season, but felonies don't really deter Dantonio, and hey, if the Leaders opt for a TE who's been arrested, then so can the Legends. 
WIDE RECEIVER
Leaders: Justin Brown, Penn State; Kofi Hughes, Indiana
Every first and second team All-Big Ten WR from last season is now gone, and while Badger Jared Abbrederis is the most accomplished returning receiver, Penn State and Indiana need to field at least one offensive player. In 2011, Brown managed to catch 35 passes for 517 yards from the two-headed McGloin/Rob Bolden monster. Hughes recorded similar stats (35 receptions for 536 yards) from the multiple quarterbacks that Indiana trotted out. Kudos to both young men for rising above the suck.
Legends: Keenan Davis, Iowa; Demetrius Fields, Northwestern
With Marvin McNutt currently in the NFL, Davis will become Vandenberg's top target. Last season, he caught four scores and totaled 50 receptions for 713 yards. It might be prudent of Dantonio to choose Roy Roundtree, who's accustomed to snagging Denard's lobs, but he would also want more Spartans than Wolverines as starters, if only out of pride. Since Northwestern needs a representative, Fields is a worthy candidate after bringing in 32 catches for 382 yards in 2011. 
CENTER
Leaders: Travis Frederick, Wisconsin
Second-round draft pick Peter Konz is now with the Atlanta Falcons, but the always stout Wisconsin offensive line should barely miss him thanks to Frederick, arguably the conference's best center. Graham Pocic of Illinois is a close second, though.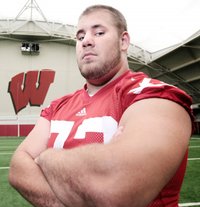 Legends: James Ferentz, Iowa
It'd be easy to assume that people see the name "Ferentz" and just want to hand him an honor that he doesn't deserve. That's not the case here. More than simply the coach's son, the senior is entering his third year as a starter and has been named to the Rimington Trophy watch list.
OFFENSIVE GUARD
Leaders: Hugh Thornton, Illinois; Andrew Norwell, Ohio State
It's the Illini's turn to be acknowledged, and with 25 career starts, Thornton, along with Pocic, will help anchor the Illinois line. Norwell is also a returning starter at the guard spot and brings versatility to an OL without much depth. 
Legends: Spencer Long, Nebraska; Chris McDonald, Michigan State
Simply put, these are the top two guards in the B1G. Long is a former walk-on turned starter and McDonald is a leader of one of the conference's toughest offensive lines. 
OFFENSIVE TACKLE
Leaders: Trevor Foy, Purdue: Ricky Wagner, Wisconsin
No Purdue yet? Then step on up, Mr. Foy. The senior can play either tackle spot and can grow a killer beard, which seems to be the sort of achievement Bielema would find impressive. The Wisky coach also promised that Wagner would take home the Outland Trophy this season, so he's not too shabby.
Legends: Fou Fonoti, Michigan State; Taylor Lewan, Michigan
Besides having an awesome and alliterative name, Fonoti is pretty darn good. Last season, the JUCO transfer took over as the starting right tackle after the third game and did not give up a sack all year. His bio also boasts that he "ranked third on the team with 31 knockdowns, including 10 dominators, in the regular season", and I'm not going to claim to know what that means, but I'm guessing Dantonio approves. And even he might nearly smile if someone showed him a picture of Lewan, one of the nation's elite left tackles, riding his tandem bike.
RETURN SPECIALIST
(Because punter/kicker will be a combined category next week5, there will not be separate punt returner and kick returner selections.) 
Leaders: Jared Abbrederis, Wisconsin
Purdue's Raheem Mostert is the conference's #1 kickoff returner, but with Abbrederis being passed over at the WR position, this is where Bielema would make it up to him. He's proficient as both a KR and a PR, last season averaging 24.6 yards and 15.8 yards, respectively. The latter was good for third best in the country, and he also brought back a punt for a TD. 
Legends: Troy Stoudemire, Minnesota
And last but not least (except yeah, least) is Minnesota, who would contribute to the Legends camp with Stoudermire as a return man. The senior is the Big Ten's record holder for most kickoff return yards and not just because Minnesota gives up a lot of touchdowns. He owns a career average of 25.6 yards/return. 
---
Although the Leaders Division is represented on offense mostly by Ohio State and Wisconsin while the Legends picks are spread out more evenly, there's more uncertainty and unknown commodities on the Leaders side. It's also indicative of how the Legends Division is expected to be the more highly competitive of the two. 
Check back next week for the defensive edition of the Big Ten's All-Star Team.
1 By virtue of coaching the teams who played in last season's B1G Championship Game.
2 He struggled a year ago under Randy Edsall's reign, but for all his buffoonery and grossness, Bielema is at least a better coach.
3 Ex-girlfriends not included. 
4 Are we still telling Cam Newton jokes? If so, this would be an opportune time for one.
5 Spoiler alert! Also, I like symmetry.