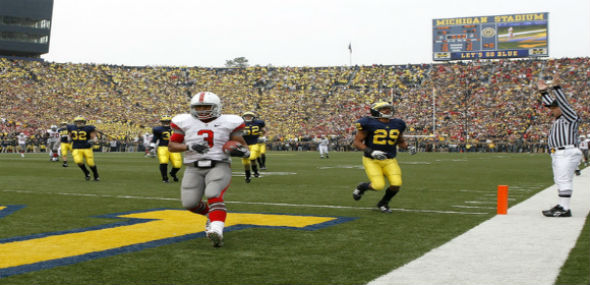 Following the 2009 season, everything looked rosy for Brandon Saine. 
One of half of the Boom and Zoom tailback tandem, Saine was the speed back, with a reputed 4.25 40 time (that's faster than Ted Ginn's, for those of you keeping track), to Boom's power back. 
"Team Zoom" was a formidable force on this and other websites, with fairly lofty expectations for his senior season (we seem to be sold out of Team Zoom t-shirts). He had just capped off a season in which he had 739 yards on the ground with an additional 224 receiving and was finally looking like he would meet expectations that others had after his dominating high school career. Who could forget he and Boom's 2009 Iowa game? 
Compared to Reggie Bush coming out of high school, Saine was a big-time, consensus 4* recruit, known as a do it all kind of mutli-purpose speed back, with fantastic hands, a quick burst and first step, and the ability to shed tacklers going north-south. 
The set up for his rise and redemption story was perfect: a top-5 runningback prospect out of high school has an impressive, if limited freshman year, followed by an injury-plagued sophomore year (with the expected frustration and transfer rumors), and is capped off by dominating junior and senior years. Sports writers and game commentators would have mentioned the story in almost every game and after every 100-yard rushing performance. 
Unfortunately, it didn't quite work out that way. Saine saw his number of carries get cut in half from 2009 as he slowly became the 1B to Herron's 1A. Fans become frustrated as Saine doesn't appear to get to the edge or wiggle quickly enough. 
More than anything, it looked like he wasn't being used in ways that maximized his talents as a north-south runner and a pass catcher (it's hard when you're running Dave after Dave all day). The coaches weren't asking Cam Heyward to play quarterback, so why ask Saine to make lightening cuts all day? Better to maximize his potential on plays like this at :34 seconds in. 
Yet that's not the end of Saine's story, as he goes on to be an undrafted free-agent by the Packers in 2011 - pulled from the pratice squad halfway through the season. He goes on to rush and receive for 69 yards each, which isn't quite otherworldly, but nonetheless impressive for a guy who only appeared in 8 games after going undrafted. 
Zoom showed enough promise in his limited action in 2011 that Packers blogs and messageboards are getting excited about Saine for next season. Packers head coach Mike McCarthy has this to say:
When asked about the depth of the running back position, McCarthy talked about James Starks and Alex Green, but one comment about Brandon Saine in particular stood out.

"Brandon (Saine) is so consistent, probably the most consistent guy we have back there," said McCarthy.

It's important to note that McCarthy's praise for Saine was unsolicited. He wasn't asked specifically about Saine but rather about the running backs as a whole.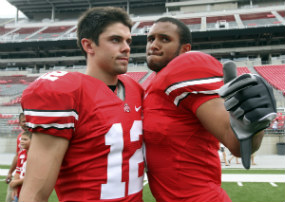 It's very tempting to write Saine's story as an on the field redemption story, with Saine looking like he's found his place as one of the top backs on the Packers' roster, but I'm not so certain that's what Saine himself would want his story to about. 
More than an amazing and underrated player who was perhaps not used properly at Ohio State, Saine is the archetypical teammate and just a darn good Buckeye. 
Sonny Fulks recounts an interview he did with Saine as a high school senior, which only reinforces his image as a team-first, no-publicity kind of guy:
I asked him prior to his senior year at Piqua about personal goals he had set for himself for his final season.
"Just to win,"  he answered quietly.  "Hopefully we have a good year as a team." 

That was it.  No hyperbole about improving his stock as a Division I college prospect, nothing pertaining to all-time marks at Piqua for rushing and scoring…just focus on the priority of what he could help his team accomplish.  The other 44 guys were just as important as he.
Saine was known for being a quiet, team-first and lead by example kind of guy. He wasn't one to talk a lot about how things were going, but put in the work and do whatever it took for the team to win. And that's the mark of a true Buckeye in my book.