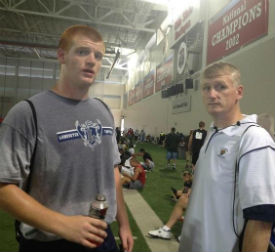 The Lancaster football program has produced a number of college football players throughout the years and has been particularly good when it comes to delivering talent to Ohio State.
Bobby Carpenter, Jim Cordle, and Luke Roberts are the names from recent years to play for the Buckeyes. Carpenter and Cordle both had stellar careers during their time as Buckeyes, while Roberts is just getting started, albeit on the right foot after an impressive showing during spring practices and the spring game.
The next member of the Golden Gales to come to Columbus may be 2014 OT Kyle Trout. At 6-6/270 Trout has impressive size and first caught the eye of OSU's staff when they went to the school during winter workouts.
Trout continued to impress the Buckeye coaches this weekend at Ohio State's second "senior camp" of the summer. Competing against both a solid group of offensive linemen, as well as defensive linemen in one-on-one drills, Trout more than held his own and both media and coaches considered him to be one of the best players at the camp and the top at his position.
We caught up with Kyle to hear how his camp experience went, what the coaches told him about a scholarship offer, his thoughts on becoming the next Lancaster great to play for the Bucks, and more. Join us after the jump to hear more about one of the top 2014 offensive linemen in the state of Ohio, Kyle Trout.
How was the Ohio State camp this weekend?
It was great. I feel this was my best camp performance of the summer and I was playing at my best. The coaches said I was one of the top two linemen there, so it felt great to hear that as well.
What coaches did you get to speak to while at Ohio State?
I worked with Coach Warinner the most, but also got to speak a lot with Coach Vrabel and Coach Fickell.
Did the staff say anything about a scholarship offer?
They told me that they had been running camps for the last 13 days. Because of that they are going to take tomorrow off and then come back Monday and discuss all of the players that stood out. They want me to call them on Monday or Tuesday to see where I stand.
What do you feel your chances are of landing an offer from Ohio State?
It's really early for me so I don't really know. The good thing is I am a 2014 kid and I was competing with 2013 players and the staff still said I was one of the two best offensive linemen they saw, so that definitely helps my chances. I'll wait and see what they say but I think I did pretty well.
What current offers do you hold? Are any other schools close to offering?
I have offers from Toledo, Ohio, Cincinnati, Illinois, and Bowling Green. Besides Ohio State, I think Wisconsin may offer down the road. More schools will jump in once I start making more visits and they see me. I've gotten an offer from every camp I've been to so far [before OSU camp].
Do you have any other visits planned this summer?
I think this was my last camp, but I was talking with my dad and we may try to see if we can get down to Arkansas.
When do you hope to make a college decision?
I will either make a decision early in my senior year or at the end of my junior year, so I have time.
Where would OSU stand on your list if they offered?
They'd definitely be up there at the top. Depending on who else offers and what schools I like when I visit, I can't say 100% right now they'd be the top school just because I don't know how I will feel about other schools, but they'd definitely be up at the top.
Lancaster has been good to Ohio State of late. How would it feel to be the next great Golden Gale to play for the Buckeyes?
Everything is happening so fast, it's really baffling. I didn't expect five offers so early before I even played a down in my junior season, so I'm really trying to take it in stride. I am just honored that a place like Ohio State and all of these other schools are even recruiting me right now that I am just appreciating the whole process.
Luke Roberts was your teammate last year and has been at Ohio State since the spring. Do you talk to him at all?
Yeah, I talk to Luke and text him all the time. I ask him questions and get advice from him on the process since he obviously went through it already. I'm glad to see him doing well at Ohio State and even happier I don't have to go against him in practice any more--that kid used to run at me from 10 yards out and he hits hard!
HIGHLIGHTS: