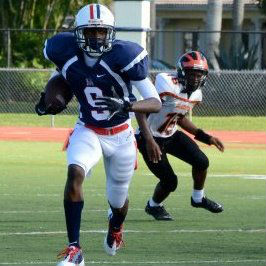 On June 10, Ohio State held it's first football camp of the summer and the turn out was excellent. Despite no surprising offers or verbal commitments coming from the camp, the Buckeye coaching staff got an up close and personal look at some of the prospects on their board and were able to further evaluate how to fill out the remaining spots in the class of 2013.
This past weekend, OSU hosted their second summer camp, this one of the smaller variety. Attendees were limited and really only included a few teams that came in together, with the majority of participants being members of the recruiting classes of 2014 and 2015. While the weekend was a successful one from an evaluation stand point, no serious action was expected as it is very early in the process for these group of players.
Coming up this weekend, the Buckeyes will host their third camp, this one again of the "senior camp" variety. The camp sessions will begin on Thursday June 21 and continue through Saturday June 23, with prospects coming in and out, some just staying for one day, while others making a full weekend visit out of their journey to Columbus.
Like the first senior camp in the beginning of the month, this next camp is bringing a wealth of talent in both the classes of 2013 and 2014 to Columbus. Some may say the names coming this weekend are even bigger and better than before, so it's that time to fill you all in with a sneak preview of who to look out for in this weekend's camp.
Class Of 2013 Visitors
The offensive side of the ball is light for the class of 2013 this weekend, but one big name is leading the pack.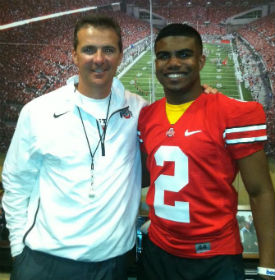 Current OSU verbal commit Ezekiel Elliott will be in town this weekend to not only get to spend time with the coaches, but also try and help recruit some of the top prospects in attendance to join him in Columbus. Being able to have a class leader like Elliott on campus this weekend is huge for the coaching staff and it is a great opportunity for the running back from Missouri to get further acquainted with his future home.
Another running back that will be at camp is Myles Graham. The 6-0/205 prospect is one of the many Hollywood (FL) Chaminade-Madonna prospects that will be in attendance this weekend and is trying to generate some buzz. He has a solid highlight reel, but currently only holds offers from Bowling Green, Indiana, Tulane, Western Illinois, and Western Kentucky. He definitely looks like a Division I prospect at some level, but he will have to prove he can compete with the best over the next few days to get some big time offers.
Graham's teammate, Demarco Haynes, is one of the players that will work out in the wide receiver group this weekend. Haynes isn't big at 5-8/160, but certainly has speed to burn and you can see the potential is there for him to have some sort of impact at the college level. Like Graham, Haynes doesn't appear to be an OSU caliber prospect, but the camp is a big step forward in getting his name out.
Another speedster that will be working out as an athlete at camp is Ryan Timmons of Frankfort (KY) Franklin County. Timmons stars at running back at the high school level, but word is that the Buckeyes and many others view him as a receiver in the college game. He does not have an offer yet, but is determined to get one this weekend and his camp performance will certainly be evaluated closely by the staff.
Keeping the out of state trend going, another athlete expected in town is Taivon Jacobs of District Heights (MD) Suitland. Jacobs is a corner back and wide receiver who has offers from some top programs including Miami (FL), Florida State, Notre Dame, Nebraska, Pitt, Maryland, Wake Forest, Boston College, West Virginia, North Carolina, and others. He has claimed an Ohio State offer to various media outlets, but you can bet that it is non-committable at this time and he will need a solid camp showing to change that.
Closing out the athlete group is Marcus Ball of Westerville South. Ball is picking up steam lately and has garnered offers from Penn State, Wisconsin, Iowa, Notre Dame, West Virginia, Pitt, Illinois, Cincinnati, Arizona State, Purdue, Minnesota, and others. At 6-3/205 figuring out his position may be the toughest part, although it's looking like he'll certainly be playing on defense at either safety or linebacker. Unless he really blows the coaches away I don't expect an OSU offer right away, but he is definitely a player to keep in mind at either of those two positions.
On the defensive side of the ball, Luke Fickell will get a good look at a couple of linebackers that could possibly help fill out the unit for the class of 2013.
Reggie Spearman is the hot name right now and he is currently on campus for an unofficial visit today (can't camp this weekend) after impressing the coaches at the Sound Mind Sound Body camp in Michigan last week. At 6-2/220 the outside linebacker from Chicago Simeon is an impressive athlete and is gaining serious momentum on the recruiting trail. He holds offers from Ball State, Indiana, Houston, Minnesota, New Mexico, Northern Illinois, Toledo, Western Kentucky, and Western Michigan, but it wouldn't surprise me at all if Ohio State became the first of the top level programs to throw their hats into the ring. Watch this one closely as the staff has already seen him camp last week so today's visit isn't a charity call.
Devaris Brunson is expected to be in Columbus this weekend and he may be the most impressive player at the camp, regardless of position. There have been rumors Brunson's academics weren't stellar, but if all is in order, expect Ohio State and other top programs to jump on this super prospect very quickly. To realize just how good Brunson is, all you have to do is put in the tape.
Another player from the Chaminade-Madonna crew that will camp is LB Zak Zerquera. There's not much out there on the 6-1/215 linebacker, but I was able to find this film reel which shows a player that loves to hit and has a nose for the ball. It's more likely that the MAC coaches in attendance will be paying more attention to Zak than the OSU coaches will, but nonetheless it's a good chance for the prospect to show what he can do.
Finally, Marcus Oliver will work out at Ohio State's camp this weekend as well. While the Hamilton linebacker has talent, there is about a 1% chance he earns an Ohio State offer. A great kid, Oliver is likely to end up in the MAC or at a lower level BCS school, as the only offer he holds to date is from Miami (OH).
The best out of the Chaminade-Madonna visitors comes in the form of DB/WR Adrian Baker (Highlights). Baker is a newer name to Ohio State fans, but is making waves as the staff has become increasingly interested him over the last month or so. Baker will work out on both sides of the ball at OSU's camp, but the better fit may be at wide receiver, where the coaches like him better right now. Word has it Baker may have already committed to Florida State if it weren't for the Buckeyes' interest, so we should know one way or the other how this one will play out after this weekend.
The other big 2013 defensive back name to look for is Desmond King of Detroit (MI) Crockett. King was recently offered by Wisconsin and many think that news will spur other big time programs to jump into the mix for the 5-11/180 athlete. Those programs will have to make their move soon, as King recently stated he'd like to make a college decision by the end of the month.
Finally, Cam Burrows is tentatively scheduled to be in Columbus this weekend. Like with Elliott, having Burrows on campus will help the staff in terms of recruiting, and will also give the five star prospect a chance to work with his future position coach in Kerry Coombs.
Class of 2014 Visitors
The class of 2013 certainly has some talent amongst the group, but 2014 is where the nuts and bolts are at, starting with the quarterback position.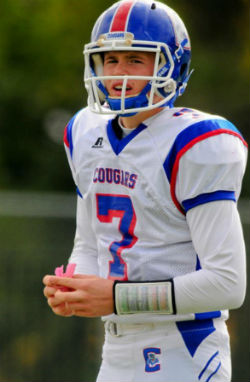 Top signal callers in the class are expected to be on hand, including Drew Barker of Hebron (KY) Conner, Kyle Allen of Scottsdale (AZ) Desert Mountain, DeShone Kizer of Toledo Central Catholic, and Caleb Henderson of Burke (VA) Lake Braddock.
All of the aforementioned prospects are considered amongst the best at their positions in the class and it wouldn't surprise me if any or all of them came away with offers after this weekend. The next few days should go a long way in telling us who the top quarterback prospects for 2013 are (in addition to William Crest), as Urban Meyer gets the final call on scholarships for the position, only after seeing prospects throw in person.
Joining the super four behind center are Sean White of Chaminade-Madonna, as well as Chance Stewart of Sturgis (MI) High Schoo and Adam Bertke of Maria Stein Marionl. Stewart is definitely the bigger name of the two, with an offer from Wisconsin already, but all three players will get an opportunity to show Meyer why they belong with the other passers.
At running back there are a number of prospects that include Trotwood Madison's Ashton Jackson, Marion Harding's LJ Scott, and Mineral Ridge's Devine Redding. All three backs are impressive and their camp performances this week should go a long way in showing who may be the best back in Ohio for the class.
At wide receiver this is plenty of talent to go around as well with two big prospects in Thaddeus Snodgrass and Dominique Booth expected to be in town.
Snodgrass may just be the best receiver in Ohio this year and has already spoken to Urban Meyer on the phone. From the sound of that conversation, the Springfield star may not have to wait long for an offer. In fact, I would expect it to come this weekend if all goes well at camp.
Booth, of Indianapolis (IN) Pike, is coming to camp trying to earn an offer as well after a spring game visit laid the grounds for his interest in the Buckeyes. Booth worked out in front of Mike Vrabel earlier this spring, but will try to reel in a scholarship from OSU to add to his list of Cincinnati, Illinois, Indiana, Iowa, Iowa State, Kentucky, Michigan State, Ole Miss, Missouri, Purdue, and Wisconsin.
At tight end the Bucks will host a super prospect in Jeb Blazevich of Charlotte (NC) Christian. The 6-5/235 Blazevich has about 15 offers to his name already and is being regarded as one of the best at his position in the class. It's not out of the question he could grow into a left tackle at the next level, but for now he will work out at tight end. Expect the coaches to roll out the red carpet for Blazevich on his first visit for Columbus, a trip that could go a long way in his recruitment.
Another tight end in attendance will be Ethan Wolf of Minster. Wolf already holds offers from Illinois, Ohio, Toledo, and Bowling Green and will try to show the coaches that his 6-6/220 frame can be put to good use. He is up there in the talks for best tight end in the state for the class, so keep an eye on him this weekend.
As good as the other position groups are, the offensive line group may be the most impressive at camp. Coming from the class of 2014 are District Heights (MD) Bishop McNamara OT Damian Prince, Cleveland St. Ignatius OT Jimmy Byrne, Olney (MD) Good Counsel OL Sam Mustipher, Lancaster OL Kyle Trout, and Deshler Patrick Henry OL Colt Pettit.
Prince, Byrne, and Mustipher already have offers and are the big dogs to watch at camp, but Trout has been impressive this spring and Pettit has been in contact with the staff as well. Both offensive line and defensive line will continue to be recruited heavily under Meyer year in and year out, so don't expect that to stop with this crop of prospects.
A true athlete in camp is Dareian Watkins of Galion. Watkins is a star who can do it all on both sides of the ball, but he may be limited in camp after banging up his knee at the Bowling Green 7-on-7 last weekend. If the kneee is a go he will work out at both wide receiver and defensive back. If it is still sore, he will only take snaps at quarterback. Either way the staff gets an up close and personal look at Watkins, who I expect to be offered in the near future.
Another athlete that will be on campus beginning today is Jonathan Lloyd. The 6-0/175 athlete from Graham (NC) Southern Alamance is regarded as one of the top players in the class of 2014. The good news for the Buckeyes with Lloyd is that he grew up as a huge Ohio State fan, resulting in the good guys being the early leaders for his services. This visit is a great chance for Lloyd to see what the new staff has to offer him, as well as for the coaches to continue to grab the top spot on his list.
On the defensive line there will be one star prospect in camp and one sleeper in attendance.
Khairi Clark, another member of the Chaminade-Madonna pack, is the star and the 6-3/285 tackle is rated as the 40th best player in the class early on by 247. It is expected that Clark will earn an offer at camp, which would be a nice addition to his list of Miami (FL), Clemson, Florida, Florida State, Georgia, LSU, Maryland, Michigan State, and Wisconsin. Clark has expressed legitimate interest in the Bucks so this trip could be a big one for the staff.
The sleeper should be a familiar name to Buckeye fans, as Verondtae Wilkinson of Trotwood Madison is the nephew of former Buckeye "Big Daddy" Dan Wilkinson. The 6-2/235 Wilkinson is a bit lighter than uncle, but is relentless on the defensive line at end, and already has offers from Illinois, Kentucky, Toledo, Buffalo, and Ohio. He is definitely a player to watch as the Trotwood Madison program continues to hold its stake as one of the best in the state.
Another player vying for best player at the camp is Plainfield (IL) LB Clifton Garrett. Garrett has been making the rounds on the camp circuit, but this one is a big one for him as the Buckeyes have been a lifetime favorite of his. Word is the Buckeyes will be hard to beat, and whether a commitment comes this weekend or down the road, this weekend will be important for the coaching staff to hold stake at the top of this star's list.
The other linebackers in the 2014 class that will be at camp shouldn't be cut short of mention either. Davonte James of Springfield, William White of Detroit (MI) Cass Tech, and Gary Hosey of Farmington (MI) Harrison are all expected in camp and all could earn an Ohio State offer with a good performance. The highest priority of this group will be James, as he is one of the two best linebackers in the state and is high on the Buckeyes in the early going.
Last, but certainly not least, the Bucks will welcome a solid stable of defensive backs to camp, with prospects hailing both from Ohio and out of state.
The campers include Nick Glass of Atlanta (GA) St. Pius X (tentatively), Damon Webb of Detroit Cass Tech, Devon Rogers of Hilliard Darby, Quincy Wilson of Fort Lauderdale (FL) University School, Darius West of Lima Central Catholic, and a trio of Mid Atlantic stars in D'Andre Payne, Troy Vincent Jr., and Marcus Allen.
Glass, if attending, is the biggest name and comes to camp with an Ohio State offer, but he is already committed to Georgia. While still possible, it is highly unlikely he will be flipped, so the Bucks better bring the goods out if he makes it up to Columbus.
Webb, Wilson, and West will all be getting their first crack in front of the Ohio State staff and all could easily earn Buckeye offers this weekend, while Rogers has visited Ohio State twice and will need a really strong camp showing to jump up on the recruiting board.
Finally, Payne, Vincent, and Allen will all make the trip together after originally being scheduled to come to the first camp. Payne already has a Buckeye offer so this will be a good chance for the coaches to make a good impressions, while Vincent and Allen will be working over the weekend to show the coaches they have game as well.