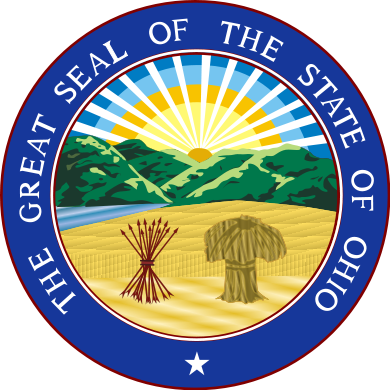 A shameful admission from a proud public school kid: Until this shirt showed up in the 11W Dry Goods Depot I couldn't have told you a damn thing about Ohio's state seal.
For nine years I went to school in Ohio. For seven I lived in its capitol city, yet I have no memory of that seal. It's not like the ubiquitous and comforting Ohio flag with its three stripes and 17 stars (which you can always remember by simply thinking of Jim Bollman - 3rd and 17, his specialty).
Anyway, that's the Ohio seal over there on the right. You've got a bright, sun-drenched Ohio day - a metaphor, perhaps - along with the essential ingredients for both beer and killing.
But no college football. This is impossible.
The 11W version has replaced the word "Ohio" with "Football" while adding some cosmetic improvements, which simply means the Michiganish color scheme was switched out for something less profane.
That got me thinking about state seals, so I took to the Google machine and found that all 51 pretty much look the same. They all leverage the same pool of ingredients: People, mountains, indigenous animals or foliage along with something that can be counted, like stars or fake sunbeams.
Squeeze any combination of those items into a circle and you've got yourself a state seal. Noticeably absent from all of them? Actual seals.
We can all agree that football is America's sport, and that college football is what God prefers - since He purposefully does nothing to get Himself amped up on Sundays.
So how can college football be absent from these designs? Answer: It isn't. It's there. You just have to look harder.
Ohio's state seal has been changed no fewer than ten times in its history, making Ohio [sunglasses] "the graveyard of seals." And that's your college football tie-in for Ohio.
A sampling of other states' seals and their often-subtle college football tie-ins follows after the jump.
Roll Tide war eagle
Alabama's first state seal was a drawing of the state on parchment hanging from a tree. It was retired shortly after the Civil War ended.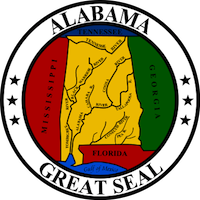 "Hanging from a tree" became associated with some pretty horrible stuff in Alabama, so it was changed to this patriotic and awesome design, which would have easily won a dozen national seal championships if there were such a thing.
Its current seal is very simple. That's Alabama's football recruiting footprint: The Yellowhammer State itself, along with its neighbors to all sides.
The colors - red, yellow (hammer) and blue - are the Primary Colors, which is a popular major for athletes at both Alabama and Auburn. Green represents all of the Secondary Colors, which is a highly-regarded post-graduate and doctorate program in Tuscaloosa.
Alabama's seal includes six other SEC programs' states in its own seal, so stop looking for a college football tie-in. It found you first.
The Granddaddy and America's wang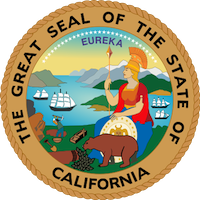 California schools took its mascots from the natural resources and inhabitants of the land.
Bears
Bruins
Wine ("Cardinal" is the color of the stains on your shirt)
Anthony Munoz, who is drawn to scale - four times larger than an adult bear
College football is teeming from California's state seal. The imagery only seems chaotic; this exact scene happens throughout the state every single day, though sometimes another Trojan stands in for Munoz.
Florida's is more subtle; the tacky tropical motif inspired every article of clothing ever worn on The Golden Girls. The whole scene actually looks more Hawaiian than Floridian.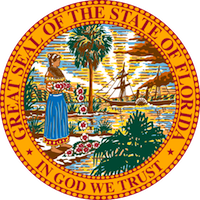 It's tranquil, placid and serene; the furthest thing from a Hurricane. The Native American lady that the state legislature required to appear on the seal back in 1868 may have Seminole connections, but that is unclear.
While there's no gator or bull to be found, that cocoa tree (also a legislative requirement for the seal) means that footballish looking beans are nigh. There's your tie-in.
But perhaps there's even more. Florida is football-crazy enough that there should be.
Smoke is billowing from the boat in the distance; perhaps a jetski crashed into it. Maybe the young lady had an unexpected fertility surprise that was extricated from her person via funding from the owner of the boat and the jetski.
Maybe Howard Schnellenberger is treading water beneath the flowers she's scattering. Maybe Schnelly is the rightful heir to the throne of Zamunda. Maybe.
insulin's worst nightmare
Illinois football is Red Grange, Dick Butkus and Jim Grabowski. It's Kevin Hardy, Simeon Rice and both of them getting run over by Eddie George for 314 yards.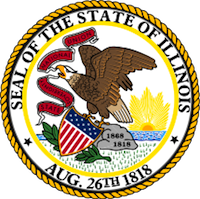 But it's also the University of Chicago punting football to focus on academics. And as anyone who has ever been to not-Chicago, Illinois can tell you: You chose poorly. You should have visited Chicago instead, dummy.
The rest of this state south of the Windy is an unending expanse of the high-fructose sweetener supply chain and very little else.
But that expanse gave us Grange, Butkus and Grabowski, as well as Kurt Kittner - and for a few glorious years, Ron Zook (native Ohioan, the state that exports all of its coaching sons, not just the genius ones).
It also gave us the man who makes Ricky Stanzi look like a pinko commie: Mr. J. Leman, who appears on the Illinois seal in the shape of a shield and possesses the ability to change his form at will. /Hall of Justice'd
basketball state
I lived and schooled in Indiana for four years, but as with Ohio, Indiana's seal was a total mystery.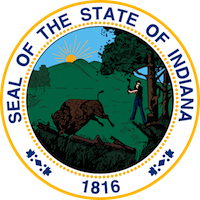 Staring at it makes it harder to figure out: There's that sunny day again, along with a mountain chain. In Indiana?
Seals are amazing. Next they'll try to convince us that there's hikable thin air in Kansas too. <--- foreshadowing!
Indiana has always been shrouded in mystery, and its seal is no different: Maybe that's an axe that the Hoosier is holding. Or maybe it's one of those Purdue hammers.
Maybe the gentleman swinging it is a Fightin' Irish. Maybe he's Jim Nabors. Maybe he's Brad Stevens.
Regardless, everyone agrees that this seal isn't reaching its potential because of Ty Willingham. Indiana's seal is a uniter.
The rockies of iowa and the pyrEnees of kansas
Indeed, there are imposing palisades across Iowa and Kansas. Sure, why not.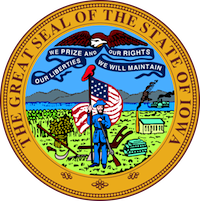 A review of the 51 seals (I see you, District of Columbia) shows liberal use of mountainry along with antiquated demonstrations of women, who are largely absent from the states.
When they do appear, they're sprinkling flowers like the Floridian temptress or toting horns of fruit. They're not accompanying football recruits on visits, shaking pom-poms or forcefully raiding scholarships from men's non-revenue sports with their tyrannical Title IX bayonettes.
Granted, this might be occurring in the little house pictured on Iowa's seal. We can't be sure. What we do know is that Nile Kinnick was an American hero, and a colonial depiction of his WWII self rightfully takes center stage.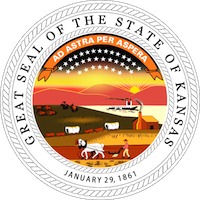 Iowa's neighbor to the southwest, the one by which all boredom is measured, has what appears to be a mountain range of its own despite having a landmass scientifically proven to be flatter than a pancake.
And speaking of pancakes, Charlie Weis is a Kansas resident, which means we can factually reimagine those hills as an illusion of depth: They're the corpulent lumps of Coach Spygate himself, as he lies in repose in the distance following a reliably ambitious showing at Old Country Buffet.
Alas, we all know ol' sausage fingers has very little to do with college football. Among those 34 stars in the sky shoots one Kansas Comet, the incomparable Gale Sayers.
(Also of note: Turner Gill has the 34th-ranked recruiting class in 2011. Your championship table is ready, Mr. Cheeseburger).
all is forgiven, gracious commonwealth
Kentucky's state seal carries no football markings. No mountains either; real or imagined.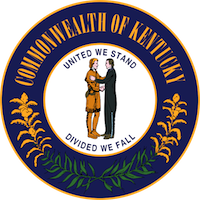 Obviously "United We Stand" is a reference to Adolph Rupp's renown 1-3-1 zone defense. That's easy.
The greased handshake between what's clearly a shadowy middleman belonging to John Calipari's crime syndicate and a runner for [insert any five-star prep here] pays homage to how Kentucky's non-equestrian sport of choice manages to defy death penalties and investigators.
"Divided We Fall" basically means loose lips sink ships. It's how the cheatingest basketball program in NCAA history has managed to survive despite unapologetically hiring the slipperiest basketball coach of the modern era.
As is the case on October Saturdays, football is nowhere to be found. But it doesn't matter, because Kentucky produces our bourbon, and gave us Keeneland, the wonderful hamlet of Lexington and the incredibly underrated city of Louisville.
No football tie-in for the Bluegrass State? Nothing to see here, officer. Carry on.
#OVersigning
[Imports Louisiana's state seal]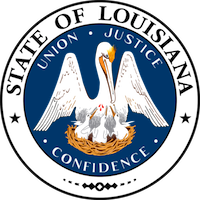 [11W attorney crashes through window to hand me a copy of the Buckeye Blogging bylaws]
[leaves pizza on table]
[I open up to page "Louisiana State University"]
"If writing about both Alabama and LSU, Buckeye blogger is required by law to spotlight the impact Oversigning has had on the success of both football programs."
[Closes bylaws]
[Looks at Louisiana's state seal]
[Wonders which underperforming baby pelican is going to get abruptly kicked out of the nest shortly before fall practice]
[eats slice of pizza; basks in the glow of compliance]
canada's lanced birthmark
Michigan's seal was lifted almost directly from the seal of the Hudson Bay Fur Company (the famous animal hide trading post; not the provocative all-female revue down the street by the same name).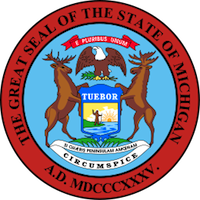 Unlike the situation in Flint and other burgeoning ghost towns in the state, there is a lot going on in Michigan's seal. "Si Quaeris Peninsulam Amoenam Circumspice" means "If you seek a pleasant peninsula, look about you" which seems more like a directive for staring at your junk.
"Tuebor" is Latin for "I will defend" but it's also an anagram for RueBot, which refers to the statewide remorse over numerous maize and blue miscalculations ranging from the entire Bump Elliot era to the twilight of Lloyd Carr's tenure to the guy that will eventually coach Arizona into football relevance that kicks off after 2/3 of the country has gone to bed.
Sparty isn't neglected by the seal either. The eagle represents the Harvard of the West, while the elk and the moose are its little brothers.
While the eagle is pictured higher than both of them, pride comes before the fall.
another nice view of colorado
This time from Nebraska, which does have such a view. It's a state comprised mostly of open prairies and farmland, but by this point you know how seals roll.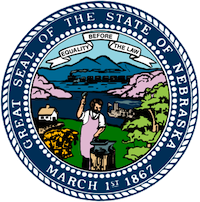 A blacksmith is depicted here in the wilderness, fashioning what will eventually be a replica copy of a Heisman Trophy intended to be delivered to a deserving owner.
This, of course, is Tommie Frazier, who was probably the best quarterback of the 1990s not to win the award, with genuine apologies to Antwaan Randle-El, whose team was too horrid to merit his consideration.
The railroad behind the blacksmith will accept the delivery, but through a tragic re-routing mixup the Heisman package will be lost for five years, until it is recovered and accidentally delivered to...
Right, Eric Crouch. Whoops.
commissioned by shadow-governor barry switzer
Oklahoma's state seal contains 45 little stars; one for each BCS loss suffered under Bob Stoops.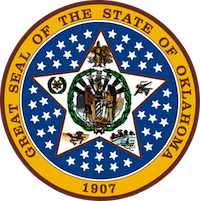 The one big star in the middle represents the 2001 Orange Bowl win over a Snoop Minnis-less Florida State team.
Those five radiating arms within that star represent the five other receivers Heisman winner Chris Weinke hit in the numbers or hands who dropped passes during that game.
"Labor Omina Vincit" (Labor Conquers All) appears in extremely tiny letters on the center seal. This is what the state police had Justin Blackmon read back to them last month when they pulled him over on suspicion of drunk driving.
It was the only part of the sobriety test that had to be administered. State seals: Resourceful!
-------
Ed: EDSBS ran its own story on state seals earlier today, while this bit of 11W inspiration helplessly sat in our publishing queue, previously scheduled to run tomorrow.
Yes, it's like exporting Urban Meyer to Gainesville to kick Ohio State's ass all over again. Also: #SECSpeed