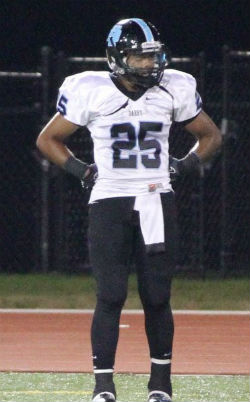 The Buckeyes hosted two talented in-state prospects for unofficial visits this past Wednesday. The first man up was Michael Ferns, a highly sought after linebacker from Saint Clairsville. The second was Devon Rogers, a well known prospect, but one that does not have any offers to his name just yet.
Unlike Ferns, Rogers had yet to make any visits yet, other than to Columbus for the Buckeyes' spring game. He loved his experience there and wanted to stop in to the Woody Hayes Athletic Center offices again, this time for a more intimate visit, before he hit the road to check out other campuses across the Midwest this summer.
The 5-10/185 Hilliard Darby star shined on the defensive side of the ball at safety last year and that is where he will likely play at the college level, although he will be an integral part of the Panthers' offense this upcoming season.
We caught up with Rogers to hear how his visit went, what other trips he has plans, what school is his leader, and more. Join us after the jump to hear more about how local star Devon Rogers' Ohio State visit went down this week.
You were at Ohio State on Wednesday. How did the visit go?
The visit went great. I really like it there a lot and had a lot of fun on this visit.
What did you do while on campus?
When I got to campus I first went to the Woody Hayes Athletic Center where I met Coach Mark Pantoni. We talked for a while before he brought me to a tour guide who took us all around campus. After we got to see everything on campus we went to the stadium and went up to the press box and that whole deal. Finally, we went back to the Woody and I got to talk to some of the coaches.
What coaches did you speak to while on your visit?
I got to speak to Coach Withers, Coach Fickell, and Coach Coombs in addition to Pantoni. Unfortunately Coach Meyer had to leave right before I arrived so I didn't get to talk with him, but I will soon.
What did the coaches tell you?
They just told me they like my film and that I'm definitely on their recruiting board which is a good thing. They said they wanted to see me work out in camp so I will be going there on June 21 and 22. I'm guessing if I perform well enough in camp I could possibly get an offer which would be great.
What other visits do you have planned?
I will be heading to Illinois on Friday and will go to their camp and make a visit out of it as well. I am thinking about heading up to Syracuse's camp on Sunday, but we're not sure about that yet. I am set to go to the Akron and Kent State camp, as well as the Cincinnati camp, which is a Friday Night Lights type camp. I am also going to get out to Notre Dame. I spoke to Coach Elston there and he wanted me to come to their camp the weekend of June 23, but I already committed to the Ohio State camp that weekend, so I'll have to pick another date.
Coming out of your visit, what are your thoughts on Ohio State?
As of right now they are my number one school. They are the only one I have visited and they are the hometown school as well. How can you not love your hometown school?
What other schools are up there on your list?
Right now I like Oklahoma State as my second school. I was going to try and visit there for their camp, but we had something else come up so I can't make it. My third school right now would probably be Oregon. They have been sending me stuff trying to get me to go to their camp, but I don't think I can make it this summer and will probably have to wait until my senior year to get out there.
In addition to OSU, Oklahoma State, and Oregon, what other schools are showing you interest?
The schools that have contacted me are Texas, Nebraska, Tennessee, Wisconsin, Michigan State, Notre Dame, Kent State, Akron, Penn State, and a few others in addition to those three.
HIGHLIGHTS: