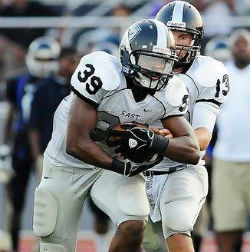 Ohio State already has an outstanding running back in Ezekiel Elliott locked up for the class of 2013 and continues to be in pursuit of other players at the position to possibly add to the St. Louis area star.
That pursuit has not stood in the way of the staff looking ahead though, as there are a number of 2014 running back contacts that the staff has been in touch with, including Lakota East's Mikel Horton.
The 6-1/225 Horton has been making the combine/camp rounds this spring and so far the returns are good. He is quickly rising up recruiting boards and is establishing himself as one of the top players in the state for his class.
We got the chance to catch up with Horton to see what schools have been in touch with him, how he feels about the Buckeyes, what visits he has planned, and more. Join us after the jump to catch up with one of the top 2014 prospects in Ohio, Mikel Horton.
How did your sophomore season go? How did your team do and how did you perform?
My sophomore season was good, but we could have done a lot better as we went 4-6 on the year. I had 150 carries on the season for 700 yards with 9 touchdowns.
I know it's early but how is recruiting going so far? What offers do you have and who have you been hearing a lot from?
Recruiting has been going well. I do not currently have any offers right now but a lot of schools have been looking at me. Ohio State, Cincinnati, Michigan State, Wisconsin, West Virginia, Alabama, and LSU are the schools that have been in touch the most, but there are other schools in contact as well.
I know Ohio State is interested in you. Who is recruiting you for the Buckeyes?
Coach Coombs is recruiting me from Ohio State and I have a great relationship with him. 
How do you feel about Ohio State and their program?
I love Ohio State because I am from Ohio and I feel that it is a program that fits me well.
What visits have you taken so far? What visits do you have planned?
I have only been to Cincinnati so far and loved that visit. I am planning on visiting Ohio State, Michigan State, Alabama, Wisconsin, and Notre Dame in the near future.
When will you take a trip to Ohio State? What are you looking forward to seeing there?
I will be at Ohio State on June 22. I am looking forward to getting to know all of the coaches and see what the college experience is all about in Columbus.
When would you like to make a college decision?
I will hopefully make a decision at the end of my junior year or at latest, the middle of my senior season.
Do any schools stand out to you right now?
The schools that stand out right now are Ohio State, Cincinnati, Michigan State, Wisconsin, and Alabama.
What are you looking for in the school of your choice?
I am looking for a school with great academics, as well as a program that has the type of offense I am looking for. I want a school that has a family atmosphere and focuses on working together to accomplish our goals.
What do you feel are your strengths on the field? What are some things you want to improve on?
I feel my speed, size, and height are my strengths. My judgment is what I need to work on the most.