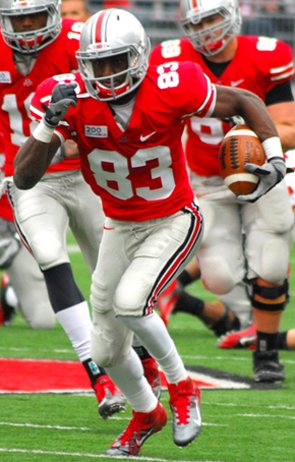 Freshman wide receiver Michael Thomas burst onto the scene with 12 catches for 131 yards in the spring game last month. As Thomas' name was mentioned time and time again, the following scene played out in living rooms across Ohio.
Random Dude 1: #83, who is that?
Random Dude 2: Announcers are saying it's some freshman named Michael Thomas.
Random Dude 1: Michael Thomas? What's his story?
Random Dude 2: No idea, but kid can catch the football
Random Dude 3: Found a pepperoni in your couch bro
Well Random Dudes 1, 2…and 3 I'm here to tell you that you weren't alone. Thomas' performance caught everyone off guard. Well maybe not everyone, Alex had the drop on Thomas over a year ago and Urban had this to say about Thomas after the game.
"He's our most dedicated receiver…I'm not surprised he had that type of game today"
So scratch that. Unless you were 11W's recruiting guru or the Buckeyes' head coach you were surprised.
But maybe we shouldn't have been this taken aback.  Surprises have been a large part of Thomas' story.
Consider this from a Nov. 2010 Los Angeles Times article:
"There's no need to take a vote on identifying the most improved football player in Southern California.

It's receiver Mike Thomas of Woodland Hills Taft by a landslide.

Last season, he didn't have a single reception. This season, he has caught 76 passes for 1,392 yards and 15 touchdowns. He ranks No. 1 in the state in receiving yardage."
Yes, you read that correctly, Thomas went from junior receiver with NO receptions, to senior wide-out with more receiving yards than any receiver in the state of California. Most improved football player in Southern California? Try most improved football player in the country.
The article attributes the meteoric rise in Thomas' production to Thomas' previous inability to deal with his meteoric rise in stature. In four years the wide-out went from 5' 7'', 115 lbs freshman to 6'3'' 185 lbs senior (now officially listed by OSU as 6'2'' 193 lbs). The Alice in Wonderland style growth spurt must have been difficult to deal with, but Thomas worked at it with some help from his father who mined the Internet for techniques to improve strength and quickness.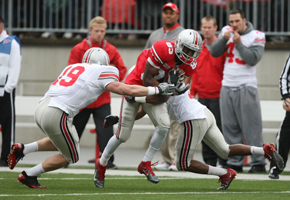 Once Thomas held the reigns to his frame, he was incredibly dangerous. So much so that he worked himself into a four-star rating by Rivals a four-star rating by Scout, and a spot on the 2011 Under Armour All-America game roster. 
His senior season totals earned him offers from Cal, Houston, Louisville, Maryland, Oregon State, Pitt, Utah, and Washington among a handful of other schools (not too shabby for one year of H.S. production) but he ultimately chose to surprise suitors and attend Virginia's Fork Union Military Academy for the 2011 fall semester. The decision was made in an effort to get his grades in order, work on fundamentals and deal with the death of his grandmother who passed away days before 2011's national signing day.
In one season at Fork Union, Thomas recorded 23 catches for 497 yards and 7 TDs. Good enough to garner offers from Ohio State, Boise State, Nebraska, Notre Dame, Oklahoma State and UCLA.
In the end Thomas chose the Bucks. He had this to say about OSU a few months before his decision: 
"What is there not to like about Ohio State? It has everything available to get me to the next level starting with academics, coaching, players, facilities, strength of schedule, and a great community—the list goes on and on"
Thomas chose to enroll early, arriving on campus in January and putting in hours of work on a JUGS machine in preparation for the spring game.
The hours paid off.  In a single game Thomas nearly eclipsed the team leading 14 reception season total held by three different receivers in 2011. The comparison isn't fair as Thomas' numbers were certainly enhanced by the contrast in philosophies between Bollman and Herman (meaning Herman has one and Bollman didn't) but at the end of the day it was Thomas, not Devin Smith, Evan Spencer, Corey Brown or Jake Stoneburner, tallying catches in the game. Credit where credit is due.
For now Thomas is listed behind Devin Smith on the two deep. But, unlike the Bam Childresses of the world before him, I fully expect Thomas to push Smith for the starting spot and produce when it counts. 
That's because No. 83 seems to have it all, work ethic, size, speed and a role in an offense that puts a premium on getting the ball in playmakers' hands. He's developed a rapport with Braxton Miller and has caught the eye of his new head coach for the right reasons. If that isn't enough, he's got an uncle by the name of Keyshawn Johnson who knows a thing or two about receiving.  So, it's safe to say Thomas is in good hands (pun intended). 
Flash-forward to the end of the 2012 season:
Random Dude 1 (On The Phone): #83 yes, that's what I said. Do you have any #83 jerseys available?
Random Dude 2 (To Random Dude 1): Brosef, give it a rest it's December, they'll carry Thomas' jersey next season, no worries.
Random Dude 1 (To Random Dude 2): I know but I want it NOW. Kid's a beast, I'll get three good years out of it.
Random Dude 3 (To No One In Particular): Found a pepperoni in your couch bro.
Don't believe it'll happen? Sit back and get your popcorn (Skittles, Sour Patch Kids, Swedish Fish…pepperoni) ready, because Michael Thomas might have another surprise up his sleeve.