Greetings, 11W-lings. Today is May 30th, and if seeing that date makes you want to reach for the Pepto-Bismol while trying to reconcile complicated feelings about the past and present, well then, Don Draper, there's a reason for that. 
Because we've reached the time of year when, especially for Midwesterners, the weather is at the top of its game, I can't wish these next couple months away. I enjoy 80-degree temperatures, swimming in pools, fresh produce, and summer blockbusters.
Still, as my subconscious can attest, I'm also anxiously awaiting the new football season. Usually, my football-related dreams don't start occurring with frequency until August, but I've had a couple just this past week. Sometimes, they turn out to be weirdly psychic, and other times, they're simply bizarre.
I'm thinking last night's dream was the latter, unless Ohio State's first first down of the 2012 season involves a Little Giants-esque trick play that begins with Corey Linsley lateraling a pass. I suppose I wouldn't put it past Urban Meyer, though. 
YOU ARE NUMBER 6. Athlon Sports doesn't underestimate Urban, either. In the countdown to their preseason Top 25, Ohio State was unveiled at the #6 spot, leading all other Big Ten teams including Michigan, who came in at #7 on their list1. 
Thanks in part to boy genius Tom Herman's new offense and the embarrassment of riches on the defensive line, Athlon is feeling optimistic overall about the Buckeyes' chances of having the best record in the conference...and then missing the B1G Championship Game based solely on their postseason ban.
In addition, their rather lengthy preview laid out the top ten players on the team and predictions for the upcoming season. Braxton Miller, to no surprise, was chosen as the offensive MVP, and the sophomore QB was also sandwiched between2 John Simon and Johnathan Hankins on the former list. Despite Simon landing the top spot, it was Big Hank that they picked as the team's eventual defensive MVP. 
Their selections for notable games were all pretty par for the course, such as trap game (Illinois), upset alert (Penn State), and biggest game (Michigan). As for the season-defining moment, Athlon went with Ohio State's meeting with Michigan State on September 29th, Urban's first Big Ten contest.
REFLECTIONS OF THE WAY LIFE USED TO BE. One year after his resignation, The Plain Dealer's Doug Lesmerises checked in with Jim Tressel to hear his thoughts on the matter. As he reflected Tresselily: 
"I suppose it was disappointing to some. They thought we would do that forever, but it took a strange turn. But I think when you step back, at least I do, I think of all the good times and the excellent I people I worked with and got to meet."
Now the Vice President of Strategic Engagement at Akron, he is still working with young people and maintains contact with many of the Ohio State football players he coached, including Maurice Clarett. 
Clearly, he continues to receive support from Scarlet and Gray fans and to them, his message is to "keep cheering for those Buckeyes. I'm sure we'll have time when we have the chance to reconnect in some form."
The Toledo Blade's David Briggs also mused over the anniversary. For how dire things seemed a year ago for the football team compared to its bright outlook today, it's almost unreal that Tressel's exit happened just last year. Current players discussed the situation and speaking for many of us, Jake Stoneburner was unhappy with the original circumstances but is excited with Urban's hiring and what it means for the program's future3.  
C.J. Barnett summed it up as "we got lucky" while another teammate expanded on that:
"I knew Ohio State was going to come through the storm," left tackle Jack Mewhort said. "I didn't know how long it would take. I thought maybe we would have a longer time in-between our success. But right now, it's looking like that won't happen."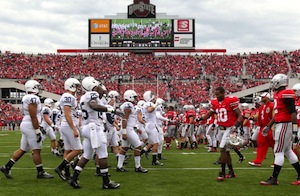 OCTOBER BEST. Continuing his schedule analysis series, BTN's Tom Dienhart took a look at Week 9 in Big Ten play, and you better just inform friends and family now that you have plans all day on October 27th. 
In a rematch of last year's B1G title game, which in turn was a rematch of an entertaining battle earlier in the season, Michigan State vs. Wisconsin is Dienhart's choice for game of the week. While I won't disagree with that, he elaborated, "these arguably have become the premier programs in the Big Ten", and on that point, them's fighting words because it takes more than a couple of good seasons to become elite4.
After the Legends match-up between Michigan and Nebraska, which could determine who wins that division, Dienhart believes the Ohio State-Penn State clash is the third most interesting that week.
Not only is he looking forward to the coordinator battle between Herman and the Nittany Lions' new DC Ted Roof, but like Athlon, he's putting the Buckeyes on upset alert:
Ohio State has more talent than Penn State, but the Buckeyes need to be wary when they wade into State College, Pa. While the Nittany Lions may struggle on offense, their defense looks potentially stout. Bottom line: This could be a low-scoring game that is up for grabs in the fourth quarter.
Or, as it's also known, the Ohio State-Penn State game of almost every single year. 
 TIL THERE WAS NOTHING LEFT TO BURN AND NOTHING LEFT TO PROVE. ESPN's Adam Rittenberg wrote about which five players in the Leaders Division he thinks have something to prove this season. Three of the five are quarterbacks, with Braxton Miller joining Penn State's Matt McGloin and Purdue's Rob Henry on the list.
Although Miller is expected to be a perfect fit for Meyer's system, Rittenberg states that he needs to become a more reliable passer and lead the relatively weak receiving corps through the new offense. It probably won't be the smooth sailing that fans are hoping for, but especially with Miller's improvement as last season progressed, I don't think it's naive to think he'll be just fine. 
THE SWITCHEROO. The Lantern tackled Ohio State's switch to semesters and what the change means for student-athletes. Twitter champ Jerry Emig explained why they will be able to start practicing earlier:
"Under the quarter system, OSU student-athletes in the winter and spring sports could not begin this instruction until the quarter began, leaving them at a considerable disadvantage to other schools, whose student-athletes in those sports were able to start the first day of their fall semesters"
Even though it varies due to which sport, the football team, for example, will have to start classes a couple of weeks after fall camp kicks off rather than the six weeks under the quarter system. Some may consider that a disadvantage because those first few games used to happen without the pesky distraction of actual school, but programs at other universities somehow manage it every year.
Not to mention, the players will have less time to find ways to get into trouble, which is good news for Urban, who practically encourages his guys to get arrested, amirite?
THEY COULDN'T LINK OF SOMETHING TO SAY THE DAY YOU BURST. Predicting the new coaches in the Big Ten... Troy Smith, looking to restart his NFL career with the Steelers, takes a shot at the Browns... According to Bruce Feldman, Michigan has one of the toughest schedules this season... Shockingly, the SEC does not care for a conference champion requirement... The first place Reds, saving lives... Was 1982 the best summer movies year ever?... Birth control video compilation of the creepiest children in film... 31 Acronyms and Initials All Spelled Out.
1 The other Big Ten teams in their rankings were Nebraska (#14), Wisconsin (#17), and Michigan State (#18). 
2 Though hopefully not physically because ouch. 
3 Plus his own future, because he'll be in an offense that knows how to utilize the tight end.
4 Also? Win a big time bowl game and then we'll talk.