Continuing our plow through the off-season waiting for fall camp to start, it's time for the latest installment of Mount Buckmore. 
The Buckeyes have been competing on the gridiron since 1890, racking up a filthy tradition including seven national titles, 34 conference crowns, 78 All-Americans, an all-time winning percentage of 72% generating 819 wins and seven Heisman Trophy winners. As Woody preached, you win with people and there have certainly been some special ones pass through Columbus. 
In an effort to separate the legends from the stars, the goal is to isolate the fab four Buckeyes from each decade.
If you'll recall, we kicked things off with a 60's wall that featured Jack Tatum, Jim Stillwagon, Rex Kern and Bob Ferguson. Not too shabby.
Last Monday, the 70s were up and so was the competition for real estate though the final four of Archie Griffin, John Hicks, Tom Counsineau and Randy Gradishar is packing all kinds of heat. 
Now we turn our attention to the 80s and though the Buckeyes won just three league titles, a number of elite players donned the scarlet and gray. 
cris carter - wide receiver - 1984-86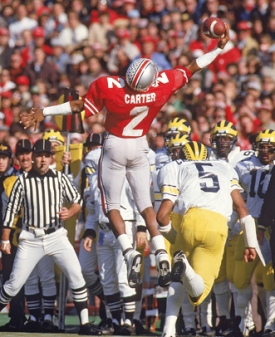 With Carter taking money from and signing with notorious agent Norby Walters, costing himself and OSU his senior season, I was 10% iffy about putting him on the wall but the fact is his onfield exploits make him impossible to exclude.
An All-B1G and All-American selection in 1986, Carter is one of only four Buckeyes to to register a 1,000 yard receiving season with 1,127 in '86 on the heels of a 950 yard effort in '85. His 69 receptions in '86 are the 3rd most all-time in a single season.
Despite missing his senior year, Carter racked up impressive career numbers ranking 2nd in total receptions with 168, 4th in receiving yards with 2,725 and 2nd in TD catches with 27. Clearly, even in college all he did was catch touchdowns. 
A circus catch waiting to happen, the Middletown HS product ranks 3rd all-time with nine career 100+ yard receiving games and owns the school record for consecutive 100+ yard receiving games with five. 
Unbelievably, Carter was just scratching the surface while in Columbus. After being selected by Philly in the '87 NFL Supplemental Draft, Carter went on to have a stellar pro career featuring eight pro bowl nods and having his jersey retired by the Vikings.  
Not yet enshrined into the Pro Football Hall of Fame due solely to off field transgressions, Carter ranks 2nd all-time in both receptions and touchdowns, right behind the greatest receiver ever born in Jerry Rice. 
marcus marek - linebacker - 1979-82

A three time All-B1G selection and a 1st Team All-American in '82, Marcus Marek is another in a long line of stud linebackers to grace Ohio Stadium. 
Captain of the '82 squad, Marek is the school's all-time leading tackler with 572 stops and owns the 3rd, 8th and 16th most prolific tackling seasons in OSU history with 178 in '82, 148 in '81 and 140 in '80.
In his senior year, he picked up 21 stops and a key 4th quarter interception leading to the winning field goal against a previously undefeated Michigan team in Ann Arbor setting up a 30 point win over Steve Young's BYU Cougars in the Holiday Bowl.
Marek's 316 assisted tackles rank 1st all-time. 
While I feel pretty secure in my decision to include him on the mountain, he's definitely the last man in and worthy of the most debate. 
A member of Ohio State's All-Century Team, Marek boasts one of the truly legendary perms in OSU annals.
Keith byars - running back - 1982-85

Keith Byars was the best player in college football in 1984. He only finshed 2nd in the Heisman voting thanks to some voters being mesmerized by Flutie's heave against the 'Canes and the notion that Byars would surely win the stiff-arm in '85, his final season at Ohio State. 
In his magical '84 campaign, Byars chewed up 1,764 rushing yards averaging 147 yards per game, both good for the 2nd best single season totals in Buckeye history. He also set a school record with 2,441 all-purpose yards thanks in large part to being an outstanding receiver out of the backfield. The signature game of Keith's ridiculous season came as he almost singlehandedly erased a 24-0 Illinois lead rushing for 274 yards and scoring five TD's, the 4th sans his left shoe on a 67 yard scamper, in a 45-38 win on Homecoming. 
For his Buckeye career, Byars is the 5th leading rusher all-time with 3,200 yards and ranks 2nd with 42 rushing TDs and 50 TDs total. Those numbers are especially impressive when you consider he injured his foot three separate times in an injury plagued '85 campaign that limited him to four games. 
Despite the injury, the Dayton native was the 10th pick in the NFL Draft earning All-Pro honors in '90 and a Pro Bowl selection in '93. 
Chris Spielman - Linebacker - 1984-87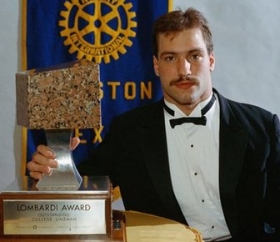 My favorite Buckeye of all-time, Spielman is more than just a candidate for his particular decade. The legendary player and person can make a strong case for a place on the Final Four in Buckeye history. 
A crazed, tackling machine from Massillon, Spielman was a three-time All-B1G performer in addition to being named All-American after both his junior and senior seasons. 
Spielman led the Buckeyes in tackles in both '86 and '87 and his 29 stops in the '86 version of The Game remains tied for the school record. 
His monster junior season featured 205 total tackles, the 2nd most all-time in a Buckeye single season, and his 546 overall stops are good for 3rd place in OSU history. 
Setting bar ridiculously high heading into his senior year, all Spielman did was capture te Lombardi Award. 
A captain of the OSU All-Century Team, Spielman was inducted into the College Football Hall of Fame in 2009 and went on to become a four time NFL Pro Bowler prior to retirement which he now spends throwing haymakers at breast cancer in honor of his late wife. 
The Notables

As with the previous decades, I feel pretty good about those chosen to take a spot on the wall though the 80s definitely brought some stiff competition. 
Pepper Johnson is probably my first alternate. I loved watching him wreck ball carriers as a kid and and he's got some credentials as a two year captain and All-B1G selection in addition to being named an All-American in '85. 
Tim Spencer also deserves a mention as a two time all-conference performer and captain of the '82 squad. He always felt like a homerun threat running on the old super thin Astroturf and had a nice pro career. 
John Frank is another personal favorite of mine. The tight end was elected to two All-B1G teams, was captain of the '83 team and was a two time Academic All-American. 
The best of the rest include Jim Lachey, John Uhlenhake and Tom Tupa.