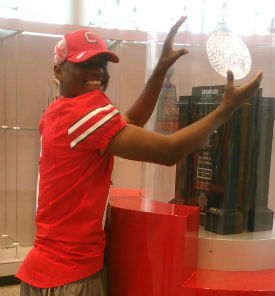 Laquon Treadwell is not a name unfamiliar to Ohio State recruiting fans. The 6-3/185 wide receiver from Crete Monee in Illinois is rated as one of the top prospects in the country and has held an Ohio State offer for some time now, along with other top programs including Arkansas, Auburn, Michigan, Michigan State, Ole Miss, Nebraska, Notre Dame, Oklahoma, Oklahoma State, USC, as well as others.
When we last spoke to Treadwell he had planned on visiting Ohio State, but canceled that trip at the last minute when the coaching staff told him Urban Meyer would be on vacation. He wanted to make sure he met the new Buckeye head boss when he came to Columbus, so the date of his visit was pushed back TBD.
TBD became this past Monday, as Treadwell made the two-state jump over to Ohio to check out everything OSU had to offer. It was his first time to Columbus and it's safe to say he enjoyed his trip at the very least after meeting the coaches, touring campus and the facilities, sitting in on a film study, and getting to see the Buckeyes go at it in a spring practice.
We caught up with Treadwell following his visit to Ohio State to hear how the trip went, what the latest on his recruitment is, where he will go next, when a decision may be coming, and more.
Join us after the jump to hear about one of the country's best wide receiver prospects, Laquon Treadwell.
You were at Ohio State all day on Monday. Tell us what you did on your visit?
Yeah, we drove out there early and when we got there I was greeted by all the coaches. I got to talk to Coach Meyer for a while, as well as Coach Smith, which was great. Then I walked around with Coach Pantoni and saw everything like the locker rooms, facilities, the stadium, and the campus. After that we got lunch at Woody's [in the union], which was pretty good. Following lunch we went back to the Woody Hayes Center and sat in on a film study where I got to sit with all the receivers and break down tape. Finally, we watched spring practice for about two hours before I left. Also before leaving I got to speak to Coach Meyer one more time and he gave me his cell phone number and told me to call him soon.
What was the best part about your visit to Ohio State?
The best part was meeting Coach Meyer. It was an awesome experience. Another part I really liked was getting into the film room. I got to see the offense they plan on running there and got a different perspective on things. It's really different compared to watching on TV or even live at practice. I got to really understand everything that the wide receivers do in their offense, so that was cool.
Now that you got to see the offense they plan to run, what do you think of it?
They are going to run the spread and use the receivers a lot. They definitely plan to run the ball a bunch too, but they are giving receivers chances to make plays, especially going 1-on-1 with defenders. I really like that a lot.
What were the coaches saying to you about using you in the offense?
They were just telling me that they need help at wide receiver and that the receivers aren't where they want them to be yet to win a national championship. They told me they are going to bring in some play makers to help them get there and that they think I could be one of those play makers.
Did you get to meet any fellow recruits or current players while on your visit?
I got to meet Shelton Gibson while I was there and he was pretty cool. I got to hang out with some of the receivers during film study and follow them around a little bit before practice.
Now that you have finally visited Ohio State has your thinking changed at all on them?
My interest level in Ohio State definitely went up after my visit there. I really like them a lot and they will definitely be up there on my list and consideration all the way until the end.
Do you have a return visit to Columbus planned at all?
I'm really not sure of my schedule of anything going forward really and I haven't looked into planning anything yet. I'm not sure when I will get back there next just yet, but I'll let you know.
Do you have any other visits coming up?
The only other visit I have planned right now is to go to Oklahoma on Friday. Other then that, nothing else planned.
Now that you've seen a few schools are you ready to name a leader?
I don't have a leader right now and all the schools are even. I'll probably narrow down my list soon though.
When do you think you'll make a college decision?
I'm thinking right now I'll probably decide on a school shortly after my senior season is over.
Do you have any plans to go to any camps or combines this summer?
Right now I'm not sure of my summer plans, but I may go to the Rivals 5-Star event on June 22.
HIGHLIGHTS: