We are back with another edition of the 11W Recruiting Mailbag and this time I'm here to answer all your questions after an epic week in recruiting which saw the Buckeyes land a handful of 2013 football recruits, as well as a 2012 basketball recruit.
In case you missed it, the Buckeyes were able to get gridiron commitments from Elyria DL Tracy Sprinkle,Wichita Falls (TX) Ride QB JT Barrett, Wyomissing (PA) LB Alex Anzalone, Fort Lauderdale (FL) St. Thomas Aquinas DL Joey Bosa, and Wilson (NC) Hunt LB/DE Lewis Neal.
On the hardwood, the Bucks were able to land Las Vegas (NV) Findlay Prep G Amedeo Della Valle, who originally hails from Italy. Della Valle became the first member in Ohio State's recruiting class of 2012 and right now is still the only member in that class.
While these additions certainly helped both Urban Meyer and Thad Matta, there are still some holes left to fill on both the football and basketball teams. We dive deep into who may fill those holes in both sports, what football star in the class of 2014 might commit to Meyer first, answer some questions about some site updates, and more.
Join us after the jump to get all of your questions answered in the Ohio State recruiting world with this edition of the 11W Recruiting Mailbag.
Where do we stand in terms of offensive line recruiting? We know Pocic is someone we have a good shot at, but who else are we after with a legitimate shot at getting?
Obviously Pocic is the number one player on the board and I think the top player likely to commit to the Buckeyes. That would give OSU Ethan Pocic and Evan Lisle, meaning one more spot is open on the line. Of course someone like Billy Price could be asked to flip to the offensive side of the ball, but I still think Urban has one more player in mind. Nobody has emerged from the surface just yet, but players to look out for include Dorian Johnson (offer), Lovell Peterson (no-offer), Donovan Munger (offer as DT), Khaliel Rodgers (offer), Laremy Tunsil (offer, but long shot), Kyle Meadows (no offer), and Joey Bloomfield (no offer), just to name a few. I really think the best chance is to pursue Johnson hard and get him on campus for a visit, but wouldn't be completely shocked if someone on the defensive side of the ball was asked to flip over in this class.
What happened with Courtney Love?
As I mentioned before Courtney Love committed to Ohio State about a month ago and was even telling other recruits he was committed when he went down to Columbus for OSU spring practices. That is 100% a fact, which is why I was so confident in Love being a Buckeye. Obviously his visit to Lincoln changed things, even though he came back saying OSU was still his leader. Word swirling around is Bo Pelini literally whipped out the depth charts side by side and sold Love that it would be really hard to ever see the field at Ohio State, let alone early, while the Nebraska depth chart was wide open from day one. That, along with the fact that he really liked what he saw on his visit, sealed the deal for the Cornhuskers.
With Love now going to the Huskers, who are the players that are next in line to get offers at linebacker, and who do you think realistically may end up a part of this class at that position?
I think the Buckeyes are sitting pretty with 2012 signees in Josh Perry, Cam Williams, David Perkins, Luke Roberts, and Jamal Marcus, along with 2013 commits Alex Anzalone, and Lewis Neal, who is a hybrid OLB/DE and will likely play the VIPER position Bobby Carpenter manned while in Columbus. There is definitely a spot open for Jaylon Smith if he wants it, but right now things are trending towards Notre Dame. Ohio State definitely has made big moves with Smith over the last few weeks and Urban Meyer probably has until August to "wow" the super prospect, so there is a chance. If Smith is out, the only other player I see coming into this class is Tim Kimbrough, but I think there are other positions of need to fill and it's Smith or nobody.
Give me the scoop on James Quick and Vonn Bell. Gotta have these two guys!
Quick obviously came for the Spring Game and had a blast. Not only did he enjoy the football part of things, but dad really liked what he saw from the academic side. Despite James saying he isn't down to two schools, Louisville and the Bucks are definitely the front runners here. Things are going in OSU's favor right now so I like the chances he ends up in this class, as Buckeye coaches were down at the school again yesterday.
As for Bell, he has said he enjoyed his Ohio State visit more than all of his others and holds the Buckeyes in high regards. It will be hard to pull him out of the south as I know he is fond of some schools down there and everyone is going after him. This is the type of prospect Urban Meyer has been able to get in the past, but that was in SEC country. I am not sure when Bell plans on deciding, but the next step is getting him back on campus. There will be a spot saved for him no matter what.
What's going on with Derrick Green? Is the staff going to take more than one running back and if so, and it isn't Derrick Green, who are other guys the staff will target?
I really think the staff had a fluid recruiting situation when it came to running backs in this class. What I mean by that is I think they were thinking they would definitely take one, but may take two if either a player "you don't say know to" (Ty Isaac) wanted to come on board, or if the class was shaping up for there to be room for two. Once Elliott committed I think the staff took a step back to fill some other needs and wanted to hold off on running back for now. I'm not saying Derrick Green isn't being recruited as hard or anything like that, but rather there just may not be room for him in this class any more, especially since everyone wants to add a couple wide receivers, another offensive lineman, another safety, etc. I think Green will wait until at least the end of summer to make his decision, so let's let this one play out. I do think he is the only back on the board that has a shot to be in this class, as of now, though.
When I talked to you this weekend, Mitch Trubisky's name came up. Do you really think we would pass on Green in order to take another quarterback in this class? Can we still fit both in and get the class that Urban wants?
I think it all depends how other positions shake out. I feel like this staff feels they need two quarterbacks much more than they feel they need two running backs. In 2013, Kenny Guiton will be a redshirt senior, Braxton Miller will be a junior, and Cardale Jones will either be a sophomore or redshirt freshman. The cupboard is pretty bare at quarterback in terms of depth as Guiton will be graduating following that year and Miller will be a senior. JT Barrett is already in the books, but the staff wants another talented player like Trubisky in the fold. I think that's why quarterback is a priority, but yes, they could take another back if there is room.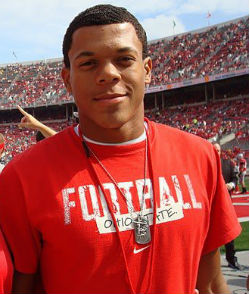 What's happened to Caleb Day? Seemed like early on he was predicted in this class, but haven't heard much of him lately.
I heard a while back Caleb needed to take care of some off the field things. I know it was no secret that the old staff liked him a lot and he had to definitely prove himself with the new staff, so I'm not sure where that stands now. It's awfully weird that the kid's only two confirmed offers are from OSU and Marshall though, right? I heard he was in the 'Shoe for the Spring Game with his teammate 2014 prospect Devon Rogers and that he had a good time, but have nothing else at this time. Let's see how this one goes, but right now I'm not optimistic he's a Buckeye.
What's our special teams situation? Buchanan is a senior this year, Basil is a senior next year and we don't have any other scholarship kickers or punters. I know Frank E. is allegedly a nice punter, but what about a dedicated kicker scholarship? Anything on the horizon?
I really thought they would take a specialist in this class and while they still may end up doing so, it doesn't look like it right now. Maybe there are a bunch of kids they want to see in camp first, but I have no concrete info on this. Frank Epitropoulos can definitely punt if need be in 2013, but I would like to add either a scholarship player at this spot, or a preferred walk-on.
How much interest does the staff have in Lovell Peterson?
Peterson is definitely a "Plan B/C" guy right now. I think they like him, but there are some bigger fish out there. Peterson is the type of kid they can tell to come to camp to see him up close and also buy themselves some time, so let's see how the offensive line recruiting develops. I don't see him as a Buckeye, but if they land Pocic to go with Lisle and miss out on some players like Dorian Johnson, maybe at the end there is a slight glimmer of hope for the Wayne product to land a scholarship.
Where do things stand with Mackensie Alexander? Are we out of the running/ is he off our radar or was his absence from the spring game nothing more than travel complications?
I'm not sure about why he didn't make it up to the Spring Game, but I'm personally ready to call this one over. If he was out for the Spring Game there was still only a small chance. I think this kid stays in the south, perhaps to Florida State.
I would like to know how many slots we actually have for 2013? 
There is not a firm answer to the question. Right now there are only 15 spots with 13 players committed, so that would leave 2 spots open. With Bobek supposedly transferring that brings it to 16, but you have to think at least 1-2 more players will leave either after spring or after next season when they realize there is no way they are ever going to see the field. I have consistently said this class will be around 18-20, and I think 18 is definitely a good number to play with right now.
What will go on with Friday Night Lights if our class is completely full by then?
I think Friday Night Lights this year will be a bigger even in terms of impressing the 2014 recruits, rather than the 2013 recruits. I still think some big time 2013 names and even the commits will come for the spectacle and to compete, but at the end of the day this class will be ultimately full by July 27, save for a few spots. This will be key for Urban, as he gets an early jump on the 2014 prospects.
What is your prediction as of now on who will be the first commit for 2014 football team?
I'll go with Drew Barker. The kid is obviously high on Ohio State (11W Update coming soon) and the coaches are going down to his school soon to see him throw. They have told him if they like what they see he will be offered. I think he will jump on that opportunity, maybe not right away, but I think definitely before most 2014 guys commit. Jimmy Byrne is another option, and perhaps Dante Booker Jr., but I think for now I'll stick with Barker, who I can see being a class leader.
Do you think Dante Booker Jr. is going to be a priority in recruiting 2014?
Yes, I do. The Ohio class of 2014 isn't looking as strong as it had the past few years, but I think Booker is one of the players currently shining. He has an OSU offer already, so I think that shows you how they feel about him. He is a special player and the Bucks will push hard to land him.
With Amedeo Della Valle, is Thad Matta done this year? Are we still looking to add another transfer or another high school senior?
I think, after missing out on Parker, Thad is done with high school seniors. I think the focus turns to transfers, with the main target being Mississippi State's Rodney Hood. Hood is a very solid 6-8 guard who averaged 10.3 points and 4.7 rebounds per game last year for the Bulldogs. He's very interested in the Buckeyes and has been friends with Laquinton Ross for a long time, which is a nice built-in advantage. I think OSU has a great shot here and this would be an awesome, as Hood would have to sit next year, but would have three years left, starting in 2013-2014 when I expect Matta's squad to make another title run.
I keep hearing that the crack team at 11Dub is diligently working on a new recruiting section--similar to what GeneStarWind has so generously created for us in the forums, but, I've really heard nothing concrete on what it will entail, or its timetable for going up.  Care to shed some light, good sir?
This is in the works as we speak. We currently have some other projects that are a bit of a higher priority at this moment (including hiring your beat writer), but my hope is that sometime this summer, or at least before the season, we will have this up. No promises as the tech team (aka Jason) has a lot on their plates right now, but I have the outline of content and design ready to roll once we have some time to hammer this out for you all. Really should be a nice addition to the site.
Thanks to those who submitted questions, we will do this again soon.