We're back with another edition of the 11W Recruiting Mailbag and things are starting to clear up a bit on the recruiting trail.
For a football stand point, Urban Meyer now has eight players committed to the class of 2013, with the pledge of Marcus Baugh, but there are still about 10 spots left to fill in the group and things are starting to make a little bit more sense now as we move towards the summer.
As for hoops, thing are picking up a  little bit as well as the spring signing period began yesterday and the Bucks are awaiting decisions on a few prospects. With Jared Sullinger and William Buford definitely gone, along with Jordan Sibert having one foot out the door, there is certainly a need to add some players to the roster and Thad is doing everything he can to get that done.
Join us after the jump as I answer your latest questions on football recruiting, basketball recruiting, and more. Thanks to everyone who contributed to the mailbag questions and for those that didn't, there will be another one in just a few weeks so get those minds moving and questions ready.
With Marcus Baugh as a Buckeye now, which player out of Mike Heuerman/ Josh McNeil do you think OSU takes as a second tight end?
This is a good question because the Baugh situation really caught everyone by surprise, even the coaching staff. I think last week you would have penciled in both McNeil and Heuerman, but now only one is likely to be in this class. Heuerman is the number one tight end on their board and if he wants to be a Buckeye, which I believe he does, he will get the spot.
What happened with Robert Foster's visit?  Posters on this site have referenced other sites in saying that his visit did not go well.  You seemed to indicate that the staff was not pleased with him either.  
From what I hear, and I can only go by that, Foster showed an extreme disinterest in a few things, such as academics, while on his visit and it got back to the staff. It appears the coaches were not happy overall with the way he acted on the trip and decided to "go their separate ways" following. Foster has since come out on Bucknuts and said all is well and he plans on taking an official to Columbus, but I am not buying it. I think Foster is trying to salvage the relationship with OSU and the overall perception on him after this news leaked, but I don't see him in this class as of now, where as before the visit I had him as a Buckeye lean. Shame because he's a great player, but Urban cannot take a chance with character in recruiting this year.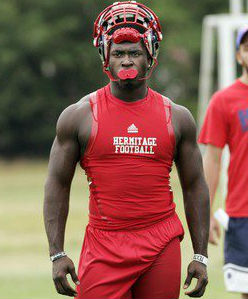 Ezekiel Elliott said that the staff was only taking one running back. We're certainly deep at running back and I really like Elliott, but can we turn down a hard working player like Derrick Green who has always wanted to play in Scarlet and Gray?
This situation is difficult to read. Green told me he was pretty sure the staff would wait on him and also said OSU had a big lead. Now reports come from Rivals yesterday that Clemson has jumped OSU as the leader. I can only go with what Green himself told me and that is that Ohio State was in a pretty good spot, so I guess we have to just wait and see how this plays out in the next few months. I do think Ohio State is willing to take another back in the class as Elliott will be used as kind of a hybrid back/receiver, meaning someone like Green has a chance to come in and play more of a traditional role. I'd like to see the Buckeyes take Derrick Green and I think there's still a good shot at that as of today.
Is there a way to get people to stop saying: "He could be the next Percy Harvin"? 
That's another good question and unfortunately, I think the answer is no. How many times have we seen a two way stand out and said "I hope he can be the next Chris Gamble". I think any time you have a coach with a player that had a lot of success in a certain role, this will happen. It doesn't end until Urban Meyer finds the next Percy Harvin. Maybe in a few years we'll be saying "He can be the next Jalin Marshall".
How many defensive tackles outside of Billy Price do we take this season and who is the most likely player/players to take those spots?
I think in addition to Price, the staff may take one other tackle. I really think they will go with three total defensive linemen in this class and are looking at a pool of Bosa, Daniel, Poggi, Latham, Hurst, Munger, Sprinkle, and a few others. I see one true defensive end, one true tackle, and maybe someone who could go either way. Right now it's too hard to tell until after some visits.
Outside of the no brainers (Cravens, Bell, Fuller, Hargreaves) does OSU take any more corners/safeties? Our secondary seems pretty stacked but I know we have chances at least at Caleb Day and Mackensie Alexander. Does Jayme Thompson's commitment impact whether or not we take one more?
I think OSU will go with one more player from the secondary unless two "you take them no matter what" type players want to commit. I really think the number one guy on their board is Dymonte Thomas and I think they have a better shot with him than with Bell, Alexander, or Cravens. Thompson's commitment makes the Bucks take only one more instead of two more, but if there is another secondary player, you can bank he'll be a good one.
Leading up to and right after signing day it seemed like the 2013 class had lots of momentum going and it looked like a top three class was a mere formality. In recent weeks it seems like that momentum has dropped off some. I know its going to pick back up at some point, but with recent developments with some of the top players on our board do you think the class will fall short of expectations? Where do you seeing it ranking in the end?
I don't think the class will fall short of expectation. Right now OSU is a top three class in "star average" and I think it will finish that way. The class may be in the Top 5 or Top 10 just because it is smaller than most other classes, but talent-wise you are looking at a Top 3 class and maybe the best class in the nation when it's all said and done.
What quarterback(s) do we get in the 2013 class?
I think the Buckeyes would ideally like to go with two quarterbacks. I think in the end they will get two out of three in JT Barrett, Aaron Bailey, and Mitch Trubisky. We won't know anything until after the spring evaluation period when they can see everyone throw, but I think any one of those three would be solid, with two being very good.
What are our chances on landing Laquon Treadwell?
The great visit on Monday was a great step for Ohio State, but there is still work to be done. Michigan was definitely the leader early on, but I think some other schools like OSU and Oklahoma (where he'll visit tomorrow) have caught his eye. He won't decide until after his senior season so we will wait for a little while, but he's a great play maker who you wait for. I don't see him in the class as of today, but there's certainly a chance if things continue to trend upwards for OSU.
There has been very little buzz around Courtney Love and I wonder if you could shed some light on his recruitment.  Is he already in as a silent verbal?  Does he have a committable offer?  If so, is he a lock, and if not who else is he considering?
I have a source that is pretty confident telling me Love is in the bag for Ohio State. I trust this source pretty well and am confident in the next few weeks (maybe at the Spring Game) you will find out that Love is indeed a Buckeye.
How is the recruiting database you have mentioned as a work in progress for the site coming along?
Funny you ask because we are currently behind the scenes in the process of figuring out how we're going to make this work. We're looking at continuing to vamp up recruiting coverage including some potential staff moves and bringing you a database/hub where you can find all your recruiting needs. As always, we want to make sure we get it right when we roll it out so stay patient. To help your recruiting fix, you can start to follow @Dave11W who will be one a side kick of sorts to help with the site's recruiting coverage for both hoops and football.
Tony Parker has been hard to get a read on, who are his two front runners?
Very hard to get a read on. I know back in the fall Tony was all Ohio State, but his parents were all Duke, so they decided to wait things out. During the winter Kansas made a huge play to get in, as did home state Georgia, Memphis and also UCLA, with the help of some of their recruits. OSU was on the outside looking in, but late events have Kansas likely out after Danny Manning left, Memphis losing momentum, and Georgia with not a great chance as well (I never really saw him there). I think Duke, UCLA, and Ohio State are the three schools in the mix here and will be interested to see how this plays out.
Are there any other recruits outside of Parker that we are in the running for in basketball?
After Parker there aren't many high school seniors in the mix, but one to look for is Amedeo Della Valle of Findlay Prep in Las Vegas. Della Valle is an Italian playing high school ball in America and is hoping to bring a solid guard presence to a major program next year. Michigan stopped recruiting him yesterday after Trey Burke came back, leaving Arizona, Texas A&M, Ohio State, and Gonzaga as the finalists. Della Valle is supposed to visit Columbus next weekend, but let's see if that visit actually happens. I have him out for this class for now.
As for other options, you have to look at transfers. While they most likely can't contribute next year (unless extenuating circumstances), this will help down the road, especially in 2013-204 when DeShaun Thomas is likely gone. The name everyone is buzzing about is Rodney Hood of Mississippi State. Hood is good friends with LaQuinton Ross and would be a great get for the Buckeyes. Looks like it is OSU or Duke there.
If we don't get Tony Parker, do you see Matta using the scholarship on maybe a local kid or do you think he banks it till next year?
I don't think Matta will reach like he has in the past with a player like Zisis Sarikoupolos or someone like that. If Parker, Della Valle, and Hood all go elsewhere, I think they bank the scholarships for 2013 and load up in that very talented class. Even if Sibert transfers, the Bucks will still have Ravenel, Thomas, Smith Jr., Craft, Thompson, Williams, Ross, Scott, Weatherspoon (pending he stays), and McDonald. Matta only plays around 8 anyway, so the fact that only 10 scholarship players will be on the roster is nothing to be concerned with.