Good morning Buckeye faithful and welcome to your Tuesday Skull Session.
Ah yes, it's that time of the year when life as I know it ceases to exist on Ohio State's campus. Yes, it's finals week.
Being the diligent and studious person I am, I obviously did the right thing to do in preparation for the academic conclusion of the quarter by going to the local drinking establishments on campus, watching several hours of television, and doing every possible thing to avoid actually picking up my textbooks.
However, I did manage to get some productive reading done in between all five seconds of studying I did. I read Mark Titus' soon-to-be classic Don't Put Me In Coach. If you haven't ordered it, do so immediately. If you have it, stop everything you're doing and read every single word of it.
Wish me luck this week, folks, I'm going to need all I can get.
OHIO TEAMS TO CLASH? Ohio State's region for the NCAA tournament features many teams who are coming into the tournament playing hot, but one matchup that has to be on a lot of people's mind could occur in the sweet 16.
The Cincinnati Bearcats, who play Texas in the first round, could have the opportunity to play OSU in the sweet 16. This would be a very intriguing game, as Starting Blocks points out, because both teams on the floor together would create some interesting matchups. Yancy Gates versus Jared Sullinger and Cincinnati's talented guards against the Buckeyes' back court would certainly be interesting to watch.
Additionally, you can't factor out the fact that both these teams call Ohio home. Thinking of an in-state matchup conjures up images of the 2007 Xavier-Ohio State game, in which Ron Lewis spoiled the Musketeers' fun. It's really a shame these two teams don't play each other more often to begin with because they are both excellent basketball programs just about every season.
However, there is no guarantee this matchup occurs, as Cincinnati would have to most likely play Florida State, who is coming in hot after winning the ACC tournament, before the Buckeyes. Hopefully it somehow ends up that these two competitive Ohio squads get to meet on the biggest stage.
THE GREAT RIVALRY OF MICHIGAN AND OHIO. Insert repetitive jokes about Michigan finally being able to play Ohio here. Seriously, I think they're pretty humorous.
Michigan's first game of the NCAA tournament features a matchup with another Ohio school, which is leading the Mid American Conference in couch burning and Halloween attendance, Ohio University. But this Bobcat team is being viewed as a squad which is poised to upset a group which won a share of the Big Ten conference.
Many, including myself, think Ohio University could be a team people need to keep their eyes on. Michigan may have Trey Burke, but OU has their own stellar point guard in D.J. Cooper along with a scrappy defense which in known for forcing turnovers. This game is going to come down to do who can make a few extra plays on offense because both teams are underrated on defense.
This is, personally, the matchup of the tournament I am most looking forward to in the opening round. Whether or not OU pulls off another upset like they did to Georgetown back in 2010, this should be a back and forth game with an exciting finish.
Now if only this guy could do the same thing to Michigan's mascot. Best of luck, "Ohio."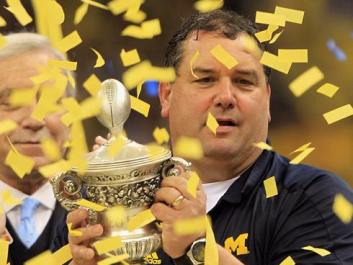 FORMER RECRUIT INDICTED. Former Ohio State football commitment Roger Lewis has been indicted on rape charges.
Lewis had originally committed to Ohio State but lacked the pre-enrollment scores to attend OSU. His focus then shifted to Mid American Conference schools like Bowling Green and Ohio University, as well as Conference USA's Marshall. Lewis was a standout for Pickerington High School at wide receiver and figured to be a promising offensive talent in college.
Lewis is charged with raping an 18-year old girl and was originally arrested on January 31. Lewis' attorney stated he intends to fight the charges.
SULLY REPEATS. Jared Sullinger was the lone player to repeat as a member of the U.S. Basketball Writer All-American Team. Sullinger also made the team last year as a freshman. 
Sully was joined by Kentucky's Anthony Davis, Michigan State's Draymond Green, Creighton's Doug McDermott, and Kansas' Thomas Robinson. The second team consisted of Murray State's Isiah Cannan, Missouri's Marcus Denmon, West Virginia's Kevin Jones, Kentucky's Michael Kidd-Gilchrist, and North Carolina's Tyler Zeller.
Sadly, I believe this will be Sullinger's last individual award of the season, as I don't see him winning the National Player of the Year Award. I believe it'll be either Anthony Davis or Thomas Robinson who gets the honor, but we'll just have to see about that.
LOS LINKS. UNC learns its fate... Hooray for graduation...  Does Ohio State need to move on?... Butler replacing Temple in the Atlantic 10?... The Lady Buckeyes are #8 in the Des Moines region.