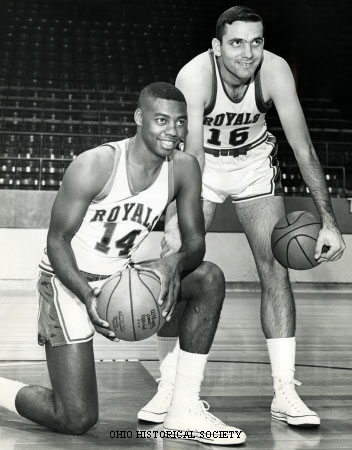 So in a bayou somewhere in Louisiana, a vampire bites into the neck of a shrill waitress... no, not really. Kidding. This story is about blood, but not quite in the literal sense. It's more of a metaphoric thing, like how you'd call two friends who grow up together blood brothers, or how you might say "well he's not a blood relative but he might as well be" when referring to your "Uncle" Bill who's really just one of your dad's very lonely employees that comes to family functions constantly.
I'm from Middletown, and when I was about 7 or 8, my Grandpa Fay sat me down and asked me to read a book. It was a book about memorization and increasing your brain power by a guy I had never heard of called Jerry Lucas. My grandpa insisted that it was a great book written by very famous basketball player, but for a kid who was way, way more interested in ankylosaurus and beating level 3-4 in Super Mario Bros. 3, I really didn't give too much thought to the local semi-hero who had learned to play ball on a court a block away from my house. Short story even shorter, I never read the book and now I usually forget what I had for breakfast on any given day.
Of course, had I read the book, and had I decided to try and learn more about Jerry Lucas, I might've also discovered that the aforementioned basketball court wasn't just for Lucas; no, that relatively small cement slab used to be an Ohio basketball Mecca of sorts. Players from around the state would come to practice and learn with possibly the greatest high school basketball player Ohio has ever seen.
One of these players was a Oscar Robertson, and though the two never met in a game with as much importance as this Thursday's Sweet 16 game between the Buckeyes and the Bearcats, both Lucas' and Robertson's evolution into basketball superstars would set the stage for a natural (if often unfulfilled) rivalry between two legendary programs.
Oscar Robertson really needs no introduction. An incredible player at Cincinnati, he led them to two Final Fours. In the NBA, he revolutionized the guard position and is the only NBA player in history to average a triple double for an entire season. For Cincinnati's part, he briefly turned them into a national power in college basketball almost by himself and cemented his legacy through his incredible accumulation of statistics.
Jerry Lucas has a similar background. As the most heralded high school basketball player in Ohio's history, he garnered massive attention throughout the state after he led the Middies to two consecutive championships. Considered to be one of the best pure shooters of all time, he was also deadly on the glass at a time rebounding wasn't even tracked as a statistic. At Ohio State, he led the Buckeyes to their only national championship in 1960, but then lost in consecutive years to the Robertson-less Bearcats.
That run of three years where Ohio teams dominated college basketball is something that we have not seen since, although this year recalls that idea; as has been retweeted roughly 10000 times since last night, this year there are four Ohio colleges in the Sweet 16, the only time that has ever been accomplished.
And really, the matchup between Ohio State and Cincinnati is a natural one. After long hibernations, both programs experienced something of a resurgence in the 1990s and early 2000s. Jim O'Brien and Bob Huggins, for all their faults, dragged both programs kicking and screaming back to a point where they could be at least somewhat worthy of Lucas and Robertson, but still the anticipated OSU/UC matchup didn't come.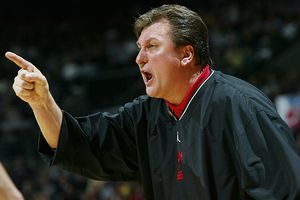 In fact it would take until 2006, where Greg Oden and company took UC to the woodshed (the game was, no joke, 42-14 at halftime) in a relatively meaningless early season game that was forgotten almost as soon as it was over.
Which is what makes this matchup between Ohio State and Cincinnati so great. There is legitimate history here, both teams are playing very well, and it's a game that is of extreme importance. As a kid who grew up rooting for Ohio State in one sport and Cincinnati and another, for me this is the realization of what should have been a long standing feud between two great programs. Yancy Gates and Jared Sullinger and Aaron Craft may not know it, but for me and many people like myself in Ohio, this matters. This means something, something beyond the obvious NCAA tourney implications.
Some of you may be wondering why I didn't focus on Havlicek or Knight for this post, and the reason is this: despite the influence that they both had on Ohio college basketball, Robertson and Lucas never met on opposite sides of the court in college. But years later, they won a gold medal together in the 1960 Olympics, were teammates in the NBA on the Cincinnati Royals (which eventually became the Sacremento Kings), and finally in 1980 were inducted into the NBA Hall of Fame together.
Point is, Thursdays game was always destined to happen. Two teams, bound by a shared past, a shared blood, are going to finally play a signifcant game against each other and it will be awesome. And that's the way it should be: you simply cannot have two very good collegiate sports powers in Ohio and not have them play. It's just way too much fun.