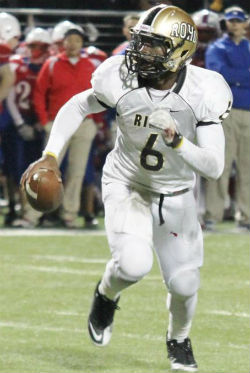 Ohio State fans and recruiting analysts alike knew they were getting a rock star recruiter in Urban Meyer when he took the head coaching job back in November, but what they didn't know was how Meyer would go about bringing in top rated classes to Columbus year in and year out.
While people like myself are still trying to figure out the method to his madness, things are becoming a bit more clear. Each day it is easier to tell what constitutes a committable or non-committable offer, as the way Ohio State's coaches go after certain players tells the tale of how the really feel about them. 
For example, someone like Malik Zaire never had his offer confirmed by Ohio State, but rather was told to come to camp in the summer so the coaches could see him throw. Verdict: uncommittable offer. On the contrary, someone like Joey Bosa is being aggressively pursued by Meyer himself and the Bucks are looking to accept a commitment from him at any time. Verdict: committable offer.
One player who falls into the latter category and is high up there on OSU's big board is Wichita Falls (TX) Rider QB JT Barrett. Barrett is currently the top priority for the Buckeyes when it comes to quarterback, and for good reason, as he is one of the nation's best. Barrett has been rated as a 4-star prospect and the nation's top dual-threat quarterback by 247 Sports (#38 overall), while also recently earning an invite to the prestigious Elite 11.
We spoke to Barrett earlier in March when word surfaced he was offered by Urban Meyer and Tom Herman, and he told us then he was making plans to visit Columbus the following week. While he waited too long to book his flight then, he rescheduled the visit to this week, when he did make it to campus with his father from early Monday and early Tuesday and certainly got everything he expected and more from Meyer and the rest of the Ohio State coaching staff.
Barrett arrived on campus early Monday morning, knowing he had about 24 hours to soak in everything Ohio State had to offer. Needless to say it was a long day, but a productive one for the star signal caller. Apparently this Urban Meyer guy knows a thing or two about laying out the red carpet, and Barrett was impressed with how organized the staff made his visit considering the short amount of time he was there. JT said, "We got to Columbus early on Monday and left around 9 AM on Tuesday. It was an unofficial visit so we tried to cram everything in our short stay, but the Ohio State staff did a good job of making sure we saw everything we needed to."
The day started out with some one-on-one time with a bunch of the coaches, with Greg Gillum basically being his tour guide for the day. Barrett got to take a look around campus, see Ohio Stadium, check out the Woody Hayes Athletic Center, tour the Fisher College of Business, and meet with a student academic advisor to find out what it would be like to be a student athlete for the Buckeyes. 
After seeing the sights, he was taken to lunch at Sloopy's, a diner in the new Ohio Union, where he ate with coaches as well as Buckeye quarterback Kenny Guiton. Said Barrett of Guiton, "it was really cool getting to meet him. He was a really nice guy and we had a good lunch together. He is from Texas as well so he kind of told me what it was like coming up to play in Columbus coming from our state and what to expect if I go to Ohio State".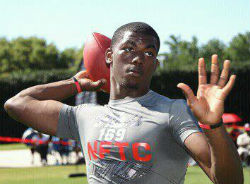 After lunch, Barrett got to meet the "other" OSU quarterback in Braxton Miller, which he said was "pretty cool", when he briefly sat in on the Ohio State quarterbacks meeting at the WHAC with Tom Herman and the other QBs. I say briefly sat in, because soon after studying some film, JT was pulled out of the meeting to get some face time with the head man himself, Urban Meyer.
Barrett loved his time with Meyer, as he and the coach "talked about how great of a fit I would be in their offense since I run a similar type system at my high school and how there wouldn't be too much of a transition from that aspect. We also talked a lot about school and family, which was great to hear because I am big on having a family environment and Coach Meyer is too."
While Meyer made his pitch to Barrett he didn't pressure him to commit on the spot, rather telling him to "take my time to think about things and pray on it". Barrett appreciated that the Buckeye coaching staff didn't pressure him into making a decision and while he did enjoy the Ohio State visit a ton, he said he wants to "talk to God, my family, and my coaches and wait for a sign on where I should go. If Ohio State or another school is the best place for me, I will know soon enough and may decide before the summer. If I have to wait a little longer I will, but I just want to make the right decision."
Whether he decides in the next week, the next few months, or not until the fall, it does appear OSU did a great job in making sure they are in it until the end. One of the most important things for Barrett when looking at a school is the people who will be there, as he says "every school is going to have great facilities, a nice stadium, some sort of tradition, and all of that. I am looking for a school with the best people, as they are going to make sure I am taken care of both in football and as a person".
When it came to Ohio State, the Bucks got an A+ from Barrett on the people, as the quarterback said "I really liked everyone a lot up there. All the coaches and academic people really stood out and they were great".
The Bucks are looking very good right now, but JT was not ready to call them his leader saying "everyone is really even right now and I want to just check out some things and make the right decision". "Everyone" consists of other offers including Arizona, Baylor, Illinois, LSU, Ole Miss, Mississippi State, Nebraska, North Texas, and Texas Tech, but it appears LSU, Baylor, and Texas Tech sit atop of his list along with the Buckeyes.
It will be interesting to see how things play out for Barrett, but if you are an Ohio State fan you have to feel good about how things stand. In addition to naming them among the schools at the top of his list, JT said he told Urban Meyer he will be back to visit again sometime this summer and right now has no other visits planned, after taking trips to LSU, Baylor, and Texas Tech prior to his trip to Columbus. 
As mentioned above this one could end as early as today or it could last until the fall, but my bet is on sometime during this spring. I feel at this point Ohio State has a lead for Barrett's services, but LSU and Baylor definitely pose a threat and I wouldn't be completely surprised if he chooses to stay a bit closer to home at either one of those programs.