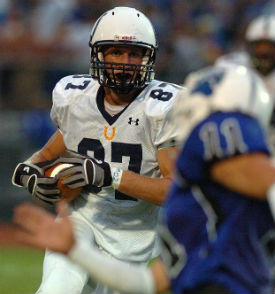 When we spoke to Camp Hill (PA) Cedar Cliff  TE Adam Breneman back in January he had recently eclipsed the 20 offer mark and was rising fast as the top tight end recruit in the entire country.
Since then, the offers have continued to pile in for Breneman, but it appears he has closed in on a decision as he took to twitter today to announce he would be making his college choice public next Friday, March 9, at his high school.
While he originally wanted to wait until at least spring to narrow his list, a few schools quickly rose to the top after some research and trips to check out some top level football programs.
Maryland, Penn State, and Ohio State, as well as Notre Dame, were the schools that stood out and that the top prospect visited this winter. It appears the pending decision will likely be one of those four schools, with two of those four leading the way.
It is no coincidence that after visiting Penn State on the weekend of February 18 and then coming to Ohio State this past Monday, February 27, that Breneman is now set to make a decision, something he didn't necessarily plan on doing before sitting down with his family last night to discuss his feelings on the schools he had interest in and where he was in the process.
It now appears the Nittany Lions and Buckeyes could be the two schools left standing in the running for his services, but with things shut down until next Friday, we are all left guessing and waiting on the edge of our seats in anticipation for one of the country's best to make that decision known.
On Breneman's visit to Penn State he got the chance to meet the Nittany Lion's new head coach, Bill O'Brien. O'Brien sold the Pennsylvania native, who grew up a die-hard PSU fan, on staying home and being used in his offensive system the way tight ends Aaron Hernandez and Rob Gronkowski were used the past two years when he was offensive coordinator of the New England Patriots.
Breneman said the visit to State College "went very well" and after he returned home, Penn State fans everywhere began to buzz that things were trending their way for his services. Despite saying publicly that his fandom would not have an affect on his decision, it was hard to bet against PSU as many of you reading this would have a hard time turning down a scholarship to play football for Ohio State if given the opportunity.
Adam could have been done with his visits right then and there, but one of the schools that offered him early and had been recruiting him hard needed to get a look. After originally planning on coming to Columbus the weekend he ended up going to State College, Breneman scheduled a full day trip to check out what Urban Meyer had to offer and see the campus, facilities, and academic side of the university.
During the trip, time was spent with pretty much the entire coaching staff as they rolled out the red carpet for the future Under Armour All-American. Breneman spent time with Luke Fickell, Tim Hinton, Greg Gillum, and Mike Vrabel for most of the morning, before enjoying the entire afternoon with Urban Meyer himself.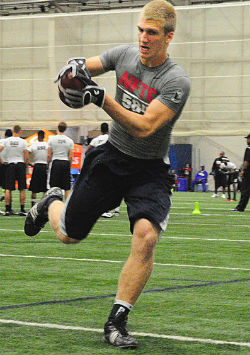 During his time on campus, Adam said that he "got a really good feel for the program" and "was extremely impressed with the offense and how I would be used". While Bill O'Brien was selling the success of Aaron Hernandez in the NFL, Meyer sold his success while at the University of Florida and how he was able to take Hernandez's talent and craft him into the offensive weapon he is for Bill Belichick today.
After departing from his one day trip, Breneman said "the visit gave me a lot to think about", bringing us to today where things seem to have been narrowed down to Ohio State and Penn State. As of around 8 PM last night Breneman still was not sure of his future plans or a timeline regarding a decision, saying "I will sit down with my family soon and map out the future".
That family meeting obviously happened within the last 24 hours and it has been determined that all that needs to be known is known. Breneman will announce his decision next Friday, March 9, at 7 PM in an open-to-the-public press conference at Cedar Cliff.
While we have to wait a week to find out what the decision is, it looks like either Urban Meyer or Bill O'Brien will have a smile on their face come next week. Either Breneman goes with his childhood favorite and the home state school or he picks the Buckeyes and their coach with a proven track record of maximizing his players' ability.  I am not sure which way this will go, but the good news is we will find out soon enough.
Come back to 11W for the latest scoop on Breneman's decision next Friday as we keep you posted on the latest regarding the nation's top tight end.