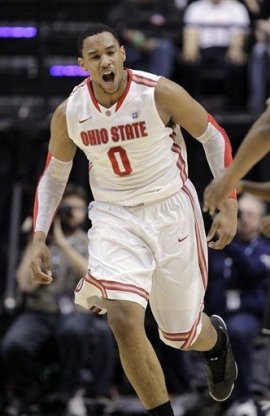 Nursing a 62-59 edge with just under eight minutes to play, Ohio State used a 17-3 run to take a commanding 79-61 lead with 3:32 left in regulation on the way to an 88-71 victory over Purdue.
The win sets up a rubber match against Michigan with a berth in the conference tournament title game on the line. 
Struggling to points for much of the evening, William Buford went off during the decisive spurt scoring nine points via two and-1's and a triple from the right wing while Deshaun Thomas added six points by way of a relentless putback, a pretty spin for a baseline jumper and a jailbreak to cap the blitz. 
Jared Sullinger was in beast mode all night recording a 30 point, 12 rebound dub-dub while Thomas lit it up for 22 points and seven rips. The two were deadly from the field combining to shoot a ridiculous 21/30. 
Buford finished with 11 points, six boards and five dimes while Aaron Craft added 10 points, six boards and seven assists in 38 gritty minutes. 
Lenzelle Smith Jr. was the 5th Buckeye in double figures with 11 on 5/9 from the floor. 
The Buckeyes shot lights out connecting on 61% overall while holding Purdue to 40% though the Boilers did go for 46% beyond the arc at 12/26. Once again, the threes were aided by Ohio State's struggles to fight through down screens leading to countless wide open looks from the wings and top of the key. 
The 17-3 knockout punch couldn't have come at a better time as Purdue had just taken advantage of two missed free throws from Sam Thompson leading to a DJ Byrd triple, aka a five point swing. 
Sullinger's big night was the product of a renewed emphasis on catching the ball in scoring spots and not wasting any time in facing the bucket and/or starting his move to the hoop which kept Purdue defenders from being able to rotate over in time to double.
Credit Matta on the plan and the entry passers for delivering the ball on time all night long. Craft and Buford were especially on point with a combined 12 dimes. 
For stretches, this looked like the squad that buried Duke back in November. Word.
The Buckeyes jumped out to a 13-3 lead on the strength of 6/9 shooting while forcing Purdue to miss eight of their first nine shots. The Boilers would eventually settle in capitalizing on four OSU turnovers in six possessions to knot the score at 24. 
Ohio State responded with a 7-0 run to take a 31-24 lead with 5:32 left in the half thanks to five points from Smith but Purdue again fought back cutting the lead to 37-36 on a Ryne Smith triple however Sully splashed a trey of his own giving OSU a 40-36 lead at the break. 
He and Thomas combined for 29 points in the opening 20 minutes shooting a collective 13/19 but Purdue kept it close with a 9-0 edge in points off turnovers and six triples. 
Byrd led the Boilers with 20 points and Terone Johnson added 16. 
The Buckeyes advance to face Michigan tomorrow at 4:10 on CBS. Buckle up. It's going to get testy.