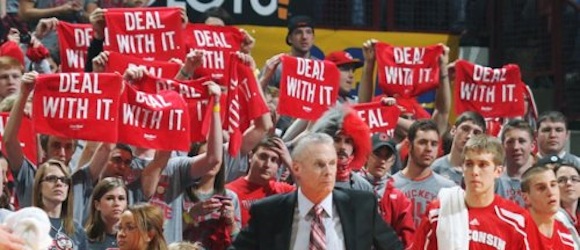 The Ohio State Buckeyes, looking to extend their four game winning streak, head to Madison to take on the Wisconsin Badgers this Saturday at 2pm EST. After a rocky start in conference play, the Badgers look to add to their own winning streak, currently at six games. 
While these programs typically wouldn't consider Saturdays in February to be nearly as exciting as their autumn counterparts, what could be more fun than this? It's just first place in the Big Ten Conference at stake, pitting recently emerged, multi-sport, psuedo-rivals against each other. No big deal. 
This week, Phil Mitten of Bucky's 5th Quarter joins me to discuss Badgers hoops, the game this weekend and the possibility of Bo Ryan producing some GIF-worthy moments.
For those that haven't watched much Wisconsin basketball this year, what are three things you would tell them about the Badgers, to give them an idea of this team and the season it's had so far?
First of all, you will see the same slow pace that you've come to expect from Wisconsin, a byproduct of deliberate offense and UW's signature team defense. Bo Ryan has let Jordan Taylor push more fast break opportunities in the last couple of weeks, but the Badgers are still dead last in the nation with an average of fewer than 59 possessions per-game.
Secondly, the Badgers live and die by the 3-pointer. Their margin of victory when shooting >35% from deep is more than 24 points. When shooting <35%, the team is 4-5, with three of those wins coming in the last five games.
Which leads us to my third point: the schedule. Ohio State may be the toughest test of the season, but Wisconsin will not be intimidated. Of the team's five losses, only the loss to Michigan in Ann Arbor was a blowout, and a strange home loss to Iowa is the only real outlier. During its current winning streak, Wisconsin has found a way to win five close games, regardless of poor shooting, and will likely make sure this one goes down to the wire.
After a three game skid early on in conference play, the Badgers have put together a six-game winning streak. What do you credit for the turnaround (or blame for the three losses)?
Bad shooting -- specifically from the outside -- doomed Wisconsin during its losing streak. And I'm talking really disgusting shooting, like 15-of-70 (21%) on 3-pointers and 33% overall in the consecutive losses. The Badgers have turned things around by getting out to better starts, rebounding a bit better, and salting away wins by hitting clutch free throws. Just getting that first win at Purdue was a huge moment for the team's confidence and that can carry you a long way.

Defensively, the Badgers are in the top five in a few statistical categories. Who, and what, make this team so special on defense?
Bo Ryan's defensive "rules" and the slow tempo are partly responsible for the outstanding defensive numbers. Individually, the Badgers have a number of lunch pail tough guys like Josh Gasser and Mike Bruesewitz that take pride in doing the little things, which obviously carries over to playing solid help defense.
However, Ryan Evans and Jared Berggren have distinguished themselves as the keys to this defense. Berggren has been impressive all year in the post. On ball, he can get around you to poke away entry passes and also stuff a shot right back in your face. Ask Cody Zeller. Evans has developed into an above average defender because he can guard a wide range of players, from taller guards to power forwards. He has enough athleticism to create a few turnovers too.

What's a major weakness that's been holding this team back?
With the exception of Taylor, the Badgers too often have looked like a collection of role players. Wisconsin lacks dynamic playmakers on offense. As teams key on Taylor defensively, his shooting percentage has suffered and no one has consistently stepped forward as that second scoring option. Some of the less experienced guys just don't have the confidence to overcome a slow start. Evans and sophomore guard Ben Brust jump to mind as examples. As a result, the team easily lapses into indecisive play, leading to crappy shooting and boneheaded turnovers.

Ohio State struggled against Wisconsin in Madison last year. How much of a factor do you think the home court advantage will play for Wisconsin this time around?
Home court will be an important edge for Wisconsin once again, if only because this is the marquee game on the home schedule this season. The Kohl Center crowds have been criticized a lot for their apathy this season (an impressive sellout streak finally ended), but with the return of the student ticket holders for the Indiana game, it appears the fans may be rounding into form. But the advantage shouldn't be overstated. The Badgers have actually shot better this year on the road (41.6%) than at home (37.7%) against Big Ten competition. They do tend to take better care of the ball in the Kohl Center though.

Jordan Taylor hasn't really been living up to expectations he created for himself last year. Can you tell us a little about the season he's had, and what the reasons for the drop off could be?
Last year was a perfect storm for Taylor. Average expectations, an overachieving team featuring an NBA-caliber big man to take the pressure off, and a couple highly visible breakout performances all contributed to Taylor's season for the ages in 2010-11. Though he earned his off-season hype, in reality Taylor's talent alone is not on different level that a handful of other great players in the country.
I think it's safe to attribute his slow start mostly to the off-season surgery he had on his right ankle. He had to skip the Team USA tryouts and was held out of the normal preseason conditioning. Taylor looked like he'd lost a step early on and opponents responded by laying off and forcing him to shoots from long distance. Whether or not that ankle is to blame for Taylor's poor shooting is up for debate. He looked a bit healthier starting around Christmas and has subsequently raised his scoring (16.5) and rebounding (4.5) averages in conference. Perhaps more importantly, he is now getting into the lane and drawing more fouls. Taylor also has an insane 18:1 assist-to-turnover ratio over the last four games after posting a 7:9 mark in the three losses.

Taylor aside, who are some other players that Buckeye fans should look out for when the two teams play this weekend?
Berggren and Evans can make an impact on either side of the ball. Berggren has been playing great defense as I mentioned, and it just feels like he's ready for another breakout game offensively. It's more a matter of his teammates sticking with the game plan and making sure he gets consistent touches down low and doesn't drift out to the 3-point line all day. Evans can definitely stick the 15-foot jumper if he's catches in rhythm. That's a shot not many current Badgers specialize in.
Bruesewitz and Gasser are the glue guys. What the Badgers need from them more than anything is hustle and emotion. When either one of these two are actually somewhat aggressive on offense, Wisconsin is very tough to beat.
Ben Brust played through illness against Penn State, but when healthy, he has a great outside stroke and shooter's mentality coming off the bench. He's the true wild card at play. Bo Ryan has a few more options for spot minute substitutions, but he really has a 6-man rotation.

What are your expectations for how far this team can get this year?
I think Wisconsin can win a game in both the Big Ten and NCAA tournaments, but going any further than that would be a surprise to me. This team is just too streaky and limited athletically. I see about 24-25 wins in the bank this season.
Lastly, do you have a score prediction, or any final thoughts on the game? Can we look forward to any delightful facial expressions from Bo Ryan?
I'd love to call another upset here, but I cannot. Neither team seems quite as good as last year's editions and while Wisconsin could conceivably get hot again, they have been escaping against lesser teams than OSU. Sullinger leads the Buckeyes to a 65-59 win.
And you know you'll get a boatload of facial acrobatics from Bo, probably in various shades of red. You know, to match the school colors of course.
---
Thanks again to Bucky's 5th Quarter's Phil Mitten for providing his Wisconsin hoops insights with us. To read more from Phil and the rest of the Bucky's 5th Badger crew, check out the following links:
Eleven Warriors' Chris Lauderback on B5Q
Bucky's 5th Quarter on Twitter: @B5Q
Phil Mitten on Twitter: @hoopsmarinara