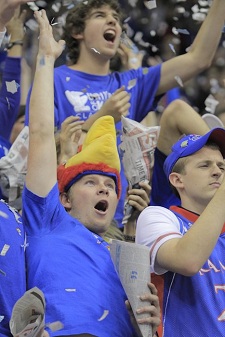 Today Ohio State plays their first road game in a match-up that seems more appropriate for March than December. The 13th ranked Kansas Jayhawks will welcome the #2 Buckeyes in for an afternoon tilt that could help one of these teams get a better seed come tournament time. The game is not pivotal for either team, but you better believe they both want it badly.
For those who are new to the college basketball scene, Kansas is one of the legendary programs of the sport. The school is 2nd all-time in wins with 2,044 and it tops all others in the number of 1st team All-Americans with 27. KU is currently on a 22-year streak of NCAA tournament appearances, the longest of any division 1-A school. Former coach Forrest C. "Phog" Allen, after whom their basketball arena is named, was the first great coach in college basketball, and is known as "the father of basketball coaches".
The trip to Lawrence will be one of only two road games the Buckeyes will play away from The Schott prior to conference play. Hopefully, the travel will be good for Jared Sullinger, as his availability is still a game-day decision due to back spasms. Coach Thad Matta is playing his cards close to the vest, and so it is likely no one will know for sure whether Sully will play until tip-off.
| # | Name | YR | HT/WT | PTS | REB | ASST | P | # | Name | YR | HT/WT | PTS | REB | ASST |
| --- | --- | --- | --- | --- | --- | --- | --- | --- | --- | --- | --- | --- | --- | --- |
| 4 | A. Craft | SO | 6-2/190 | 9.8 | 3.1 | 5.5 | G | 10 | T. Taylor | SR | 6-3/185 | 16.8 | 1.5 | 3.6 |
| 32 | L. Smith Jr. | SO | 6-4/205 | 5.1 | 5.0 | 2.4 | G | 15 | E. Johnson | JR | 6-4/195 | 8.6 | 2.8 | 3.8 |
| 44 | W. Buford | SR | 6-6/220 | 16.0 | 4.4 | 3.4 | F | 24 | T. Releford | JR | 6-5/207 | 8.3 | 3.1 | 1.9 |
| 1 | D. Thomas | SO | 6-7/225 | 12.9 | 4.0 | 0.6 | F | 0 | T. Robinson | JR | 6-9/237 | 17.4 | 12.0 | 1.8 |
| 0 | J. Sullinger | SO | 6-9/280 | 19.1 | 10.3 | 1.7 | C | 5 | J. Withey | JR | 7-0/235 | 8.5 | 6.3 | 1.0 |
Opponent
The Jayhawks have made mincemeat of the Big 12 in recent years, winning 7 straight regular season conference titles. Last season KU finished the regular season with a 29-2 record and won the Big 12 tournament to earn a #1 seed in the NCAA's. In the Big Dance, they got to the Elite Eight before losing a shocker to tourney-crasher Virginia Commonwealth. This season KU lost 6 of the top 8 scorers from last year, but playing at home they are still extremely dangerous.
After an early loss to #1 Kentucky in New York, Kansas rebounded to make it to the Maui Invitational final. But sloppy defense late and an improbable 3-pointer led to another loss against #6 Duke. Since then, the Jayhawks have won 3 straight against inferior competition in preparation for OSU. It usually takes a couple of weeks to recover from the Maui trip, and in addition to that the team battled "the crud" for a bit before shaking it off.
Helping to make up for the loss of so much fire-power, and especially the loss of the Morris twins, is junior forward Thomas Robinson. Robinson has been a beast on the front-court, at one point recording six straight double-doubles. Robinson racked up a career high 26 points in KU's victory against Long Beach State on Tuesday and also grabbed 11 boards. He is not as large as Sullinger, but he cleans the glass pretty well, averaging 12 rebounds per game.
Another key player for Kansas is senior point guard Tyshawn Taylor. Taylor is a distributor, but he's also a serious scoring threat from the one. He's shooting nearly 46% from the field this season, including a sizzling 57% from downtown. Reserve guard Conner Teahan is another dead-eye shooter from distance, hitting 45% of his threes. He helped the Jayhawks break the game open against Long Beach, hitting 4 triples and scoring a career high 14 points.
Kansas is similar to Ohio State in many ways; they are a disciplined team that shoots a high percentage and plays solid defense. One difference is in assists, where OSU is by far the more unselfish team. In fact, Kansas has more turnovers than assist, averaging about 15 per game in each category. Coach Bill Self plays a short bench, much like Thad Matta, but in Self's case it's almost by necessity due to the large number of players that departed from last year's team. 
Buckeye Breakdown:
Ohio State leads the nation in scoring margin, outscoring their opponents by nearly 30 points per game. They are also first in the nation in turnover margin and tied for first in assist-turnover ratio. The Buckeyes are 3rd in the country in assists per game, many of those doled out by Aaron Craft, who averages 5.5 assists per game. Craft also averages just under 3 steals per game, which is bad news for the turnover-prone Tyshawn Taylor.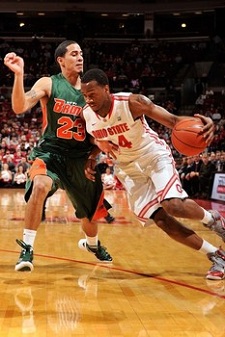 The big question for OSU is whether or not Sullinger will play. If not, all eyes will turn to 6'8" 260-pound junior forward Evan Ravenel who will once again be expected to pick up the slack for Sully. Ravenel played 20 minutes in place of Sullinger against Texas-Pan American and scored 11 points while grabbing 7 boards. Also helping with rebounds was off-guard Lenzelle Smith Jr., who grabbed 6. It will take this kind of team effort to make up for all that Sullinger brings to the game. 
The Buckeyes will probably need Will Buford to pick up some of the scoring slack, and the senior from Toledo will be more than happy to oblige. He scored only 2 against T-PA but had over 20 in the three games prior, including the domination of Duke. OSU will still dump the ball down low quite a bit, but expect a lot of those to be passing opportunities for Ravenel to find Buford and others for some outside shots.
If Sullinger is able to play, expect him to be a monster around the basket. Neither of KU's starting big men have enough bulk to handle Sully down low, although they are both excellent shot-blockers. Expect Kansas to run into foul trouble early if they eschew the double-team against Jared. They will also have to watch for Deshaun Thomas coming in for the second-chance bucket, especially if they shift another defender over to Sully. 
The home court will definitely be a factor in Kansas' favor, and they will need it as OSU is loaded and the Jayhawks do not match up well against them. The Buckeyes will probably have some early-game jitters, but if they can weather KU's initial run, I think they will eventually pull away. 
Etc
The win over Texas-Pan American was Thad Matta's 300th as a head coach, and his 198th as Ohio State head coach.
In their last two games, Ohio State has led for all 40 minutes of the game. 
OSU is 3-4 all-time against Kansas, and 18-20 all-time against the teams that make up the current Big 12 line-up.