Has Urban Meyer not gotten the memo that the weeks after a 6-6 season, and a loss to TTUN, aren't supposed to feel this good?
You wanted revenge for the three point blowout to the Spartans? Urban got it. You were bummed that the Buckeyes weren't able to get a pick-6 against Penn State this year? Urban grabbed one, and ran it back to Columbus. Annoyed by Michigan fans who temporarily have forgotten their place? Urban reminded them. 
Urban's also managed to lure over some of the more prominent figures from his Florida regime over to Columbus, in Mark Pantoni (Director of Player Personnel) and Brian Voltolini (Director of Football Operations). Thursday officially brought the news of another catch from the Gator staff, so let's get started...
MAROTTI RETURNS TO COLUMBUS. Ohio State announced Thursday the addition of Mickey Marotti to the program as Assistant Athletic Director for Football Sports Performance. Marotti comes to Ohio State from the University of Florida, where he was the Director of Sports Performance. 
According to OSU, "There is one person Ohio State head coach Urban Meyer trusts in the critical area of strength and conditioning training and overseeing sports performance, and he is an individual Meyer has worked with or hired three times previously: Mickey Marotti."
Things have come full circle for Meyer and Marotti, who originally met as graduate assistants at Ohio State in 1987. The two met again about a decade later, working together at Notre Dame. When Meyer took over at Florida in 2005, Marotti was one of his first hires, running the strength and conditioning programs for all Gator sports. They get back to work on this Buckeye team when OSU returns from the Gator Bowl in January.
Urban trusts that Marotti will "prepare our student-athletes to be the strongest, fastest and mentally toughest football players they can be." I don't need to remind you of the type of athleticism the Buckeyes were up against in that debacle in the desert, just know that it is largely credited to this man's doing. 
"I believe the strength staffs that Mickey has led have been the best staffs in college football," Meyer said. "He is the best there is at developing physically and mentally tough football players."
Want a taste of what the Meyer and Marotti tandem is all about? I highly recommend this video. Imagine it's scarlet and gray and Buckeye'd out, instead of filled with Gator influence, and you'll get as pumped as one can be this early in the morning.
HATERS GONNA HATE. Major props to Adam Rittenberg of ESPN for his post on Thursday, examining the NCAA coach waiver granted to Ohio State. Despite the normalcy of such a waiver, Dave Brandon, the University of Michigan Athletic Director, had voiced his fear confusion by saying he was "struggling to understand how this relates to the 'level playing field' the NCAA claims it is always working to create." Yes, Mr. Brandon, clearly you are struggling to understand something that is pretty common. Now I'm confused as to how you got your job. 
Brandon wasn't the only one with strong feelings on the matter. Even with Buckeye-hate-filled comments all over ESPN.com aside, others joined in on the group-think mentality that bred the idea that Ohio State is being given preferential treatment. Rob Otto, of Metro Networks, wrote up his thoughts on the matter. Oddly enough, while Otto admits that such a waiver is common practice, he still repeatedly insists that OSU is being given an unfair advantage. He even claims that "rewarding" Ohio State with this waiver just proves that the "NCAA is less interested in doing the right thing, and more interested in their own bottom line." 
The difference, for Otto, between OSU's waiver and the many others that are granted? Apparently it's that Ohio State is still awaiting it's punishment from the NCAA. He calls it "ludicrous" and goes on to whine that the NCAA should be making an example out of Ohio State. I'm not quite sure if he fails to see how butt-hurt he is, but likely not, considering he also managed to sneak in this gem: "OSU has become the premier program in the conference, but of course, they had to cheat to remain at that level in recent years." So, to Otto I must also ask... how did you get your job?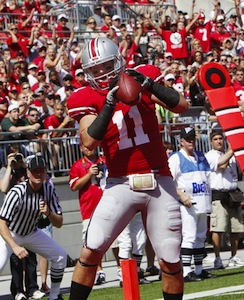 BUCKEYES GONNA BALL. While the rest of the college football world (particularly the region to the north) isn't in love with Ohio State's many coaches, the Buckeyes who spoke to the media on Thursday are pretty pumped about all of them. 
Sophomore offensive lineman, Jack Mewhort, when asked about the experience of playing for three different head coaches during his time at OSU, responded, "I think that's awesome... I'll have everything that coach Tress told me, then I'll have this year with coach Fick, which has been great. He's been like a rock through the year that we always looked to. And I'm looking forward to playing for coach Meyer, and we all know what he's done... It's a unique experience a lot of guys don't get, and I'm looking forward to it."
According to theOzone, Stoneburner in particular was pleased to hear about the success that new offensive coordinator Tom Herman was able to get out of former Rice tight end, James Casey (111 catches for over 1,300 yards). 
"Intense" was apparently the word of the day, according to The Plain Dealer. Junior fullback Zach Boren reiterated that, by saying it was it was the first thing that struck him about Urban. "He said he expects the best out of us each and every day and he's going to push us to the fullest," Boren added.
It seems that these players expect a bit more of this type of intensity from Meyer than they got from Tressel. In fact, several of them noted the difference in style between the two coaches, and how that's been visibly apparent from Meyer from day one. 
Either way, while players can often struggle with the transition to a new coaching regime, the Buckeyes undoubtedly are excited about what is to come at Ohio State, and are ready to follow, wherever Urban may lead them.
MO MONEY, MO PROBLEMS. The NCAA announced Thursday that the new rule that would allow Division I institutions to give student-athletes an additional $2,000 allowance has been temporarily suspended.
The NCAA release said that 125 schools have voiced concerns over the rule, and their reasoning fell into four areas: "how quickly it was implemented, perceived impact on competitive equity, application of the allowance for student-athletes in equivalency sports, and implications for Title IX." Apparently, student-athletes that have already signed a LOI with schools in conferences that have already agreed to give the stipend, will still be receiving it. 
Kristi Dosh, ESPN sports-business reporter, tweeted that some of the concerns may have to do with faculty members upset over the money that would be given to this new allowance, when they haven't received raises in the last several years.
Regardless of the hold on implementing the rule, President Mark Emmert said he is "confident that there remains a very high level of support for this permissive legislation to provide better support for our student athletes."
The Board of Directors will reconvene in January to determine the status of this rule, moving forward.
 ​LOOKING AT RGIII AND TP. Doug Lesmerises, of the Cleveland Plain Dealer, took a look back at two true-freshman that were starting QBs for their teams back in 2008, Heisman Trophy winner Robert Griffin III of Baylor, and Terrelle Pryor.
Lesmerises points out many of the similarities between the two gifted talents, and how it proves that there's so much more than what meets the eye that can determine the ceiling of success a player can reach on the field. "It was Griffin who lost most of his sophomore season to a knee injury, not Pryor, but it was Pryor who got derailed. That can happen to any player."
While it seems that a certain true freshman quarterback currently at Ohio State possesses the off-field qualities that are also necessary in a having a complete, successful career at Ohio State, it's an interesting reminder to not get ahead of ourselves when visions of Heisman trophies dance in (some of) our heads.
HAPPY FRIDAY. ESPN's latest update to Bracketology... Penn State needs more time to respond to the NCAA... In case you were wondering who Terrell Suggs wanted as the new coach of Arizona State... He's a man! And he's Coach of the Year!... I'm pretty sure DJ is partially responsible for this... Cocaine's a helluva drug... This video was played for recruits at Florida's 2009 "Friday Night Lights."