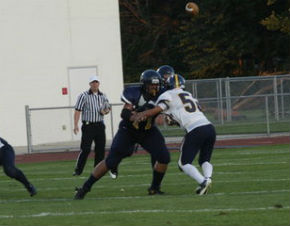 While some of Michigan's best players have come from Ohio (see: Howard and Woodson), it's not that often that a gem comes to Ohio State from the state up north. Obviously there have been exceptions, such as Vernon Gholston, but the Buckeyes are usually set with in-state talent and national players hailing from areas other than Michigan.
That trend may stay the same, but one player to look out for when it comes to Michigan talent in the class of 2013 is Lansing Eastern offensive tackle Joshua Crim. The 6-7/300 lineman is one of the fastest rising prospects in both the state and the Midwest region and is climbing his way up recruiting boards.
Although he doesn't have any offers at the moment, Crim is hearing from many of the nation's best programs. Ohio State is among those that have had contact with the athletic tackle and you can bet with the position being a priority going forward that Urban Meyer is sure to take a look at Crim sometime in the near future.
We got the chance to sit down with Josh to discuss the latest in his recruitment, his thoughts on Urban Meyer, who his favorites are, and much more. Join us after the jump the hear the latest on one of Michigan's top prospects in the class of 2013.
How did your season go this year? How did your team do and how did you perform individually?
My season went pretty well, although I have had better. My team did not do so well. We should have done a lot better, but we didn't communicate and bond together because if we did, we would have gone a lot farther than we ended up going. I think, individually, I did pretty well. I went hard every single play. Even before the ball was snapped, my head was in the game.
What is your current height and weight? Where would you like to see that before you get to college?
I am 6'7" and 300 lbs right now. I would like to go into college at 6'8" and 305-310 pounds. 
How is recruiting going? What offers do you have? Who are you seeing interest from?
Recruiting is going great. It is really exciting to go through the process, but also really nerve-wracking. I do not have any offers at the moment. I am seeing a lot of interest from Michigan, Wisconsin, Michigan State, Notre Dame, Mississippi, Nebraska, and Syracuse. I also got letters from Tennessee, Georgia Tech, and many others.
Do you have a favorite or list of favorites at this time?
Yes, I do. In order they would be Wisconsin, Michigan, Notre Dame, Michigan State, and Syracuse.
What is your opinion of Ohio State hiring Urban Meyer to be it's next head coach?
I like the choice in coach, but I would like to meet him to see exactly what kind of coach he is.
I know there has been some contact between yourself and Ohio State in the past. Has anyone contacted you since Urban has been hired? 
No, there has been no contact since he has been hired. I presume I will see more in the future, though.
What positions on the offensive line can you play? Where do you think you'll play in college?
I can play tackle on either side, but prefer left tackle. I think in college I will play offensive left tackle.
What is important to you when making your college decision?
It is important to me if they have the engineering program I want. Also, what kind of coaching staff they have and how they treat their players.
What is your timeline for making a decision?
I do not have one, but I would like to make a decision by spring of my senior year at the latest.
What are your plans for the off-season? Any visits lined up? Any camps during the summer you'd like to go to?
My plans are to play other sports to stay in shape, as well as hit the weight room regularly, and maybe visit some colleges. I don't have any visits lined-up at this time. I will be going to at least three camps this summer, although I'm not sure which ones at this point in time.