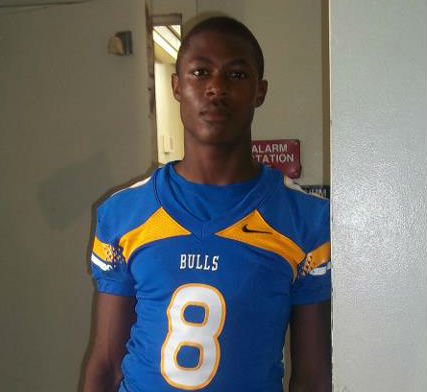 One of the assumptions many have now that Urban Meyer is the head coach in Columbus is that recruiting in Florida is going to get a lot easier for the Buckeyes. Having pulled some good players from the state in the past, Ohio State is already a known brand down there. With the clout of Meyer's name and reputation from his glorious run with the Gators, thought is that brand may grow even bigger.
Some of the fastest players in the country have hailed from the Sunshine State and that will not be changing anytime in the near future. On of the players that has speed to kill is 2013 DB Artie Burns. The 6-1/175 Miami Northwestern product recently committed to Nick Saban and the Crimson Tide of Alabama, but that doesn't mean his recruitment is done. The talented prospect is still all about leaving his options open, and even plans on taking all of his official visits next year.
There was some contact between Ohio State and Burns earlier this year, but things died off a bit when turmoil hit the program. Expect Urban Meyer, Mark Pantoni, and Florida specialist Stan Drayton to go after Burns hard now that the dust has settled on the situation in Columbus. The speedster is one of the more highly regarded prospects in his class, already being named a member of ESPN U's Top 150, so this rock will not be unturned.
We got the chance to sit down with Artie to discuss his commitment to Alabama, his thoughts on Urban Meyer coming to Ohio State, what he would do if the Buckeyes came calling, and more. Join us after the jump to Catch Up with Artie Burns.
How did your junior season go? How did your team do and how did you perform individually? What positions did you play for Miami Northwestern?
My season went well. Our team this year was good. The games we lost, we really beat ourselves by missing tackles or blocks, but next year we should win states.  I made a lot of tackles on defense, where I played both safety and corner back. I made about 40 tackles and had 2 interceptions, including taking one back for a touchdown.
You just committed to Alabama (on 11/30/11). What other schools were you considering before you made that decision and why did you choose the Rolling Tide?
Florida, Florida State, and Miami were all talking about offering me soon. I chose Alabama because I love the way they play fast, physical defense. That's how I play and going there would give me a good chance to play in the NFL. Also, I can get a good education there if football doesn't work out.
I know Ohio State has been in touch in the past, but it's a whole new ball game with Urban Meyer in charge. What do you think of Ohio State's decision to hire Urban?
Urban Meyer is a great coach. I believe hiring him will put the program back on top.
Has Urban or anyone on the staff been in touch with you since he was hired? 
I haven't heard from them yet, but I do expect them to be in touch sometime in the near future.
Are you 100%, never changing your mind on your decision for Alabama? Is there a chance that you'll take other visits?
I'm definitely going to leave my options open and I will be taking all of my visits.
OSU hasn't had a chance to really recruit you under Urban Meyer. If he calls, would you take a look at Ohio State?
Yes, if they call, I will take a look at Ohio State.
What would you say is the best part of your game? What do you want to work on improving this off-season?
I will do whatever it takes to be around the ball, so I would say I have that extra instinct to get to the ball [and make plays]. I want to work on everything so that I have no flaws in my game.
Position of choice at the college level? Where do you think the coaches will put you?
I love both corner back and safety, so it doesn't matter to me. I think right now corner back is where they will put me.
---