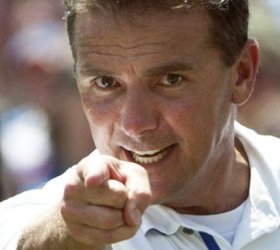 The hiring of Urban Meyer represents the biggest get in the storied tradition of OSU football considering his stature as a two time national champion upon his appointment to the most important post in the state. 
As talented as the man is as a game day football coach, his most impressive skill is the ability to recruit. His track record of bringing in top talent at Florida was sensational and he's already working the phones in an effort to better position the 2012 group while laying the groundwork for a truly remarkable 2013 class which is overflowing with in-state talent.  
For Buckeye fans, what might be even more exciting on the recruiting front is Meyer's ability to attract top flight assistant coaches and other key staff members. For years, Tressel was able to overcome inadequate and/or under qualified assistants as he executed Tresselball virtually on his own. This year with the Tressel magic gone from the sidelines, some of the coaches were woefully exposed. 
Now, Meyer is on board and not only is he throwing around the goal of attempting to assemble the best coaching staff in America, he's apparently convinced Gene Smith that the days of paying assistants peanuts in comparison to schools in the SEC and even a few in the B1G must be over if the Buckeyes are to have the type of coaches it takes to recruit elite talent and teach them how to compete with the big boys down south. 
Smith's reversal of tune on the assistant dinero isn't solely the work of Meyer as this year's season was also a wakeup call. Either way, Meyer will be the benficiary. When asked about this at Urban's presser, Smith put a huge smile on all our faces when he said, "we'll put in place the resources necessary to attract the staff that Urban feels he needs."
The Dispatch recently cited insiders claiming "the new offensive and defensive coordinators will be paid in the $500,000 range, or higher, if that's what it takes to retain top coaches." Bollman and Heacock each made a shade over $300k last year and while $500k represents a big jump, it might take more than that based on chatter surrounding some of Meyer's potential choices for offensive and defensive coordinator. 
With the notion that money may not be a deal breaker as Smith gives Meyer freedom to assemble an elite coaching staff, let's take a look at some of the names being kicked around for various posts. 
director of player personnel
While not an assistant coach, Urban rolled with a recruiting right-hand man at Florida by the name of Mark Pantoni. By all accounts, Pantoni is a walking recruiting database and earned Meyer's trust by matching his work ethic. Pantoni has already updated his facebook page to the job title noted above and has spoken with many current UF recruits to inform them of his decision to work for Meyer. 
From everything we've read and heard, he does an oustanding job of building rapport with the kids as he works to win their services for his school. By all accounts, this is a huge get for Meyer and the Buckeyes as elite recruiting coordinators can obviously be a sometimes underappreciated backbone of a program.  
Defensive Coordinator
Here's where things get really interesting.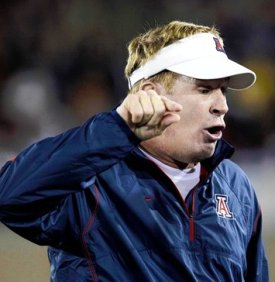 We're getting strong information that indicates Mike Stoops could be on the verge of becoming Ohio State's defensive coordinator. Our sources have gone so far as to say Stoops has been in Columbus very recently to meet with Meyer and that Urban is incredibly passionate about bringing Stoops on board.
Where it might get sticky is that even though Smith is looking to help Meyer with putting together a well paid and well quailified staff, Stoops will come with the steepest price tag ever for an OSU coordinator - by a sizeable margin. 
It seems there could definitely be a match though as Stoops has gushed to Wasserman about Ohio State in recent days. Throw in the fact he's a Youngstown native, was wildly successful as Oklahoma's DC prior to the meh seasons in Tucson and the "coaches like his hair is on fire" mentality he brings and there's lots to like about Stoops overseeing the Silver Bullets. 
If Stoops falls through, Luke Fickell could be there to pick up the pieces. Though he's never held the post on his own, he's been the co-defensive coordinator since 2005. Meyer made it clear Luke would have a significant role on his staff but fell short of anything specific, most likely because he was already targeting Stoops and needs to sort out that situation first. 
The logical thought here is that if Stoops is hired as DC, Fickell becomes either the LB or DL position coach in addition to being annointed Assistant Head Coach. 
Chuck Heater is the only other guy that is mentioned as frequently as Stoops and Fickell when it comes to the DC post. Currently the DC at Temple, Heater goes way back with Meyer. He coached DB's at Utah before following Urban to Florida from 2005-'10. He again worked with the secondary guys from '05-'09 before graduating to co-defensive coordinator for the Gators in Urban's final season in Gainesville. Based on the Stoops and Fickell factors, it feels more likely that Heater would be a positional guy for the Buckeyes and is very much on Meyer's radar. 
Defensive position Coaches
As discussed, Fickell is very much in the running to coach the defensive linemen or the linebackers depending on what happens with Stoops. Obviously, Fickell was a star DL for the Buckeyes in the mid-90's but also coached the LB's for seven years in Columbus. In a recent interview with Bill Greene, I saw Shazier's father basically inferred it was done deal that Fickell would be his son's positional coach, FWIW. 
Despite a rough year for the OSU linebackers, Mike Vrabel appears to be very much in the running to remain with the Buckeyes. Castel noted recently that Meyer is close with Bill Belichick and that Urban would definitely reach out for more information on Vrabel. Additionally, Meyer will seek input from Fickell which can only help Vrabel's chances of being retained. An uproven recruiter, Vrabel does have some flashy hardware to show recruits and is said to be familiar with the northeastern Ohio area. 
Fellow incumbents Paul Haynes and Taver Johnson also remain in contention to remain with the Buckeyes. Haynes has worked with the safeties since 2005 and was a co-defensive coordinator this year. Johnson has handled the corners for the last five years and was on staff with Meyer in 1999 in South Bend. If I had to pick between the two, I'd give Johnson the edge. 
DJ Durkin is another name getting some run and he goes way back with Urban. Durkin first coached for Meyer at BG and later at Florida (2010) in charge of the linebackers. He also has experience coaching defensive linemen at Stanford. He could find his way in the mix depending how the other coaching dominoes fall in the front seven. 
Heater is a real possibility to be selected to work in the secondary as it's proabable the DC position will already be full. He coached under Earle Bruce at OSU and worked for Meyer at Florida and Utah handling secondary duties. 
A few other names have been floated here and there but Fickell, Vrabel, Haynes, Johnson Durkin and Heater seem to have the most steam thus far. 
Offensive Coordinator
Even before Urban was officially announced, there was a lot of chatter about Chuck Studrawa being the top target to replace Bollman. Currently at LSU in his first season as OC, Studrawa handled OL duties in Baton Rouge from 2007-10. 
The Fostoria native followed Urban from BG to Utah as his OL coach but after just a few weeks he returned to Bowling Green to take the offensive coordinator job. Reportedly, Meyer was upset enough with Studrawa's sudden defection that he didn't talk to him until phoning him this past fall to congratulate him on the LSU OC gig.
Despite some folks leaning heavily on the idea that Studrawa will eventually land in Columbus, we're hearing it's far from a slam dunk at this point as he seems to have designs on potentially parlaying LSU's success this year into a HC gig. Should that fall through - and Urban hasn't filled the spot before the MNC game - Studrawa could very well be in play. 
Should the Studrawa situation not work out favorably for Ohio State, Chad Morris could be a very attractive candidate. In his first year at Clemson, Morris is having a field day with QB Tajh Boyd. He runs an uptempo offensive scheme and looks to do a stellar job featuring a run/pass quarterback which could obviously pay huge dividends for Braxton Miller. His style certainly seems to jive with Meyer's offensive philosophy. Morris has stated there's no substance to any current linkage to Meyer or Ohio State, FWIW. 
Offensive Position Coaches
Current Buckeye WR coach Stan Drayton is a lock to be retained by Meyer though he could possibly move to coaching the RB's, just as he did for Meyer at Florida from '05-'07 and again in 2010. All signs point to Drayton being the guy that helped secure Ricquan Southward's commitment after he had previously given the 'Canes his verbal pledge and current OSU commit Mike Thomas is certainly under the impression Drayton will be around. 
Should Drayton stay at his current WR post, Brian White could be a name to emerge. White was a RB coach for Meyer at Florida in 2010 and coached TE's in Gainesville before that. He's also a former winner of the AFCA D1 Assistant Coach of the Year Award and spent 11 years at Wisconsin. Interestingly, he was the OC in Madison in 1999 when Ron Dayne won the Heisman. Sporting an impressive resume including some recruiting chops, White could even be a contender for the OC gig depending on how things fall. 
Current LSU WR coach Billy Gonzales is another name to keep an eye on. In his 2nd year in Baton Rouge, Gonzales spent five seasons with Meyer as his WR coach in Florida helping win national titles in 2006 and 2008. Prior to that, Gonzales coached WR and ST in Utah and was a WR coach and recruiting co-coordinator for Urban in Bowling Green. There's little reason to think Gonzales won't link up with Meyer at a fourth school. 
Existing Buckeye assistant John Peterson could be a factor for Meyer going forward as either a TE or OL coach. This was his eighth year on staff as a position coach and recruiting coordinator. 
Scott Loeffler is a name showing up on virtually everyone's list of potential QB coaches. He was the QB coach at Florida in 2009 and 2010 where he helped develop Tim Tebow. A Michigan grad born in Ohio, he spent 2002-2007 in Ann Arbor as QB coach working with Henne, Navarre and Henson. 
Countless other potential candidates are popping up daily including Steve Fairchild who is potentially about to be canned as the HC at Colorado State, Matt Campbell, the OC at Toledo, Mike Sanford, Meyer's OC in Utah and Paul Petrino, Zooker's well respected OC at Illinois, just to name a few. 
Strength & conditioning
Pencil in Mickey Marotti as Meyer's Director of Strength and Conditioning. 
A grad assistant at OSU with Meyer back in the late 80's, Marotti went on to become the head S&C guy at UC and Notre Dame (also with Meyer) before joining Meyer to Florida in 2005. The two were very close at ND and with kids roughly the same age, their families spent lots of QT together. Marotti definitely earned Meyer's respect with his "hair on fire" approach to S&C.