Good morning, friends. We're almost in the double digit days of November, which means the start of basketball season is nearly upon us.
I know some people claim an inability to engross themselves in hoops until the football season ends. Not me. After taking a hit of BB a few days ago, I'm ready to watch this team dominate.
Personally, I like to imagine the two sports fighting over my affections as if I were the Felicity to their Ben and Noel. But unlike that scenario, which had only one correct answer1, the appropriate response to the "football or basketball?" inquiry is both.
Like most of us, The Ohio State University is a complex entity with many different characterizations, and therefore, cannot simply be defined as a football school. If you can't get behind that train of thought, then know that my pusher skills have brought comparisons to Stringer Bell, and I will make it my mission to convert/take out any dissenters.
Now that we've established that 11W is your one-stop shop for references to Ohio State athletics, late-90s WB shows, and America's finest TV masterpiece, let's get this Skull Session moving. 
 DANGER WILL ROBINSON? The Toledo Blade's Matt Markey wrote an article about how due to circumstances this season and in recent years past, Ohio State should not take Purdue lightly. Of course, *shudder*, we all remember what happened in West Lafayette two years, but over the past decade, the Buckeyes have just a 2-2 record at Ross-Ade Stadium. This season, they are only 1-2 on the road.  
Along with that, the team is coming off a more-arduous-than-expected home win against Indiana and still shows signs of youthful inconsistency. Tyler Moeller, though, isn't worried because according to him, "We're tough. Anything that comes our way, I think we can handle."
The Boilermakers, on the other hand, are 4-1 at home. On the heels of two losses, one to Michigan and a 62-17 humiliation against Wisconsin, Purdue does not have to look far for motivation. Even if they did, there's always the "get used to THIS" 49-0 defeat at the hands of the non-existent 2010 Buckeyes. 
TURN IT OVER AND MOVE ON UP. One of the main reasons Ohio State lost that game in '09 was the turnover margin. Even though the defense forced three of them, the Buckeyes turned it over five times themselves. That can't happen if they want to leave West Lafayette with a win this weekend.
Doug Lesmerises delved into Fickell's emphasis on winning the TO margin2, something he has preached since he was first named interim head coach. At +4, Ohio State is the 31st rated team in that category, but that's a downgrade from recent seasons. A lot of the time on defense, creating turnovers is about intensity and discipline. According to man-beast John Simon:
"I would say turnovers are effort plays and hitting from behind when they don't see you coming and really focusing on ripping the ball out," Simon said Tuesday. "We definitely need to work on that."
For a defense that has had trouble playing a complete game, and for an offense that lacks versatility, turnovers could have a huge impact on the outcome of the game.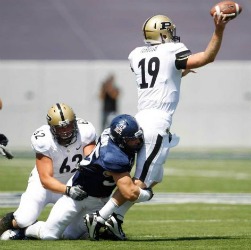 PURDON'T. Big plays were key in Ohio State's win last Saturday, and in their last two losses, Purdue's defense has been susceptible to giving up big plays. Wisconsin and Michigan combined for 98 points, 1,140 yards, and 13 plays of more than 20 yards against the Boilermakers.
PU will be looking for avoid that trend against Ohio State's 106th ranked offense. Still, Danny Hope's mustache acted more impressed with the Buckeyes than that stat. Besides referring to Boom as a "difference-maker", he also described Braxton Miller's skills as the following: "When he has the ball, he can make something happen."
Two wins short of bowl eligibility, Purdue has three games left against Ohio State, Iowa, and Indiana. 
BASKETBALL LIVES. With two days left before the season begins, time remains for basketball previews. The Detroit News' version covered Buford's emerging leadership, Craft's defense, and Sullinger's weight loss, of which Matta discussed:
"He appears to be, in my mind, moving more fluidly," Matta said. "The thing we talked to him through the preseason going through the rigors of the Big Ten, if we can move him around a little more, they won't be able to beat on him as much. Along with that, he's taken to improving his ball handling, his outside shooting."
The Sports Illustrated team preview offered this bit of final analysis: "Matta may have as many healthy pieces as he's ever had, and he knows how to teach unselfish players."
Despite the plan to see more time at the 4 position, the Sporting News named Sully as the top center in the country, and he, Buford, and Craft were all selected to the Naismith Preseason Watch List, along with five other B1G players (Draymond Green, Tim Hardaway Jr., Robbie Hummel, John Shurna, and Jordan Taylor). 
A SERIOUS MOMENT. During the offseason, when Ohio State was skinned alive in the press, we all wished that other schools' indiscretions would be brought to light. Of course, our minds were on the likes of Cam Newton and the menswear of Bama players. No one could imagine the horrific nature of what is being revealed at Penn State.
We have a justice system. Witch hunts are not the way we want to conduct legal matters. We don't have all the facts. As such, please mentally insert "alleged" after every other word3, but children were raped, and there were adults who knew and did nothing about it. 
Penn State students can rally around Joe Paterno and obtusely serenade him with songs from the McKinley High Glee Club catalog. I understand that he has performed many charitable acts in his life and is a coaching legend who has won more football games than any other Division I coach. The fans just want a return to normalcy, to focus on their 8-1 team, and to wake up from this nightmare in which their school is now embroiled. But children were raped, and there were adults who knew and did nothing about it. 
Some can argue that unless we were in that situation, we don't know what we would do. Thankfully, I have never been, nor do I ever want to find myself in such a circumstance. I'm pretty far from perfect and I'm not claiming to have the integrity of Atticus Finch every second of the day, yet I trust moral code enough to assert that yes, if I knew a child was being raped, I would damn sure take action.  
Although not everything in the world is black and white, this is not a gray matter. If you can stomach it, here are statements from some of the victims' mothers. And the alleged number of victims keeps increasing. The entire scandal is appaling, none more than the man who raped children and the adults who knew and did nothing about it.  
I NEED A LINK. Another MAC football(?) game... A live-tweeting of a marriage break-up in a Burger King... A Friday Night Lights tattoo... A Friday Night Lights album... The first and last are my main reasons to run... Public vs. Private behavior... A very honest warning sign... The anatomy of a Google search. 
1 Ben.
2 Turnover, not timeout...wait, I think I finally understand his timeout reticence.  
3 I know it's important not to jump to conclusions, and I'll apologize if it turns out I was unfair or wrong about any of this, but based on what's come out, how can Penn State do anything but clean house? Also: not in the same galaxy as what Ohio State's gone through.