Six and four. That's where the Buckeyes stand after inexcusably starting the game in a daze for the second straight week allowing the opponent to jump out to a 10-0 lead, putting extra pressure on an offense  that struggles to get first downs let alone score points.
Of course, that problem was magnified by a defense that despite holding Purdue to three points in the 2nd half, simply couldn't make the big plays when needed especially on third down in what is becoming an all too familiar trend.
Wanting to make sure there was plenty of blame to go around, the special teams ultimately failed to give OSU their best chance to win after Braxton Miller's heroics as Drew Basil's potential game winning extra point try was blocked thanks to a surge through the spot in the line manned by Marcus Hall and to a lesser degree, Corey Linsley. Instead of taking a 21-20 lead with :55 left, the Buckeyes were tied 20-20 and back to their early game daze. 
Overtime was over before it started. An OSU field goal felt like the best case scenario and after that came true, Purdue found the endzone in seven plays. Purdue 26, Ohio State 23. Six and four. 
Braxton played his guts out. Literally. 
Miller didn't dominate the stats, again showing he's a work in progress with some incredibly wobbly throws and other than sailed miles over the head of the receiver. For the game he connected on just 8/18 but did manage 132 yards, the most since Akron. On the ground, he was just 16 for 43 though five sacks for -19 didn't help that statline. 
Despite the rocky showing - and the fact he was vomiting on the sideline - Miller led the Buckeye offense onto the field trailing 20-14 with 6:15 left in regulation. 
Starting at the OSU 34, Boom popped a 21 yarder on 1st down and Hall ran for three on the next play. On 2nd and 7, Braxton executed a toss to Spencer in the flat for 12 yards and a 1st down. From there, the combo of Boom/Hall advanced OSU to the Purdue 18 setting up 3rd and 8. Miller ran a QB keeper up the middle for five yards setting up 4th and 3 at the 13. 
With the chance at a Leaders Division title and a spot in the B1G up for grabs, Miller once again showed he has a knack for the big play, showing no quit and ridiculous improvisational skills. 
Facing immediate pressure after the snap, he started to shuffle left. Feeling heat, he scrambled right, jumping over a Boiler defender in the process while keeping his eyes downfield. Finally, after creating more space with his lateral movement right, he threw across his body to the left with just enough lift on the ball to find the outstretched arms of Hall for what should have been the game winning touchdown. 
As usual, he barely flinched at what should have been another 'signature play' to lock up a win in his trial-by-fire freshman season. The kid has heart. What worries me is it seems he might have more heart than some of his more experienced teammates. 
Ohio State would not have even had a shot to win it late if not for Miller's exploits to that point. With Boom struggling to find room (18/62) against an 8-9 man front, Braxton was left to take the ball out of the shotgun and try to make something happen. Trailing 10-0, it was Miller who got OSU on the board making three huge plays on an eight play, 68 yard drive. Scrambling for his life, he found Boom for a 19 yard completion on 2nd and 10, scrambled for six on 1st and 10, and made a pinpoint throw to Hall for a 38 yard score, just over the outstretched arms of a DT that had pseudo dropped into coverage. 
Miller was also the catalyst on Ohio State's TD drive cutting the lead to 17-14 early in the 2nd half. Facing 3rd and 10 at the Boiler 14, Miller gained 14 yards on a draw juking one defender so bad I thought the poor kid tore his ACL. The huge 3rd down conversion gave OSU 1st and goal at the 5 and after Hyde lost a yard on the first play, Miller scampered left on the 2nd play, finding the endzone with little trouble. 
So, the yardage stats were once again nothing to write home about but behind a line struggling to find continuity in the face of a stacked box, Miller accounted for all three scores. His presence alone should be enough to interest a top of the line, experienced head coach to Columbus. All we need now is a time machine. 
Death blow for the fickell era?
Conventional thought assumed Fickell would have to run the regular season table and potentially land in the B1G conference championship game in order to earn a multi-year contract extension. 
After back to back weeks of listless starts, one resulting in a loss killing any chances of reaching Indianapolis, it's hard to imagine Fickell keeping his job longterm. 
His only hope at this point likely rests on exactly how severe and specifically when the NCAA slaps the program with sanctions following a year of turmoil.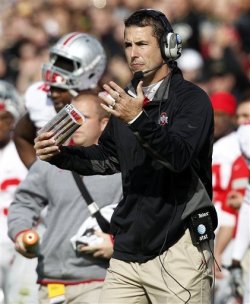 I expect the decision makers will briefly discuss the fact Fickell is completely hamstrung on offense with Bollman slamming his smallest backs into the middle of the defense on 3rd and short while running his biggest back wide on pitches, setting up hail mary's on 3rd and long to a collection of receivers who have zero experience but they won't be as forgiving when it comes to evaluating the poor clock management and undisciplined nature in which the team goes about its business. (Note: Before any Fickell apologists chime in, I'm aware this team isn't among the most penalized - it's just that they always seem to come at inopportune times either killing offensive drives or extending them for the opponent.)
At this point, with the FTM looming and the six and four record, I just have to believe a virtual house cleaning will be in order as the selection committee looks to give the entire program a hot shower, likely including the dismissal of Gene Smith. 
Where I'm conflicted is how Fickell fits into the equation. It feels like that if the school does make a change at head coach, they'll end up with a guy who has a history on the offensive side of the ball meaning he could conceivably keep an existing defensive coach or two in hopes of keeping a semblance of continuity within the kids and staff. 
It's going to be fascinating to see how it all shakes out. I wouldn't be overly opposed to Fickell staying on staff but not at the expense of Heacock and I struggle to seee Fickell's ego and desire to be a head coach keeping him at Ohio State even if the new HC asks him to stay. 
Ryan Damn Shazier
The lone bright spot on defense yesterday was the effort put forth by Ryan Shazier. 
Already known to Buckeye fans for playing like his hair is on fire on special teams, Shazier got a chance to play extended minutes at linebacker yesterday after Sweat left the game with a concussion. 
Showing heart equal to that of his freshman teammate under center, Shazier responded with a seven tackle, one sack, one forced fumble performance in the 2nd half that proved he's one of the best 11 on defense. How can sit behind some of slowest LB's in recent memory became an even greater mystery after yesterday. 
He showed he's a beast in run support as he consistently shed blockers and plugged the whole. Starting the 2nd half, he made plays on both 1st and 2nd down leading a 3 and out. The Buckeye offense scored on the ensuing possession.
With OSU trailing just 17-14 midway through the 3rd quarter, Shazier again made his presence felt. He stuffed a 1st and 10 run again filling the hole with purpose following a 3rd and 17 conversion by the Boilers. Two plays later with Purdue facing 3rd and 5, Shazier blitzed off the right edge and drilled TerBush forcing a fumble. Purdue recovered by was forced to punt thanks to Shazier's exploits. 
Shazier wasn't as strong in pass coverage as he and his secondary partner struggled with handing off a couple crossing routes but he did show very good coverage on a 2nd and 10 play during OSU's 3rd defensive series of the 2nd half. 
With a record of 6-4, I see no reason why the staff should't be giving this kid more time. It's all about next year at this point and Shazier has all the makings of a future star. 
third down
The telling stat about this very average Buckeye defense continues to be its lack of effectiveness on 3rd down. 
Yesterday, a very average Purdue offense converted 9/18 of their 3rd down opportunities following up Indiana's 10/17 output on 3rd down a week ago. A combined 19/35 - or 54% - by those two bottom feeders? Unreal. I wish I had the energy to see how those teams fared on 3rd and 10+. I bet it ain't pretty. 
In building their early 10-0 lead, Purdue converted three of their first four third down tries. On 3rd and 2, a missed tackle sprung a WR screen for 13 yards eventually leading to a field goal and a 3-0 lead. On the next defensive series, Purdue went 2/2 as Sweat struggled to bring down Akeem Shavers on a 3rd and 1 followed by a poor effort by Travis Howard on 3rd and 6 allowing a 10 yard completion to the Buckeye nine yard line. The Boilers found the end zone two plays later to go up ten zip. 
Leading 10-7 with 9:43 left in the half, Purdue two third downs on their way to a 17-7 lead following Ralph Bolden's seven yard run to paydirt. The drive was sparked by Roby's soft coverage on a 3rd and 10 out route and Shavers also ran for six yards on 3rd and 1 from the Purdue 32 as Sabino was slow to get wide. 
The true 3rd down killers occurred in overtime. Facing 3rd and 4 at the 19, Shazier forced Marve from the pocket but Howard's utterly lazy effort to track Marve to the sideline resulted in a six yard conversion. It honestly looked like Howard wasn't aware of where the sticks where and let Marve coast out of bounds. Either way, poor field awareness and/or a truly uniterested effort is not acceptable and hurt the cause immeasureably. 
Three plays later, on 3rd and 12 at the Buckeye 15, Barnett and Bryant blew the coverage - both checking the same guy - allowing Gary Bush to haul in a 14 yard reception to the one yard line. The rest, as they say, is history. 
False starts and average blocking never sounded so good
I can't believe I'm about to type this: Holy smokes did this team miss J.B. Shugarts yesterday. 
Now, that's more an indictment of Bollman in multiple ways but I was craving a false start and so-so blocking from the RT spot in a way I never have before. 
Antonio Underwood may turn into a solid player - this isn't really about hating on a kid thrust into a spot he isn't yet ready for - but Shugarts was missed on a day OSU gave up five sacks and countless pressures thanks to the sieve impersonation Underwood gave us for about half the game. 
What I'm struggling with understanding is how Underwood was allowed to stay in for as long as he did. Sure, he did a decent job in relief last week but he was overmatched early and often against the significantly more stout Purdue front. 
The lack of a quicker personnel change by Bollman and Fickell was even more infuriating by the fact shifting Mewhort to RT and inserting Linsley at RG seemed to quell the uprising just a bit. Linsley actually helped open some nice holes in the run game and Mewhort fared better than I thought he might though pass pro was still an issue, just not on the scale of what we saw with Underwood out there bullfighting his way to the pine. 
Not that he'll catch a pass ever again anyway, but it seems even more certain if Stoney is needed for max protect all the time to keep the jailbreaks to a minimum. In a sign of the times, I'm missing Shugarts. 
With that last sentence, I'm going to end this week's version of Five Things and channel my inner sideline-Braxton.