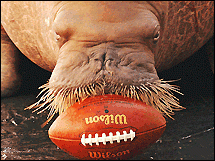 For a little more than a half of football on Saturday, Ohio State actually resembled a competent, relatively well-run football team.
Aside from a few penalties and forgivable tactical lapses, the Buckeyes were making themselves right at home in Nebraska's first home Big Ten conference game. The Huskers' coaching staff had curiously amputated Taylor Martinez's legs, forcing him to play to his weakness and allowing Ohio State to capitalize on what could most kindly be described as a disastrous game plan.
The first 40 minutes of Saturday night's game represented the first, genuinely joyous moments involving Ohio State football since Terrelle Pryor was being showered with confetti in the Louisiana Superdome. The Buckeyes had demonstrated for over a half of football that neither of Nebraska's lines could play with them.
And as long as Nebraska was keeping Martinez in the pocket or on little rollouts, they posed very little threat of making a blowout interesting.
But then the 2011 Ohio State Buckeyes reminded you what they really are: A delicate, fragile mess completely void of any leadership at all.
Nebraska made up for its flawed offensive strategy the moment Braxton Miller's injury removed him from the game: They wanted to strike quickly. Teams will often go deep the first play following a turnover. That is a challenge for a quarterback with Martinez's skill set.
So they unshackled him from the failing game plan and turned him loose. Nebraska scored in two plays, both on the ground, to cut the lead to 14 points.
Joe Bauserman came in for Ohio State and the Buckeyes continued to run the ball well, picking up a first down. Then, startlingly, he was allowed to throw, missing Jake Stoneburner badly, and the Buckeyes were forced to punt.
Now that Nebraska had re-established Martinez as a running threat, the Buckeye defense was off-balance. The Huskers ended up scoring its four touchdowns on second-half drives that lasted all of 0:31, 2:37, 2:51 and 1:19. That's seven minutes and 18 seconds total, to score 28 points.
In between those Nebraska scoring drives, Ohio State's offense managed a grand total of three first downs, all of which came via Bauserman handoffs, not Bauserman throws. All of a sudden, the disastrous game plan now belonged to the visitors' sideline.
Bauserman finished 1-10 with most of his passes landing well out of bounds, not only stopping the clock for a Nebraska team that had been 21 points down, but infusing them with hope while siphoning it away from a Buckeye defense that wasn't even given time to take its helmets off between drives.
Metaphorically, Ohio State's offensive strategy with Miller out of the game was to run up the down-escalator while holding two overfilled cups of scalding hot coffee. As this was happening, everyone watching - except for Jim Bollman, apparently - was wondering why they weren't just taking the up escalator instead.
Once Miller went down and Nebraska scored, Ohio State should have gone into crisis management mode. They had been running the ball effectively, hand-offs are within Bauserman's ball-transferring accuracy range and the clock was now a liability.
Instead Bollman had Bauserman throw the ball ten times, two more than Miller had thrown in total while Ohio State had built its three-touchdown lead.
The Buckeyes did nothing to slow Nebraska down for the final 20 minutes of the game. In once again demonstrating a complete lack of in-game management perspicacity, Luke Fickell did not bother using a second half timeout until the score was 34-27 Nebraska and the game was effectively over.
The entire Ohio State sideline - including Fickell -  watched the game being taken away from them while waiting in vain for any player or coach to do something.
As the Buckeye defense quickly crumbled, nobody did anything. While the Huskers were gaining momentum and reversing the outcome, nobody did anything. While Martinez and his offense were developing an offensive rhythm, nobody on Ohio State's sideline bothered to disrupt it. Not even a single, lousy timeout.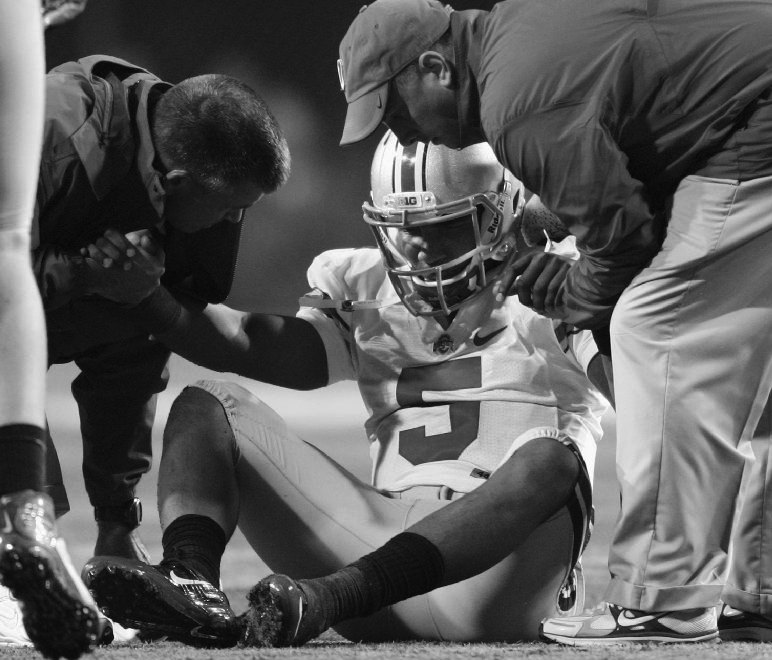 Among the most important tasks in coaching is crisis management. All of the schematic advantages and superior talent cannot save you if you are unable to free your team from the clenches of a psychological meltdown.
Fickell's response to crisis on Saturday night was to simply watch it unfold with the rest of us. Bollman's response to crisis was to abandon an effective running game and parole Nebraska through what everyone watching knew was a non-starter with the arm of Bauserman.
Jim Heacock's response to crisis was to hopelessly spy Martinez with a linebacker even after Nebraska changed its offensive strategy. Even Joe Paterno in his current Queen of England mode gets more involved with his team in times of crisis.
Fickell is being judged on this interim basis largely on how he handles the program, which is now in its seventh full month of crisis-mode. While it is difficult if not impossible to judge what kind of a crisis manager he has been behind the scenes, there is much you can take from his in-game coaching indecisions - and most incriminating, his disastrous choice of installing temporary captains.
Captains are the rocks of program. The designation is not so much a reward as it is an assigned, additional responsibility: Captains are designated crisis managers who act as an extension of the coaching staff, but in pads and helmets. They are the steel threads that hold the roster together. This is the reason why the practice of temporary captains disappears beyond youth soccer leagues.
You do not outsource this job to temps. You do not make it merely symbolic. You do not diffuse its importance. You do not neuter your players who possess the rare cult of personality that draws other players to them.
Yet this is exactly what Fickell has done, and its consequences have never been more evident than during both of Ohio State's road games. He has created a charade where each week, arbitrarily-selected players get to pretend to be team leaders. They get to be temporary crisis managers. They get to pretend to be special.
There has been a lot of pretending going on at Ohio State recently, from the top all the way down: Jim Tressel pretended to be an active participant in program compliance. Gordon Gee is currently pretending that his chief athletic administrator has been a worthy crisis manager.
Gene Smith's entire range of public emotions range from probably-pretending to definitely-pretending, and Nick Siciliano is still pretending to be a quarterback coach, when in reality if Ohio State employs any other teacher on campus less qualified than he is the university should have its AAU membership revoked.
Bauserman, who has had Siciliano as his position coach his entire tenure does not release the football in anything that could be considered an acceptable throwing motion. Miller, still a freshman, hasn't learned yet either.
Apparently Kenny Guiton has football leprosy and isn't allowed to come into contact with an active playing surface for fear of delivering something worse than Bauserman's ZERO POINT NINE quarterback rating Saturday night.
Taylor Graham 'has the best throwing motion' of the four, which implies he actually has one. Professor Obvious would like to direct you to his DNA for the proper credit.
Four things happen when Bauserman drops back to pass and all of them are bad: A pass into the stands, a standard on-the-field incompletion, a turnover or a sack. Completions, if they were to somehow occur, would be a statistical outlier. Yet Bollman continues to pretend that passing is an option with him on the field.
Tressel, like a blustery woman who chooses a meek spouse she can walk all over, assembled a coaching staff that he could effectively coach through. The ones capable of leading on their own would leave to take promotions elsewhere all throughout his tenure.
The ones incapable of advancing or content with their level of advancement (like Heacock, a fine defensive coordinator who is content with that) have remained. Those mainstays who will never leave Columbus until they're told they have to now find themselves exposed for what they have always been.
For a little more than a half of football on Saturday, Ohio State actually resembled a competent, relatively well-run football team. Things were going great, and then Miller got hurt and crisis struck. Ballgame.
After the crises at Miami, against Michigan State and at Nebraska, you know what the new normal is, and it isn't what those first 40 dilemma-free minutes showed us.
Holding out hope that these coaches are going to improve on their own is tantamount to pretending there is a single leader among them. Ask yourself who that is, and if you have the answer - by all means - please share, or at least let that coach know that it's him.
You learn the most about people in times of crisis. This is when leaders and cowards emerge, and Ohio State has been in crisis since March. You've already seen more than enough to draw a reasonable conclusion about the 2011 season.