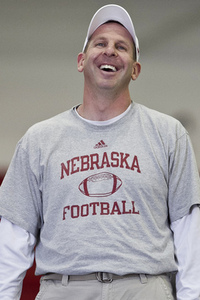 Let's assume, for a moment, that Ohio State doesn't field an inept offense helmed by a coordinator with little to no interest in establishing a coherent gameplan or identity, that Ohio State hasn't recently suspended Marcus Hall, Boom Herron, and Devier Posey, and that the previous game against Michigan State didn't make me so angry and depressed that I can barely muster the will to make incessant corn jokes throughout this preview.
The Nebraska Corn Board maintains a blog that is updated near-daily. It is mostly an ethanol propaganda tool, but also conveys an inside look at Olympic bobsledding. No one has ever commented on it.
Suddenly this weekend looks pretty good, right? Right?
Unfortunately if wishes were fishes then we'd all have a merry Christmas, and the truth of the matter is that we're all probably looking forward to this game a lot less than we might've been 8 months ago. And that's sad, because this game has a better than decent chance of being at least as entertaining as last week's game, in no small part to both the venue and the opponent. Which is like saying that a too-long hug from a distant relative at a depressing family reunion is better than getting stabbed in a dark alley behind a Waffle House.
It also should be said that while the Huskers are double digit favorites, the one opponent with a pulse that they've played, Wisconsin, beat the absolute crap out of them. There probably isn't an upset brewing, but no matter what the outcome of the contest, it's still a night game where we travel to the Big Ten's newest and starchiest member and also includes a small but statistically significant chance Bo Pelini freaks out and strangles Taylor Martinez a la Homer and Bart.
Opponent
El Barto Martinez is an option quarterback par semi-okay, with an untamed Sexy Rexy streak that thus far Bo Pelini hasn't been able to reign in. Last week against Wisconsin was no different from the norm, as Martinez threw three interceptions and completed only half of his 22 passes for 176 yards. Not helping his case is that his rushing game hasn't impressed much as of late either; against the Badgers he only managed 61 yards on 20 carries.
The Nebraska Corn Board has signed Olympic Gold Medalist, Curt Tomasevicz, to be the official spokesman for Nebraska corn this upcoming year. Tomasevicz, a Shelby, Nebraska, native, won the gold medal with his teammates on the U.S. men's bobsled team, nicknamed "Night Train," in Vancouver 2010 Olympics.
The other skill positions is where the Husker offense really begins to pick up the slack. Rex Burkhead is beginning to establish himself as one of the B1G's premier running backs, rushing for 6.4 yards per carry and over 500 yards so far this year. He's a pretty straightforward power-style RB, and if he has success picking up yards off of standard inside handoff plays, that will spell some pretty severe trouble for Ohio State.
The Nebraska wide receivers aren't particularly terrifying, although a lot of that is due to Martinez being about as accurate as your standard Ohio State QB. Jamal Turner is the team's leading WR but even so, under normal circumstances I wouldn't tab him for a big game. But given how poorly Travis Howard played last week, I wouldn't put it past him to burn the Buckeyes deep a few times. With that said, this is a run first option team ride or die, and because of that their running game will make or break them.
Defensively, Nebraska has a standout in linebacker Lavonte David, who had over 150 tackles last year. He'll likely be all over the place, and unless Jim Bollman finally decides to include some short passes in the offense, expect to see David in the backfield early and often.
Just like chemistry and biology play a vital role in producing maximum corn yields, bobsledders must also rely on science to succeed.
The Husker secondary is pretty much just "okay," and, as has been the case for the past few years, the relative strength of the Nebraska defense is the defensive line. Jared Crick is a probable All-American at defensive tackle again this year. However, this just isn't the same dominant unit that they were when Ndamukong Suh was a force in the interior of the line; Nebraska is giving up over 27 points a game so far this year, and that's including games against the likes of Wyoming, Washington, and Fresno State. There's a glimmer of hope here, should OSU somehow figure out how to take advantage of it.
Buckeye Breakdown
They probably won't. If we learned anything from last week, it was that apparently no one trusts Braxton Miller to throw the ball anything less than 25 yards down the sideline. Going to the spread (even with a depleted WR corps now that Posey and Reed are out) and just looking for short slants and out routes might do wonders for presumed starter Braxton Miller, in terms of both building his confidence and moving the chains, but don't hold your breath.
Jordan Hall looked incredible against Miami, but in the past two games he's only accounted for 129 yards on 36 carries. Maybe understandable against Michigan State, but he didn't look that much better against Colorado before that, either. With Boom Herron in Rules Violator Limbo (also populated by those who cheat at Scattegories and don't wait their turn to bet in Texas Hold Em), you've got to ride the hot hand at RB, and right now that's Carlos Hyde. Still, this is all a moot point if the O-Line, specifically Mike Brewster, can't hold up their end of the bargain.
Of course I have to maintain a certain weight and I want to be in top physical form to be able to compete, so I must restrain myself from eating the all the chocolate that I desire.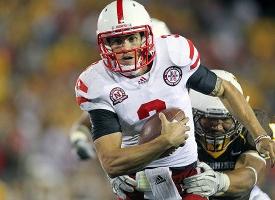 The Ohio State defense seems to be getting better as the season goes on, and considering how young the defense is (there are 13 guys who are redshirt sophomores or younger in the two deep), they've done a decent job against some pretty good offenses. Barnett and Bryant in particular have impressed, and could find themselves on the receiving end of some errant passes tomorrow. Taylor Martinez the runner presents a different problem for these guys than what they've seen so far, though.
Most likely Heacock and Fickell will use the Star position as a spy on Martinez and load the box in an attempt to stop Burkhead. Not the most complicated or elegant solution, but it can be successful as long as OSU is capable of two things: sound tacking and good cornerback play. Last week OSU had little of the latter when it came to Travis Howard, who had easily the worst game of his college career against Sparty. He needs to figure out a way to turn it on against Nebraska, or get out of the way for Dominic Clarke.
So when people think about bobsledding as a winter sport, they can now understand that pushing a sled for 5 seconds is a job that requires a 12-month commitment: a full-time job. In a way, I guess it the same approach as Nebraska corn farmers.
Prediction
After last week's performance, it's hard to fathom the Buckeyes scoring any decent amount of points against Nebraska; even against a worse than average D, OSU's own unbelievable ineptitude will probably limit them to an embarrassing amount of points. Taylor Martinez will likely make some foolish mistakes as he beings to press too hard against a defense that is successfully containing his option game, but eventually Burkhead will wear down the defense enough to get Nebraska some points and put the game away in the 4th quarter. On paper, Ohio State has at least a chance. But at night, in Lincoln... this one might get rough.
Last week Luke was again King Sad Guy, with a 13-9 prediction in favor of Sparty on a thoroughly divided vote. This week the denizens here at 11W Industries are in much closer agreement, but unfortunately it's an agreement that we'll all be super angry tomorrow night.
It just goes to show that you can take the bobsledder off the farm, but you can't take the farm out of the bobsledder - I think I've heard that saying somewhere…
Ohio State 10, Nebraska 21