Is it Friday already?! Man, I guess time flies when your team is riding a one game winning streak. I haven't felt this good in nearly a month!
I suppose it's rather sad to really think about that, considering the success the Buckeyes have enjoyed lately, but I'm determined to be an optimist here. As someone who is spending her non-existent cash flow on a trip to Columbus to watch the Buckeyes take on the Badgers next week, I'm not sure glass half empty is an option for me at this point. So, let's give optimism a whirl...
1. If the Buckeyes beat Bye tomorrow, that's a TWO game winning streak!
2. Ohio State has now beaten THREE teams that were undefeated at game time. (Hey, why should Michigan fans have all the fun with using meaningless factoids to pimp their shit?)
3. Drink Too, Brutus is just one week away. Cheers! 
OHIO STATE WILL WIN THE NATIONAL CHAMPIONSHIP. In basketball. According to Mark Titus.
For any of you that are superstitious (like me), you now have your scapegoat should the Ohio State Men's Basketball team not win it all this year as our favorite Trillionaire has picked the Ohio State Buckeyes to win the championship. Titus' Grantland.com season preview discusses the dominance of last year's team, including reliving the incredibly disappointing end to their run in the tournament. He mentions the biggest factor in Ohio State's early exit was the Buckeyes' inability to have a letdown game WHILE their opponent brings their A-game. The good news though... Titus also discusses why this year's team will only be better than last. I'd go into further detail here, but who better to tell you all about than a man who's watched more basketball from the bench than Adam Morrison the past few years? 
 SHOW ME THE MONEY!!! Nearly five months after taking over as Head Coach, Luke Fickell has an official contract. The contract pays Fickell $775,000 for the season, with bonuses of $33,333 for playing in a bowl game, $16,667 for making it to the B1G Championship and $16,667 for winning it. Fickell would also receive an additional $66,667 if Ohio State ends up playing in a BCS bowl game. He receives other perks with the position, including twelve tickets to each OSU home game, two tickets to each men's basketball game, family pool club membership and a leased car. Despite the frustration that many fans have felt throughout the year, this really is more than fair considering the difficult position Fickell was thrown into this year.
Now, for the part I'm sure some of you were waiting for... the language in the contract clearly states that his job is not guaranteed after Jan. 31, 2012, stating "This agreement is renewable solely upon an offer from Ohio State and an acceptance by coach." Urban, are you listening?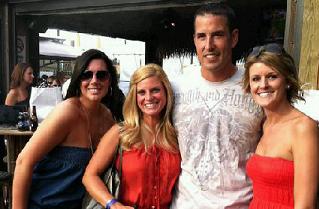 KOZAN, WILL YOU ACCEPT THIS ROSE? According to Bill Kurelic of Bucknuts.com, Ohio State joined the over 20 schools vying for offensive guard Alex Kozan's affection on Thursday by offering him a scholarship. I'm not really sure how Bollman will ever be able to narrow down all the wonderful things he probably has to say about himself as an Offensive Line Coach and Offensive Coordinator to really sell this kid on OSU, but Kozan did grow up an Ohio State fan and the Denver Post reported back in August that if the Buckeyes came calling, the other schools he's interested in may find landing him to be more difficult than expected.
IS WILLIAM GHOLSTON GONNA HAVE TO PUNCH A... Admit it. You've wanted to do it at some point in your life. Who hasn't? We all like to see a Wolverine take a hit every now and then, and Gholston probably figured he would take one for the team. And by team, I don't just mean the Spartans, the kid did it for America.
Jokes aside, Gholton did an incredibly unsportsmanlike and classless move. For some reason (possibly the fact that they're playing Wisconsin on Saturday?), MSU sat on this issue for awhile until the Big Ten stepped in on Thursday and suspended Gholston for Saturday's game. Note to Gholston: Next time, if you want to avoid suspension for assault, execute off the field, and make it of a sexual nature. That should do the trick.
For the rest of you: If you bet on Wisconsin this week (ummm... or any week, really), your bet just got more attractive.
THAT POOR BABY! Rather than reporting what a baby Carson Palmer, one who pouted and refused to play for $11.5 million this year, ESPN instead opted to report that Palmer is taking a $5 million paycut to play for the Raiders for the remainder of the season. Adam Schefter reported Thursday that while Palmer's original contract would have paid him $7.44 million for the final eleven games of the year, his new contract with the Raiders will instead pay him $2.5 million. Palmer's contract also schedules him to make $12.5 million in 2012, $13 million in 2013 and $15 million in 2014. It's nice to see someone finally catch a break in this economy, especially a team player like Carson. 
 SOME LINKS, FOR YOUR BYE WEEK PLEASURE. UCLA is, like, really bad... But, at least there was something interesting during the game... LET'S GET READY TO RUMBLE... In case you're a masochist... Those LSU coaches and players sure do love their grass.. and how MEAN is this guy?!