Good morning, Dubsters. The whippersnappers running this joint have graciously allowed me to write a Skull Session, so brace yourself for bad puns, weak jokes and of course, typos.
If you're an astute reader, and no doubt you are, you likely noticed the new banner at the top of the site today.
The winner of The Great 11W Banner Contest is flipbuckeye's color-corrected iteration of BuddhaBuck's original work that kicked off the whole thing. Congratulations, gentlemen, a free t-shirt for each of you.
We were really blown away with the amount of quality entries we received and think it's only fair to include an honorable mention:
On the LULZ front, we got a kick out of these:
Again, thanks to everyone that submitted entries. Outstanding work by all.
Now, on to news from the sporting world, shall we?
RELEVANT PERSONNEL UPDATES. Already short on manpower, the walking wounded for the Buckeyes continue to, well, walk wounded.
Defensive end Nathan Williams, still recovering from knee surgery is likely out for the tilt against the Spartans, while wide receiver Philly Brown is "getting closer" but hasn't worked with the team this week and is questionable for Saturday. Further, defensive tackle Johnathan Hankins and linebacker Andrew Sweat are battling "nagging", yet unnamed injuries, though both are expected to play.
Things are looking up for end Steve Miller and linebacker Ryan Shazier. Both are expected to see more reps this week with Shazier figuring into OSU's nickel package -- which should be on the field a lot against Spartans quarterback Kirk Cousins.
In somewhat related news, Brian Rolle will earn his first start as an Eagle this weekend, which is cause alone for a new national holiday. It's not all great news in Philly, however, as Kurt Coleman has been supplanted at safety after a poor showing against the Giants last weekend.
REMEMBER ERICK HOWARD? Howard, a running back out of North Canton Hoover, captured back-to-back Mr. Football awards in 2008 and 2009 (becoming only the second player to ever do so), but Ohio State took a pass on the him, angering many recruitniks that follow the program.
Howard had classroom troubles, but many believe Tressel didn't like what he saw in back's character. Sure enough, after committing to Akron, Howard failed to qualify and subsequently enrolled at Fork Union Military Academy. While there, he again stated his desire to one day become a Buckeye, but whatever slim chance there was of that happening has been reduced to zilch.
Yesterday, warrants were issued against Howard and two others for aggravated burglary, rape and theft. If the detour to Fork Union didn't do it, the felony charges he now faces are sure to end any hope of a football career he once had.
SLIVE EXPECTS BCS TO RAISE TWO-TEAM LIMIT. On a conference call yesterday, SEC commissioner Mike Slive indicated the BCS may call upon member conferences to remove the two-team cap on conference selections for the five biggest bowl games. The South, incidentally, loves this idea, and then some.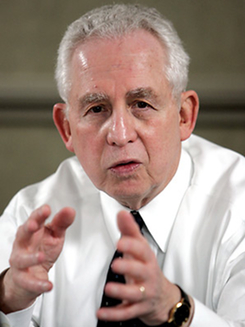 With the slow, but steady move towards 16-team super conferences, this isn't entirely unexpected -- and Jim Delany alluded to as much a few months ago -- but you have to wonder if the removal of the current limit will further put the squeeze on Notre Dame.
Granted, the Irish haven't been good enough to qualify for a BCS bowl for some time, but if the Big Ten, which filled it's two-team quota 10 times in the last 11 years and SEC, which filled that same quota eight times during that same time, are allowed to send three teams each, available spots will go quickly.
If Jerry Jones gets his way and the Cotton Bowl is added as a sixth BCS game, two more slots would open, but Notre Dame should just go ahead get into a conference while their hand is still somewhat strong (can't wait for those regular season games on Versus).
OUR FAVORITE GOPHER, BACK ON THE FIELD. We don't love Minnesota coach Jerry Kill for looking like his school mascot or for his folksy demeanor. We love him for his ability to joke about a serious medical condition as he returns to action, hell-bent on righting the 1-3 Gophers, fresh off a loss to North Dakota State.
Hours after leaving the Mayo Clinic, he was in a coaches meeting and soon after, running practice again, surprising his players, who did not expect to see him back so soon. It's impossible to hate this guy, though some assholes will try, and this weekend, we're all Kill men as he takes on the Wolverines.
Win one for the Gopher, won't you guys?
BUCKCETERA We were awed by the new Buckeye hockey uniforms, but let's give the ladies their due as well... A football-loving grand jury in Baton Rouge reduced Jordan Jefferson's charges to a misdemeanor and he was immediately cleared to play... Master and Padawan... Longhorn fans, voting with their wallets... I'M A MAN AND I CAN DANCE... LOLSOX.