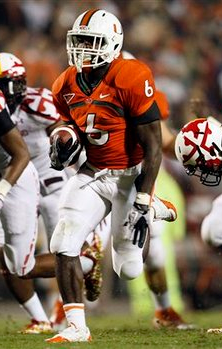 Come on shake your body, baby, do the conga/ I know you can't control yourself any longer/ Feel the rhythm of the music getting stronger/ Don't you fight it till you've tried it/ Do the conga beat
Nervous? After all, it's Ohio State's first away game of the year, and trying to get their ragtag group of balding quarterbacks, stonefaced cornerbacks, broest of the bro positional coaches, and intrepid aw-shucks-but-secretly-crazy punters sober and onto a plane, OSU's very own Crockett (Luke Fickell) and Tubbs (uhhh... Stan Drayton?) will have their work cut out for them. The media storyline is already established; suspensions, Jacory, Braxton, 200 dollar handshakes, boosters with Napoleon complexes, blah blah blah.
Boring.
IT'S MIAMI, BABY! Land of sexy women, stolen dolphin mascots, chainsaw murders, and things getting real! Sure, I'll have to spend the bulk of this preview talking about the game, but let's be honest; I know what you really want to know. Will Tyler Moeller finally succumb to the temptations of Lusty, spicy seductress of the Miami strip? Can Mike Brewster finally loosen the grip of the Jamaican gang that is terrorizing his neighborhood? Will Jim Bollman run out of heart medication before he runs out of dollar bills? Will Jaamal Berry get his pilot's license in time to help the FBI stop a shipment of drugs coming into the harbor?
Yes; only after losing his partner during a rooftop firefight; hopefully not, for both his sake and the sake of the ladies at The Ticklish Tabby; no, but he'll steal a speedboat and save the day anyway but then be revealed to be a Cuban double agent.
I tried my hardest to keep y'all apart, you just kept gettin' back together... and I'm the queen of connivin'.
Opponent
I watched the Miami/Maryland game. Or, at least I think I did. It all seemed like some kind of surreal fever dream or a very loose interpretation of one of Shakespeare's weirder plays, what with the goofily sloppy gameplay and generally garish costumes. And even if it was real, the truth of the matter is that it really didn't provide a ton of solid information about what kind of team Miami actually is.
Most of that is due to the fact that that game was two weeks ago; during that 32-24 loss against Maryland, the Miami defense was without standout LB Sean Spence, DT Marcus Forston, and DE Adewale Ojomo, which probably helped the Maryland Terrapins drop nearly half a thousand yards on their possibly bitter ACC rivals. On the offensive side, WR Travis Benjamin was also not present, also not helping matters any.
Now, two weeks later, all of these guys are returning from their NCAA imposed exile from the Candyland board that is the Miami football program, which should help their chances against OSU immeasurably. On the other hand, Jacory Harris is also back. And he's been named the starter. Hmmm.
Jacory is really the X-factor here for the Miami offense. His replacement Stephen Morris was almost serviceable against Maryland, but seriously kid, this is the Miami Hurricanes. If you're gonna toss a couple of INTs you damn well better have a yards per attempt average better than 7, and that's where Jacory comes in. Benjamin and underrated, oversized, speedy Allen Hurns (who had four receptions for 69 yards against Maryland), will both help Harris on his quest to go Jacrazy on the OSU secondary. Expect these guys to repeatedly challenge Howard and company both deep and early.
Miami RB Lamar Miller was probably the most impressive Hurricane in their first game. He had 119 yards on only 18 carries, and probably could've been even more productive had Miami not repeatedly shot themselves in the foot during the game. He's a quick, tough guy who has home run capability, and though I don't expect him to have a ton of success against Ohio State, if Al Golden can effectively involve him in the passing game he could become a problem. Also, like Jason says, I'm pretty okay with never kicking to him ever.
As previously mentioned, Miami returns some critical members of their defense; DT Marcus Forston could have a huge impact on the game if he displays his 12 TFL and 3 sack form from last season, and LB Sean Spence returning means that it's increasingly unlikely that OSU will be able to rely solely on horse tranquilizers to dominate the line of scrimmage. This will be the first real test for the offensive line, especially in terms of run blocking.
The Miami secondary, however, can and has been passed on. Without Ray Ray Armstrong, this just isn't anything close to the unit it needs to be for the Hurricanes to be successful. Not to take anything from future three time Heisman winner Danny O'Brien, but during the first game pretty much the entire secondary looked like hot garbage, to put it gently. Though they tried, blown assignments, poor communication, and bad positioning can't be compensated for with pure athleticism. If Bauserman can exploit it, there's an opportunity here to pick up some points.
Buckeye Breakdown
That's a pretty big "if." In reality Joe Bauserman didn't really have quite the soul crushing game against Toledo the he appeared to have at first blush, but questionable playcalling and some really poor touch on some of his deeper throws made him look pretty bad. I'm not sure why Bollman decided to remove his most reliable safety net in Stoneburner for long stretches of the game last week, but on Saturday it will be critical to get him involved early and often.
Still, I'm at the point where Joey B has essentially a one quarter tryout to keep his starting job. Miami is going to do everything they can to get to him early, and if either he or the offensive line can't show that they can handle blitzes from safeties and corners armed with insults about how they'd never invite a dweeb like him on their yacht, it'll be time to bring in Braxton and go for broke with the true frosh on the road.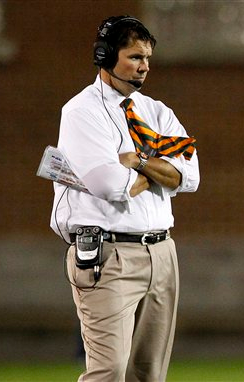 The running game actually worries me more than the passing game at this point. Carlos Hyde, despite people giving him some love in the press, is only averaging 4.33 yards per carry and seems to be having difficulty mastering the find art of knowing which hole to hit and when. And I'm not convinced that Jordan Hall is going to be quite the boost people are expecting, either. While he's certainly talented, his best game rushing was against New Mexico State where he went off for all of 90 yards... in 2009. His biggest contributions will be in the passing game, which is nice, but if OSU is one dimensional offensively (and that one dimension isn't that awesome), the Buckeyes are going to lose the game.
Howard coming back gives a huge, huge boost the the secondary, even if only mentally. OSU was playing a lot of man coverage against Toledo to begin with, but Heacock and Fickell will probably feel more comfortable sending some more exotic blitzes Jacory's way if they aren't as concerned by getting burned by an Eric Page-level talent. Both Roby and Clarke were doing well, Clarke especially, but Howard gives OSU a better chance to match the physicality of Miami's WRs.
Still, a lot of that is predicated on the LBs and the safeties doing a much better job against the screen plays that Lamar Miller will undoubtedly be used on throughout the game. Without Nate Williams patrolling at LEO, it limits what the defense can do a bit, puts more pressure on the defensive line, and means that guys like Andrew Sweat and Tyler Moeller are going to have to step up their games.
Prediction
This is a tough one. I still haven't been able to decide if the addition of Jacory Harris makes Miami better or worse, although one has to imagine that playing at home will help him quite a bit. And despite Sun Life Stadium not being exactly an intimidating venue, the first away game against a quality opponent can spell disaster for any team, nevermind a team that's going through as much flux as Ohio State. What will decide this game will be the Buckeyes' ability to consistently put points on the board; if Good Jacory strikes early, it is imperative that the OSU offense is able to respond and continue to do so until the defense can figure the Hurricanes out, because this is not a team built to mount a huge  comeback. In other words, let's all hope Drew Basil finds a golden shoe in a forest or something. Either way, OSU's relative discipline versus the relative athleticism of the 6 and a Half Floor's Crew should make for a very close game in steamy Miami.
Last week Alex was King Cool Guy, off by a mere 9 points with a prediction of 27-13. He gets a gold star and a hug from his mom, while this week the collective Eleven Warriors hivemind seems to have caught the Hitchcockian bug and are forecasting a nailbiting thriller of...
Ohio State 25, Miami (Florida) 23