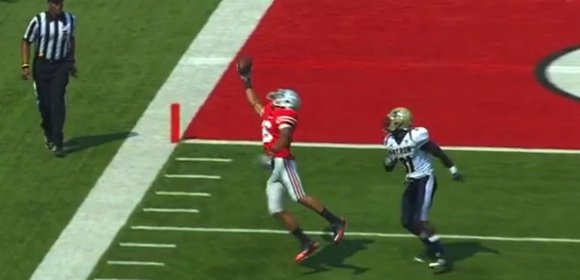 As is typically the case of Ohio State season openers, it's very important to keep in perspective the caliber of opponent when trying digest exactly what went down in yesterday's 42-0 spanking of the truly awful Akron Zips. That said, there were still plenty of things to be excited about in Luke Fickell's successful head coaching debut as the Buckeyes stretched their season opener win streak to 34 games. 
With that disclaimer out of the way, let's get to the 2011 season's first installment of Five Things...
#Fickellball
Knowing he's got one shot to secure his dream job, Fickell continues to put his unique stamp on things as opposed to just trying to keep everything Tressel had in place running smoothly. 
Since at least the start of fall camp, Fickell's leadership has come off far less corporate than his predecessor. Yesterday provided a host of examples, some big some small, in which Fickell operated much differently than what you would expect from Tressel.
For starters, for better or worse, I loved Fickell's game day attire. Obviously, what he wears has no bearing on the outcome of a game and there is something to be said for the senatorial approach taken by Tressel but I liked Fick's no-nonsense look. He just looked ready to participate in the spanking about to unfold. I think the players picked up on his swagger and it was fun to watch.
Far more meaningful than the attire was his influence on a much more aggressive attitude about burying the competition for four quarters. Clearly, Fickell doesn't call the plays but I do believe his killer instinct influenced Bollman a few times yesterday.
The first instance occurred on OSU's 2nd TD drive of the day. Facing 4th and 1 from the Akron 16, Fickelly bypassed the FG try and Rod Smith promptly moved the chains. Bauserman hit Stoney for six on the next play. 
Already up 35-0 with less than eight minutes to play, Bollman dialed up a 33 yard Braxton Miller to Evan Spencer connection on 1st down setting up a Rod Smith TD run three plays later giving OSU a 42-0 lead with just under six minutes to play.
After the Bullets forced yet another three and out on the ensuing possession, the air raid continued as Ohio State took over with 4:00 left. On 1st down, Miller hit T.Y. Williams for 23 yards. Two plays later Miller hooked up with Williams again, this time for 11 yards as OSU moved deep into Zip territory before finally running Rod Smith five straight times to run out the clock.
In years past, it's likely Miller would've been shackled in a similar scenario, wasting development opportunities, as Tressel put showing mercy on the opponent ahead of getting his backup QB more meaningful snaps. In fact, the late throws did draw the ire of Akron HC Rob Ianello as evidenced in the post-game handshake but I agree with Spielman when he said, "it's not Ohio State's job to stop Ohio State."
The same approach saw the Buckeyes blitzing a handful of times late in the 4th quarter as Fickell refused to let off the gas.
Finally, maybe it's more the result of Tressel being gone as opposed to Fickell being a defensive guy or it could even be that it's easy to call plays when everything is working but I was absolutely thrilled with how fast plays were sent in. The Buckeyes broke the huddle with more than 20 seconds left seemingly all day instead of racing up to the line with no chance to audible - something we saw far too often over the last handful of years - leading to what feels like way too many wasted timeouts or plays being ran with little chance to succeed. 
the quarterback derby
The prevailing thought after game one is that Joe Bauserman put some distance between himself and Braxton Miller. After all, Fickell had the fifth year senior under center for five of OSU's six possessions in the first half, in addition to the opening drive of the 2nd half, and to his credit Bauserman responded by turning in a performance that far exceeded the expectations of many. 
Bauserman's stat line read 12/16 passing for 163 yards and 3TD with another 32 yards on the ground (six carries). Again, we must keep in mind the competition but beyond the stats, Bauserman did some things that might have caught some fans off guard. First, I thought he showed good touch when throwing in the run, specifically on the more difficult throws when rolling to the left. One example occurred when he found Fields on 2nd and 7 near the left sideline for 11 yards on a rollout left on OSU's second TD drive. 
The other surprise to some, though he did show improvement in fall practice and the jersey scimmage, was his improved mobility. He flashed some wiggle on the busted play that became the first TD of the year via a 15 yard run and on the few times he felt pressure, he moved around effectively in the pocket. Against stiffer competition, I'm not completely sold on how much poise he'll show with his feet but I liked what we saw yesterday.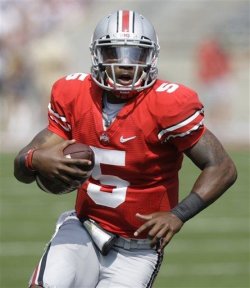 Meanwhile, Braxton got off to a rough start though he was hardly to blame as his first series was sabotaged by a Reid Fragel drop and a bad snap from Brewster leading to a three and out. 
Incorrectly (at least from my perspective), Spielman and Meyer seemed to believe Miller was sulking after the series because he was not standing with the other QB's on the sidelines and had an expressionless look on his face. To me, it looked like Miller was simply unfazed by the development and was waiting his turn. I'll reluctantly agree that the kid could've gotten some "mental reps" as Spielman/Meyer noted but I do not believe he was sulking, mostly because the few times I saw him in high school games or at practice with Ohio State, he's shown an incredibly calm demeanor, steadily navigating both the highs and lows of the game. 
Despite Bauserman's fantastic afternoon, I still believe Miller will, at worst, see time in a two-quarterback system all season long. He made some great throws, looking like he'll be a beast on rollouts with the option to run or pass. Even better than Bauserman, he excelled at rolling out and throwing darts with the third possession of the 2nd half illustrating this point perfectly. On 1st down he rolled left and hit Smith for 20 yards then on the next snap he rolled right before cutting back sharply to the left for 12 yards. Two plays later he was rolling right again for five yards before capping the drive two plays later with a laser to Smith on a crossing route giving the Bucks a 35-0 lead with 14:26 left in the game. 
As the competition stiffens and the offensive line is less consistent at stopping penetration, we could definitely see a lot more of Miller on the field rolling out with the option to run or pass. No way this kid gets only a couple series a game unless he gets bitten by the turnover bug. 
New Season, same old bullets
Clearly, Akron is a turrible team but a Buckeye defense featuring seven new starters had plenty to do with that holding the Zips to just five first downs, 2/13 on 3rd down and 90 total yards. 
This was such a mismatch that Akron ran only seven plays in Buckeye territory, all of them coming during the last minute of the first half, set up by a fluke 33 yard gainer on 3rd and 7 from their own 18. 
Leading up to the 10 play, 61 yard drive that resulted in a missed FG to end the half, the Zips managed just 39 yards on six possessions as the Bullets racked up four straight three and outs and an interception on the 2nd play of the next to last drive of the half. 
The domination started up front as Hankins and Simon controlled the line of scrimmage. Simon was especially disruptive early as he owned 3rd down. A sample of his destruction:
On 3rd and 15 of Akron's opening possession, he blew up a screen play with the help of Sweat resulting in a punt.
On 3rd and 3 of Akron's 2nd possession, he hurried the quarterback, disrupting the timing of a ball that Clarke made a nice play on to force a punt. 
On 3rd and 2 of Akron's 3rd possession, he again hurried the quarterback, forcing an imcompletion and punt. 
On 3rd and 7 of Akron's 4th possession, he and Sweat almost sacked Clayton Moore again, and though the pass was complete, it wasn't enough for a 1st down. 
Speaking of Clarke, he looked to have a solid outing in place of Travis Howard. In addition to the great coverage on Akron's early possession, he also had a hand in Sweat's nifty twinkle-toes interception thanks to blanket coverage that gave the Buckeyes the ball at the Akron 35 yard line, eventually resulting in a TD and a 14-0 lead. 
The second half was an even bigger curb stomping as Akron ran 18 plays for -10 yards. The last three possessions saw the Zips looking up a zero yards as they went three and out each time racking up -8 yards, -9 and -5 yards, respectively. I can't even imagine being a fan of that team. 
the kids are all right
I guess the silver lining to losing some recruits thanks to scandal and uncertainty is that this current crop of freshmen appears to have some future stars especially on the offensive side of the ball:
Braxton Miller: Dude is the real deal. It's just a matter of time before he takes over the offense then OSU will be set for a few years. We already knew he can run and there's no question he can sling it. How about that crossing route to Smith? Though it was thrown just a tad behind the receiver, that ball was a laser. 
Rod Smith: I think he's only going to get scraps once Hall and Berry return and he'll be buried on the depth chart once Boom comes back but he's got loads of talent. 
Devin Smith: Playmaker. Averaged 17.3 yards per catch yesterday including his 1st career TD. He's going to figure in the rotation all year should blossom into a fine player. 
Verlon Reed: Playmaker. Led the team with 66 yards through the air yesterday. Always seems to be open and will only get better at the position after playing QB in high school. 
Evan Spencer: Playmaker. That catch has to be top five I've ever seen. One handed snag with incredible body control taboot? Damn. You know Dad was proud of that one. Looks like Fickell is set at WR for years to come.
Defensively, I was again impressed with Ryan Shazier and his 2 TFL plus a sack. Johnny's illegitimate son, Michael Bennett made some noise in the middle with a sack and JT Moore racked up three stops including one for a loss. 
The importance of jake stoneburner
That was one hell of a show Stoney put on yesterday. The 6'5" junior tight end finished with four receptions for 50 yards with three of those catches resulting in touchdowns. 
The three touchdown performance was the first by an Ohio State tight end in the modern era and eclipsed his season TD total last year of two. 
More importantly, Stoneburner clearly gives the QB's a security blanket as they find their way in their first opportunities to guide the offense of an elite college football program. That security could be even more valuable if Hall's suspension is extended. Hyde and Smith are decent receivers out of the backfield but having Stoney as option of the middle or in the flat is huge at this stage of the QB's development. 
As icing, Stoney is serving as a great example for potential future star Jeff Heuerman to follow. By all accounts, Stoneburner is a model citizen and teammate in addition to his football skills and for a program looking to clean up its act, he's a great guy for freshmen like Heuerman to emulate. 
Here's to hoping Bollman doesn't lose sight of what an effective he has at tight end.