Last week, we told you this was coming and it finally came to fruition today as Terrelle Pryor has decided to end his Buckeye football career.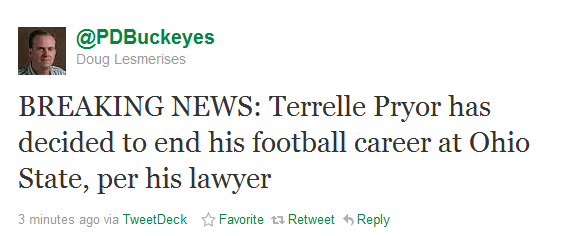 Through his attorney, Pryor released the following statement:
"In the best interest of my teammates, I have made the decision to forego my senior year of football at The Ohio State University."
When asked if he planned to enter the NFL's supplemental draft, his attorney, Larry James said "I think so."
Ohio State released the following statement from AD Gene Smith:
"We understand Terrelle's decision and wish him well in this next phase of his life. We hope he returns to The Ohio State University one day to finish his degree."
And the following statement from head coach Luke Fickell:
"I was notified this evening that Terrelle has decided to pursue a professional career. I wish him the best in his pursuits."