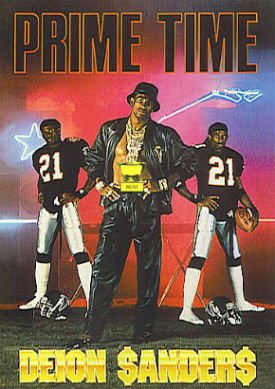 Prime Time. No, I'm not talking about this Skull Session or even the extremely entertaining Deion Sanders. I'm talking about prime time television, you know, night games, where your Ohio State Buckeyes find themselves year after year against some big name opponent or a heated Big Ten foe.
We knew the streak of playing in prime time would continue in 2011, as for the sixth game of the year the Buckeyes will travel to Nebraska in the first game back for Jim Tressel and his fellow suspendees. What we didn't know is if the corporate heads of ABC/ESPN, who call the shots as to who plays when, would select OSU, a "program in turmoil", to play any other night games in the 2011 campaign.
We now know that at least one other game will be held in the after hours, as the Bucks go down to The U, sans Pryor, Posey, Adams, and Boom, and try to knock off the 'Canes for the second straight year (and third time in a row---F-yeah national championship!) in front of a national audience. The added hype to this game will definitely put more pressure on Coach Trickell to find "the guy" behind center prior to that game, not making life any easier for Joe Bauserman, Ken Guiton, Taylor Graham, or Braxton Miller. 
I know I'm really excited for these two games, as well as some other big time contests on the schedule which also could end up as night games, especially the revenge against Wisconsin on Halloween weekend (and Eat Too Brutus!). While we have the next four to five months or so to build the hype up, it's time to give you today's "prime time", and yes, this time I am talking about your Thursday Skull Session.
More about statues. We know that Florida and Alabama (and even OSU with J.O.) threw up some bronze to honor former player. Auburn apparently didn't want to get left out of the mix with their SEC brothers and is considering up putting up a statue of Heisman Trophy winner, Cam Newton, on campus in the near future, despite an on-going NCAA investigation into Newton's eligibility. The school continues to say they are more confident than ever that Auburn did no wrong in the accusations that Newton got a pay to play deal, but anyone with a brain and some common sense knows that there's got to be more to the story than what has surfaced to this point.
I personally can go back and forth of putting up statues for those who are still on this earth, but I know I certainly feel that it's way too early for Cam to get a statue. What happens if more evidence comes out and it is found that he took money from the school? You're going to spend all this money to honor a player who could eventually damage the school's reputation greatly and cause the Tigers to vacate a National Championship? Even if Newton never is guilty, I think a player who isn't even three months removed from college should not have a statue up yet. In fact, I think it's even too early for Florida to have built a bronze Tebow. What do you say?
He may be fat, but he's sure got something cooking. In case you were wondering, I am talking about that school up north's head coach, Brady Hoke. While we all knew from his opening presser that he "got it" a trillion-bajillion times more than Rich Rod, what we didn't know is how he would perform on college football's biggest stage both as an in-game coach, as well as a recruiter. We still don't know how he'll perform as a coach, but I'm sure impressed with his recruiting during his first year on the job. 
The Wolverines may not be working with much on the field next year, but they are starting to set themselves up to bring the rivalry back, already notching 10 commitments in their class of 2012. While numbers are great, we all know it's quality that matters, and that's not at a loss either, with 6 of the 10 being rated as "4-stars" by Scout.com (although none in the Top 100), and 5 of those 6 coming on the defensive side of the ball, the program's most glaring need. To top it all off, five of their current verbals hail from the Buckeye state, but to give JT and the staff credit, none of those players had Buckeye offers in hand. The bottom line of this is that Hoke is putting together a tremendous group of players in his first year on the job and is doing his best to bring our heated rivals back to relevance as fast as he possibly can. We're ready for you Brady.
Dezse for President. After passing up an opportunity to join the Yankees' farm system after being selected out of Olentangy Liberty in last year's MLB draft, Josh Dezse is making the most of an opportunity. The Ohio State first basemen/pitcher is having one of the best freshman seasons I have ever witnessed, starting all 43 games and hitting .359 (slugging .506) with 3 HR and 38 RBI, to go along with appearing in 20 games as a reliever and featuring a 4-1 record and 2 saves, while striking out 23 batters in 21.2 innings pitched. He is being looked at by scouts across the country and has been named B1G Freshman of the Week four times and B1G Player of the Week twice. Even if you don't have the slightest bit of interest in Buckeye baseball, I suggest you pay attention over the next few years, as Dezse looks destined to do some special things while donning the Scarlet and Gray.
Bell has not rung yet. While Dave Biddle of Bucknuts.com reported that sources have told him Dorian Bell is on his way out of Columbus to start anew at Pitt, NOT SO FAST MY FRIEND. It's still likely Bell will leave the program after he was suspended for the entire 2011 campaign, but as of now he has not notified any team officials or asked for his release from his scholarship, according to Tim May of the Dispatch. 
I am not sure whether Jim Tressel or the coaches even care if Bell departs after strike three of the same violation, but there could be some last second thoughts on Bell's part or pitches from current teammates to convince him to stay in the 614. There is no questioning Dorian's talent and ability to be a playmaker on the field, but too many times have I seen players never reach their potentials because they can't keep their heads screwed on straight off the field (cough Ray Small cough). I wish Bell the best in whatever he chooses, but I believe in second (well in this case fourth) chances and I hope he chooses the hard way out and fights back to become a star for the Buckeyes.
What if he did everything right? Duane Long usually sticks to recruiting, but he writes an interesting piece on what the media reaction would have been had Jim Tressel handled the Tatgate situation right from the start and reported the violations upon notification from Chris Cicero. While many of us would like to think JT would get national praise for sticking to his persona of holding up to the highest standards of morals, etc. I tend to agree with Duane in that we would still be getting beaten up by the national media. His point that even when we turned in Troy Smith we still got pinned as a "dirty program" and "cheaters" is what makes me most agree with his sentiments that people in the national media scene just look for a reason to stick it to big programs like Ohio State (or Florida, Texas, USC, Notre Dame, etc for all you haters) whenever they have the chance to. Sure, we would be in a much better position than we are today as a program and who cares what people say, but the point that the media bashing wouldn't be much better is an opinion I certainly agree with. Plus, we may not have got the chance to beat up on an SEC team at season's end (woot woot!).
Big Ten Bits. College Football Live takes a look at Nebraska's move to the B1G. Former NC State quarterback Russell Wilson could end up at Wisconsin, giving the Badgers a talent behind center this year that they've never had before. A look at Penn State's potential weak spots this season. TSUN's Dave Brandon decides to weigh in on some topics such as Rich Rod and the OSU situation. Tubby Smith had prostate cancer, but has beat it after dealing with the disease for the past year. Watch out for Illinois WR Ray Lankford after an awesome spring. MSU OT David Barrent's career is over due to chronic back issues. SB Nation brings you an extensive Indiana Hoosiers breakdown. Finally, Rivals' All-Spring team has four B1G players, but no Buckeyes.