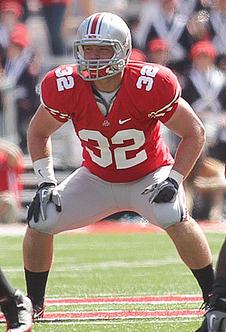 To be perfectly honest, I'm pretty tired of the scandal stories. Don't get me wrong, our guys have done some excellent work on the subject (you might even say we have "top men" working on it, but I would never drop that reference). Still, there's a part of me that just wants to laugh at something right about now. Today, a friend sent me a link (which I will not share due to the political content) that accomplished just that. 
For several years, I've been commenting on how lots of football players have names that seem to fit them well, considering what position they play (former Nebraska QB Eric Crouch fits pretty well in this category). Others have names that are amusing simply because of how strange they are (D'Brickashaw Ferguson, Knowshon Moreno). Still others cause me to have extra sympathy for the play-by-play man who has to spend a day trying to pronounce their names (T.J. Houshmandzadeh, Manu Tuiasosopo).
The article that caused me so much amusement today went through an entire list of these, including a all-name team. As he was going through the list of NFL newcomers who fit the bill, the name of one Chimdi Chekwa stood out to me, for obvious reasons. I thought maybe I could have some fun with the topic myself, while placing special emphasis on guys who either currently wear or formerly wore the scarlet and gray. In the process, I'll also open up the topic for all of you to join in the fun if you can think of any favorites from the past or present.
Before we begin, I'm kind of wondering why football seems to attract so many of these. Sure, there are some great names in other sports (Skeeter Barnes, Gordie Howe, Steve Mix), but they just don't measure up to the likes of Hank Poteat or Jerry Sherk (just for you, Browns fans). So why do all of these guys end up as football players and not, say, software developers or accountants? The best theory I can come up with is one that I'll call the "Boy Named Sue" theory. If you're unfamiliar with the song (shame on you), the story is that the father gave his son a girl's name so that the kid would have to get tough, and enduring an endless array of insults as a kid would do the trick. I'm not sure if the logic holds, but it's good enough for me. Besides, can you imagine what a guy like BenJarvus Green-Ellis had to deal with as a kid? I'm guessing his fists are pretty hard at this point.
My favorite football name for years was Takeo Spikes (yes, I'm a Bengals fan). Can you think of a better name for a linebacker? Actually, the current Buckeye roster has two guys who might challenge for the spot: Storm Klein and Andrew Sweat. Not only that, but is there any name that is more fun to say than Etienne Sabino? I suppose for the sake of honesty I'd have to admit that former Notre Dame LB Michael Stonebreaker probably has the best linebacker name that I can remember on a college team. However, these days Brian Kelly's defense is led by a guy named Mante Te'o. Doesn't have the same punch, does it? A close second is former Iowa LB Pat Angerer, who was only that way because he never had to dress in their visitors' locker room.
For defensive backs, it's hard to beat a name like Quentin Jammer. Not only is it fun to say, but it pretty much sums up the job of an NFL cornerback. Then again, it's hard to imagine a better overall football name than Champ Bailey, which has pizzazz regardless of what position he plays. Since the safety position calls for a lot of tackling and provides the opportunity to lay out some big hits, current Buckeye Jamie Wood seems well-named (carrying on the tradition started by former Buckeye Doug Plank). For defensive line, former Iowa Hawkeye Karl Klug has a great name, but does any name say "blue-collar nose-tackle" better than Dexter Larimore?  
There are so many more I could mention but I'll leave the rest to you. So who's your favorite? Is it former Packers running back Terdell Middleton? Or maybe former Jets RB Emerson Boozer? If you're into double-entendre, how about Fair Hooker or Harry Colon? Maybe it's just a name that's fun to say, like former OSU kicker Vlade Janikievski? The floor is open, so give us your most memorable or most ironic name of a current or former college or pro player, with preference for current or former Buckeyes of course.