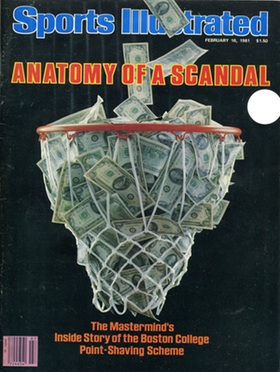 Silly me for thinking I could sneak a week's vacation into this summer of agony.
Tuesday afternoon, while enjoying Pacífico and cursing the WiFi connection of a top-notch resort (hello, first world problem), local afternoon talk show guy Scott Torgerson gave the "SI is coming for us" rumor a legs by confirming it on air, saying the article would be published on the following Tuesday and that it would be written by resident bloodhound George Dohrmann.
Dohrmann is the rare sportswriter that has a Pulitzer on his CV -- for his work uncovering academic fraud within the Minnesota basketball program under Clem Haskins -- and Torgerson said the report was all but filed.
Brooks Melchoire, in his rush to be all over this story -- regardless of factual accuracy1 -- shot down Torgerson's report later that same day with a side helping of snark2:
From talking to someone today who has intimate knowledge of the inner workings of the editorial operation at Sports Illustrated, I can confirm that Torgerson has something in common with Dohrmann: the Pulitzer Prize-winning investigative journalist doesn't know what his story will be about either.

Because it hasn't been written. Nor has the decision been made by Dohrmann to write such a piece. Or by Sports Illustrated to publish it.
For his part, Torgerson stuck by the report leading Brooks to eventually hedge his bet.
Got all of that? Good. So what does it all mean?
For starters, Dohrmann is the real deal. He's a senior writer at SI and most recently convinced former agent Josh Luchs to spill the beans on payments made to college football players, including Ohio State's very own Santonio Holmes. After SI's special report on crime in college football (conducted jointly with CBS) was widely panned within the blogosphere (and by practitioners of rudimentary cognition everywhere), they'll be looking for a winner and with blood in the waters of Columbus, now is a good time to strike.
We're hearing the article will be a rehash of the Ray Isaacs stuff from Tressel's Youngstown State days as well as another look at the Maurice Clarett allegations from seven years ago. Dohrmann, being the smart guy that he is, likely tried to setup an interview with Clarett, but we'd be shocked if Clarett had anything to say, given how well Tressel has treated him through the years.
I'm sure Dorhmann also tried to speak with tattoo parlor owner Edward Rife, car salesman Aaron Kniffin and whatever disgruntled former players he could round up. Rife and Kniffin likely didn't have much to say, but considering how well he sang to the Lantern, there's no telling what a guy like Ray Small had to say to a pro with a microphone.
Aside from that, you can probably expect anonymous quotes and maybe another minor allegation or two. While I'd be shocked to see anything major come out of the article -- despite stories of "salivating SI editors" -- the story, if it does come to fruition, will keep the coach and the school alive for another painful media cycle.
Oh, it's great to be back.