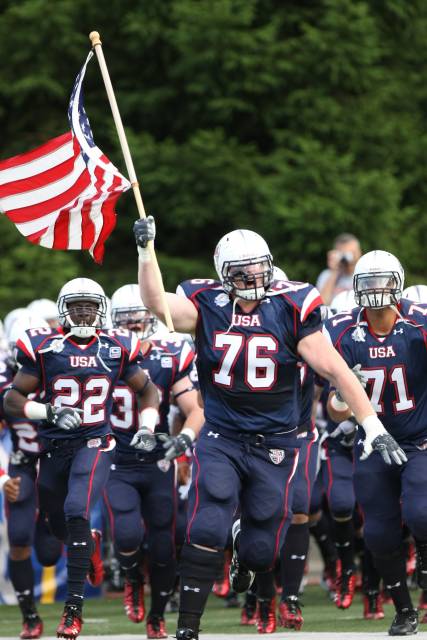 Ohio State will need to replace 10 starters this year and that's not including the five contributors that will be out for the first five games of the season. As such, we'll be profiling several of the potential new contributors over the coming weeks. Previously: Ken Guiton, Marcus Hall.
Jack Mewhort

| POS | # | HT/WT | YEAR | HOMETOWN |
| --- | --- | --- | --- | --- |
| OL | 74 | 6-6/303 | Sophomore (RS) | Toledo |
Despite humble beginnings as a collegiate football prospect, Northwest Ohio product Jack Mewhort capitalized on attention he began receiving in 2007 from MACrificial lambs of the likes Bowling Green and Toledo before ultimately catching the attention of Ohio State's Jim Bollman and Jim Tressel before his junior year. While attending Toledo's St John's, the then 280'ish pound tackle expressed surprise upon learning of a meeting with Ohio State's head man, ultimately leading to a courtship that resulted in a December 21st, 2007 (approximately) offer to the lineman.
Those desiring to keep up with the joneses (as they're prone to do) soon followed with interest (and in some cases offers) from the likes of Notre Dame, Michigan State, Northwestern, and naturally Michigan. Being from a city notorious for having been fought over by Ohio and Michigan and still to this day fairly polarized in terms of rooting allegiances, the decision on where to attend college carte blanche and play a little football in the process largely came down to Rich Rodriguez' Wolverines and Buckeyes. Mewhort's familiarity with Ann Arbor and the Michigan campus made Ohio State's perhaps more challenging than it otherwise could've been, but behind the dutiful approach of the previous coaches in conjunction with Doc Tressel, the Bucks ultimately prevailed with Mewhort saying he "couldn't find a reason not to be a Buckeye" and pledging verbally to Ohio State.
Mewhort's senior season included the typical media rounds for someone of a 4-star makeup and ultimately provided the opportunity for him to form bonds with some of the other in-bound Ohio State recruits from the various all-star game circuits. As both an honor role student and ultimately Under Armour All-American, Mewhort routinely displayed the kind of savvy one would expect from a college junior or senior. Many and most media opportunities ultimately provided the platform for displaying only the highest Tresselspeak upside:
"The football tradition at Ohio State is second to none," Mewhort said. "I love the campus and the coaching staff and I've always wanted to be a Buckeye."
As previously mentioned, Mewhort followed his senior season attending all-star games and also found himself named to just about every All-Ohio list imaginable. Despite enrolling early in January of 2009, with the school's blessing, Mewhort ultimately capped his pre-collegiate career by suiting up in the 2009 USA vs the World games along with then future Buckeye Storm Klein. The two went on to help lead the United States to a series of routs over the likes of Mexico and Canada providing the gem of the picture above before the title game against That Country Up North.
Despite a strong spring and summer which had some suspecting that Mewhort would be able to make an immediate impact on a "rebuilding" line, an unexpectedly pleasant surprise of consistency from those already entrenched within the depth chart at OL ultimately allowed OSU leadership to tag the o-lineman with a redshirt for his first season on campus. While not being able to play obviously provided its fair share of reasonable frustrations, the big man took the decision with as much if not more maturity than one would expect from ordinarily impatient, short sighted eighteen year olds. Mewhort told the Toledo Blade last fall reflecting on watching year one from the sidelines:
"Everybody wants to play right away, but it's a big step from high school to Ohio State. I really believe that taking that year to get bigger, stronger and faster will benefit me a lot in the future."
Mewhort did just that eclipsing the 300 pound mark (and not in the pre-Mike Barwis Michigan pizza training tables methodology) by September of last year while also improving his consistency in practice and keeping much of the same agility and feet work that helped make him a coveted offensive line prospect years earlier. The 2010 season then saw Mewhort as a staple in the two deep, often spelling the likes of Justin Boren and Bryant Browning at each of the guard positions while also providing a conscionable third option at center after Mike Brewster and Corey Linsley. While perhaps still not living up to the admittedly lofty expectations afforded to him after an impressive 9 months as a 17/18 year old, arguably one of the best things one can say about Mewhort's first real season on the field was that in what limited time that he did see, he failed to really ever jump out on live action or tape for any of wrong reason. Sometimes that ranks amongst the highest praise that can be lauded for the often thankless jobs of linemen.
2011 Outlook
Early 2011 practice returns have been positive with Mewhort again displaying the versatility he's shown going back to his high school days. With all-conference caliber left tackle Mike Adams due to miss the first five games because of his involvement in the damning tattoos-for-goods scandal, Mewhort has even seen some time at the same position he manned in the USA vs the World games back in the day, left tackle. Though no one is likely to mistake Mewhort for looking the part in the same high ceiling capacity Marcus Hall did in 2009 as a legitimate potential full-time bonafide blind side blocking option nor the early favorite for the left tackle spot some have heralded Andrew Norwell, Mewhort's versatility across the line in practice and on the field during the last season should mean big things for the likely left or right guard to be. Though perhaps most fitting from a skill set prospective as a right guard should the NFL ever come knocking (which Mewhort displaying wisdoms beyond his years back in high school admitted was a one-in-a-thousand probability that he shouldn't expect or plan for), Mewhort has every bit the makeup to be a very effective left guard at the collegiate level and should make better whichever tackle he gets paired next to. And don't forget about the possibility to slide over to the middle should the situation dictate it. His former St. John Jesuit head coach Doug Pearson remains unsurprised by the versatility clinic put on by Mewhort this past March:
"Jack liked playing center so we mostly kept him there, but he's demonstrated he can handle all three line positions," Pearson said. "Ohio State played him at all three places that first spring he was down there, so I think they've been keeping that flexibility in mind all along."
It doesn't hurt that in addition to the wealth provided by the flexibility to man different roles on short notice and the general visceral nature he's carried himself since he first showed up on Ohio State's radar Mewhort's somewhat established himself in the social media ranks as a comedy pro. Any 20 year old dropping "Tim & Eric Awesome Show Great Job!" references online can logically do it up in the trenches in the scarlet and grey with the best of them.