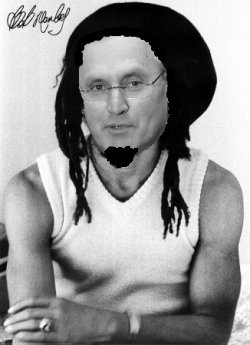 Good morning, you slacking drains on the American economy, and welcome to your Wednesday skull session. After an extended weekend of extreme Yuengling slurping in the great not-totally-country city of Nashville, it feels good to be back amongst my rational, football-loving northern bretheren.
Seriously, if you feel like arguing with dudes toting a mental knife to a gunfight, wear some Buckeye gear down on Broadway, have a skill for keeping smack talk harmless, and prepare for the ensuing hilarity.
Whatevs. Cue the percussion section...
Is It Now Mandatory That All Tressel Writings Contain Bad News? For whatever reason, it now appears law that any writings naturally composed by JT or forwarded must include some type of sad content. The latest bit of bad news tucked within "Catching Up With The Coach" informs us Donnie Evege is lost for the season.
It's not like losing Evege is a killer to the secondary but in between injuries (dislocated elbow early last year) he was defintely serviceable on special teams and after what we witnessed in the defensive backfield a year ago, you can never have too many bodies. Also, by all accounts Evege is a very classy dude and frankly it sucks to see his redshirt junior season blown up in April.
Screen Passes Are Cool. Word from yesterday's practice indicates Tressel may have designs on employing a lot of what we talked about Saturday - using the wealth of talent at running back to help along the unproven QB's and receivers with a lateral passing game. We're in favor of such a move especially during the suspensions as it would also force teams to be careful about stocking the box continously for fear of getting burned with nobody in space to stop the likes of Hall and Berry. Castel notes Hall was particularly effective executing the newly designed plays with Berry not far behind. That's welcome news considering Philly Brown and company have yet to show much during spring drills.
Like (burp) Father, Like (burrrp) Son. Back in 1995, the term Getting Moeller'd was born after Michigan head coach Gary Moeller was forced to resign after too much loudmouth soup caused him to blow up at a Detroit restaurant before alledgedly punching an officer. Proving the foam doesn't fall far from the keg, Gary's son Andy has also run into some trouble thanks to the bottle, in the form of two years supervised probation for buzzed driving.
This was just the latest issue for the former Michigan football player, coach and current Ravens O-Line coach. It appears as if he was given the equivalent of a $100 handshake in Ann Arbor back in 2007 for driving while visibly impaired and has been arrested three times on alcohol related charges, according the Baltimore Sun.
Before anyone gets high and mighty, I realize how sad alcohol related drama can be but hey, it's Michigan related and well, that should be a good enough reason to throw stones. If that doesn't suffice, then I blame Bauserman.
Tip Your Hat To Seminole Fan. The Will Muschamp Era began Saturday with the Gator spring game but not without a reminder of the disappointment from a season ago. With QB John Brantley looking as inconsistent as ever at ground level, the air was filled with a reminder flying behing a plane paid for by a large handful of Florida State fans. The banner read "31-7 Go Noles!" and circled the campus for an hour. We like.
Memorial Stadium To Lose 2,200 Seats. On the surface, it doesn't seem overly newsworthy that Illinois is removing 2,200 south endzone bleacher seats because they are getting too old. But after looking at the 2010 attendance figures, the only time those 2,200 seats were used occurred when the Buckeye faithful accompanied the footballers into Champaign, the lone sellout of the year. So, since Buckeye fans are the only people impacted by the shrinking capacity, it felt right to notify you ahead of the October 15th takeover of Memorial Stadium.
Mixtape. If you feel like throwing away some dough, the sideline clock tables from Crisler Arena are up on eBay...The NCAA has put the word out reminding players that any underclassmen taking part if draft festivities, at the actual draft or otherwise, "can't receive benefits or services such as travel, lodging, meals or entertainment if they attend such parties" and that "each college athlete must pay for all of those things or he could violate NCAA rules."...Speaking of the Draft, here's Vinnie Iyer of TSN calling Cam Heyward the best of the "hybrid ends"...Finally, suffer through this compilation of dudes getting bashed in the nuts as penance for enjoying this compilation of "broad smacks".